Click Here for More Articles on KINKY BOOTS
BWW Review: KINKY BOOTS Tour Struts Into Segerstrom Center for the Arts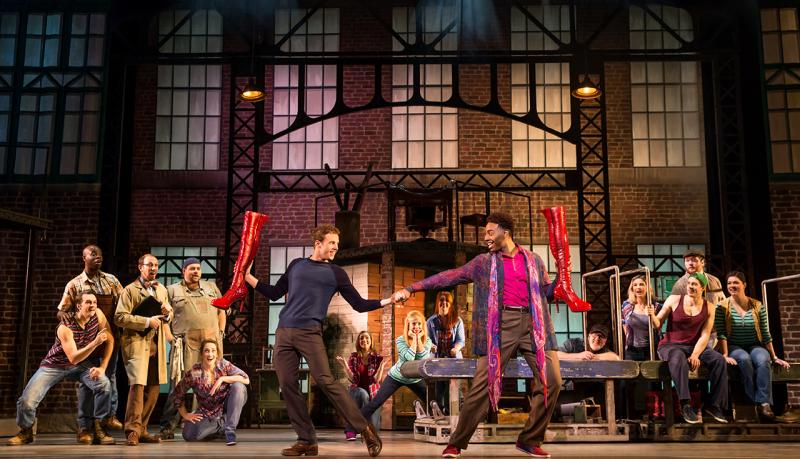 Every few years, it's always nice to revisit a stage musical to see how time, frequency, and a new acting ensemble has affected a show that is still a living, breathing entity both on Broadway and on the road. In addition, it's also worth re-examining a show when it transitions into a non-equity national tour, particularly to see if any changes have been enacted for such a production.
I'm ecstatic to report that, for the most part, the brief Orange County return of the Tony Award-winning musical smash KINKY BOOTS---which continues its quick week-long stop at Segerstrom Center for the Arts in Costa Mesa through February 11---pretty much preserves its hard-to-escape fabulousness. Its current incarnation as a non-Equity bus-and-truck tour---now presented by Troika Entertainment, but retains many of the original's main elements---only feels slightly different from previous productions you've likely seen (and perhaps some of the changes may not even flag themselves for most repeat viewers).
Aside from the revamped beginning (SPOILER ALERT---the two main characters' younger, prepubescent personas have been written out completely), some edited/trimmed parts here and there, and minor but still noticeable cosmetic downgrades in David Rockwell's otherwise cool set designs, the new, more economically-minded KINKY BOOTS tour vibes mostly similar to past productions, albeit now with a cast of fresh-faced newbies.
Don't let these changes dissuade you from coming, because at its core, the show is still an irresistible delight, filled with wit, sassiness, and lots of surprising heart. KINKY BOOTS is an easy show to love, minor blemishes and all.
The musical's endearing narrative, its vibrant main characters, and the ear-candy confections concocted by pop superstar Cyndi Lauper all combine to showcase a fun and genuinely lovable musical that celebrates living one's authentic self... triumphantly.
And considering that the last time I experienced KINKY BOOTS was 2016 (which I reviewed HERE), I dare say that the show itself is as timely needed as ever today, existing now in our new current reality as a throwback to a time when such a show shared the (supposedly) more forward-thinking, more progressive conscience of the country, instead of existing now at a time when the show is in danger of being slammed back into the proverbial closet.
Promoting tolerance, acceptance, and "changing the world when you change your mind," KINKY BOOTS is an equal parts message-heavy parable and a vividly entertaining musical that now stands as the welcome antithesis to the wackiness of our current geopolitical climate today.
KINKY BOOTS The Musical, of course, is the winning stage adaptation of Geoff Deane and Tim Firth's cute 2005 British indie film of the same name, which was inspired by the true story of the unlikely working collaboration and close friendship that develops between a straight young man named Charlie Price (here played by adorable Lance Bordelon), who reluctantly inherits his deceased father's flailing shoe factory, and a self-confident, statuesque drag queen named Lola (here played by whimsical Jos N. Banks), who has a distinct eye for sexy footwear. Together, the two combine their talents and personal drive to reinvent the shoe business by serving a very under-served niche market: grown men who like wearing and dancing in stiletto heels.
As expected, cultures clash---that is, until communication and exposure to the "other" from both sides melt away much of those cold divisions.
Forgive my bold declaration, but I have to say that the stage musical definitely bests the original film, mostly because the stage version unapologetically turns up the volume on all fronts: from Harvey Fierstein's hilarious, clever book and Gregg Barnes' colorful costumes, to Stephen Oremus' rousing pop-and-dance club orchestrations and Jerry Mitchell's explosively celebratory choreography. And, yes, it merits mentioning again the terrific music and lyrics from Lauper, who won a Tony Award for her efforts.
For this new tour, hair designs by Josh Marquette and Saban Majeed and make-up designs by Brian Strumwasser complete the overall vivacious quality of the musical that the original film just didn't have.
Like the Broadway and first national tour productions of KINKY BOOTS, this new Troika-produced road show retains much of these stage elements, including Mitchell's original direction and full-out choreography (Associate Choreographer Rusty Mowery is enlisted here to recreate Mitchell's moves)---which helps the show's overall enjoyability factor tremendously.
The cast manages to win me over, too, even though many of them act out their parts with an amplified overeagerness that allows Little Room for softer contrasting subtlety when such scenes require it (a forgivable minor gripe that I think this cast will learn to further hone as the tour continues). Fighting against constant sound and microphone problems, the cast pushes through to create a fun, lively musical experience that the audience truly eats up.
As our central everyman Charlie Price, actor Bordelon is a terrific find. A fantastic singer with a nice, belt-tastic voice, this little manic ball of spitfire gives his Charlie a kid-like wonder that makes him easy to root for in his new venture. As the fabulously fierce Lola, Banks---who kind of towers over Bordelon---makes the most of Lola's quippy, hilarious lines, eliciting some of the loudest laughs of the night. He does an awesome job with Lola's sassy signature dance numbers "Land of Lola" and "The Sex Is In The Heel" singing and dancing up a storm while flanked by the oh-so-amazing "Angels," the show's gorgeous troupe of super tall and super flexible drag queens. Later, Bordelon and Banks' duet in "I'm Not My Father's Son" is an admirably performed touching moment that will help audience members slightly uncomfortable with the show's subject matter a chance to a commonality in our main characters' struggles.
Other cast members worth noting include Sydney Patrick's scene-stealing turn as factory worker Lauren, who tries to downplay her huge crush on Charlie (her "History of Wrong Guys" was super fun to watch); Hayley Lampart as Charlie's status-obsessed girlfriend Nicola; and John Anker Bow as (maybe) ambiguously gay factory floor manager George. In a lovely surprise, my favorite standout ended up becoming, of all people, homophobic factory grunt Don, played with superb gruffness by Adam du Plessis.
The evening's loudest cheers, however, were bestowed on the dazzling "Angels"---Brandon Alberto, Eric Stanton Betts, Derek Brazeau, Tyler Kent, Tony Tillman, and Ernest Terrelle Williams---and deservedly so. With every appearance comes fabulous new outfits and super acrobatic dance moves that will mesmerize. And, my lord, they all seem to have zero body fat (which makes me resent them just a little bit, but only a little bit, because they really do give so much verve to the show).
In the end, though, it's still all about the heartwarming take-away that gives this show a fairly universal appeal. Stories like the one featured in KINKY BOOTS, where the downtrodden and challenged are rewarded handsomely by going against the grain and taking a chance on an out there idea submitted by out there human beings. Though there's a seemingly preachy quality to what we're seeing, the message is still received with open arms---because its journey was highly entertaining.
By the time the whole cast concludes with "Raise You Up/Just Be" the show becomes an all-out buoyant celebration that audiences are unable to resist. The joy is palpable.
So, yes, the verdict is in: despite time, economic shortcuts, and the show taking a chance on a cast of fresh, non union performers, KINKY BOOTS doesn't miss a step in its road to open-minded regalement. Still fabulous, still touching, still amusing, and still musically rich, the show's spunky spirit hasn't been dampened one bit. Do yourself a favor and see the show to liven up your mood.
** Follow this reviewer on Twitter: @cre8iveMLQ **
Photos from the Troika Entertainment National Tour of KINKY BOOTS by Matthew Murphy, courtesy of Segerstrom Center for the Arts.
----
Performances of the National Tour of KINKY BOOTS presented by Troika Entertainment LLC at Segerstrom Center for the Arts continue through Sunday, February 11, 2018. Tickets can be purchased online at www.SCFTA.org, by phone at 714-556-2787 or in person at the SCFTA box office (open daily at 10 am). Segerstrom Center for the Arts is located at 600 Town Center Drive in Costa Mesa.
Arrive ONE HOUR early for the Friday, February 9 and Sunday, February 11 evening performances of KINKY BOOTS to see a special pre-show mini-concert featuring MenAlive, the Orange County Gay Men's Chorus. Back by popular demand, this local music group will be performing several Broadway and Pop hits on the Julianne and George Argyros Plaza outdoor stage.
For tickets or more information, visit SCFTA.org.
[ UPDATED 2/9/18 to properly credit Harvey Fierstein as the book writer, which was mistakenly credited in the original right-up. We apologize for the error.]