Party With Perez This Summer When Perez Hilton Joins Chippendales As Special Celebrity Guest Host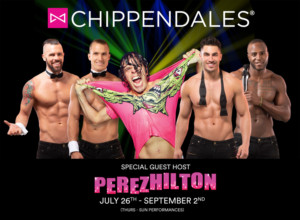 Get ready to "Party with Perez" this summer when Perez Hilton, the original celebrity social media influencer, joins Chippendales as the special guest host at Rio All-Suite Hotel & Casino. Hilton's limited six-week engagement runs from July 26 through Sept. 2, 2018 (Thursday through Sunday performances). Special "Party with Perez" Pre-sale offer: Any tickets purchased between June 13 and June 18, 2018 will receive 25% off each ticket using the code: PEREZ.
No stranger to the stage, Hilton will combine his comedic wit and outrageous sense of humor to guide the audience through a wild evening celebrating the hottest men, music and moves in Las Vegas. Audience members can rest assured, what happens at Chippendales still stays at Chippendales!
"Perez is a big, bold personality and we're expecting him to bring just that to the show", commented Kevin Denberg, Chippendales Managing Partner. "There's no holds barred here... expect Perez to say what's on his mind, or what's on yours, as the evening's Master of Ceremonies, bringing even more fun and humor to the Chippendales party experience."
"I am a big fan of Chippendales and I am so excited to be a special guest host unlike any other they've ever had before," says Hilton. "I am looking forward to taking my role as your gay best friend into the real world and helping the women (and men) who come to the show have THE BEST TIME possible! It's going to be super fun for them and for me - and that's why I'm truly ecstatic to do it! I've seen the show multiple times and can't wait to be a part of it from start to finish! It's going to be magical!"
Perez is the latest celebrity to join the exclusive roster of guest hosts at Chippendales. From international supermodel Tyson Beckford to everyone's favorite childhood crushes, Ian Ziering and Joey Lawrence, to Dancing with the Stars mirror ball winner Tony Dovolani and America's Next Top Model champ Nyle DiMarco, every celebrity guest who's ever donned the brand's iconic cuffs and collar has brought his own unique style and energy to sold-out audiences.
In November 2017, Chippendales was honored for the sixth consecutive year as the "Best Male Revue" at the prestigious Best of Las Vegas! Awards. The show, which features heart thumping choreography and multiple opportunities for audience members to get on stage, is an all-out party and provides the perfect backdrop for a night out in Las Vegas. Whether looking to celebrate a bachelorette party in Las Vegas, a big birthday bash or just a have wild girls night out, Chippendales Las Vegas is the Strip's number one spot to let loose and have fun.
About Perez Hilton:
The original influencer, Perez Hilton changed culture and has been trailblazing since 2004. A New York University trained actor, he entertains millions daily on his eponymous website and social media channels. Over the years he has written three books, launched two YouTube channels and one very successful podcast - The Perez Hilton Podcast with Chris Booker. His theater credits include NEWSical: The Musical (off-Broadway) and Full House The Musical (New York and Toronto). On television, he's been seen as an actor in Glee, Girl Meets World, Victorious, Law & Order: SVU and countless other shows. In the reality space, he's appeared on Keeping Up With The Kardashians, Celebrity Big Brother in the U.K. and won "America's Worst Cooks: Celebrity Edition" for the Food Network. He can be regularly seen providing expert commentary on TV and radio and is thrilled to return to the stage with Chippendales. Perez can be found at:
About Chippendales:
Named "the most-wanted men in Vegas!" by ET's, The Insider, Chippendales captures the perfect balance of sex appeal and tasteful teasing, eliciting waves of screams from their excited audience. This high energy, fully choreographed, interactive show features some of the most physically elite men in the world who playfully dance and sing their way into the hearts of birthday girls, bachelorettes and girlfriends who just want to have fun. In November 2017, for the sixth consecutive year, Chippendales was named the "Best Male Revue" for the Las Vegas Review Journal's prestigious "Best of Las Vegas Awards." Annually, the Men of Chippendales will be seen by almost two million people worldwide. The cast, a very exclusive fraternity of only 20 members, is split across two productions - one based in Las Vegas at the Rio All-Suite Hotel & Casino and the other, currently selling out venues around on their world tour. As icons of American Pop Culture, The Chippendales recently celebrated their 39th Anniversary as a brand and in 2018 celebrated 16 years at Rio All-Suite Hotel & Casino with nearly 7,000 performances. They've been featured on numerous national television shows, including the Emmy Award-winning CBS series, The Amazing Race, The Ellen Degeneres Show (where TV legend Betty White received a special surprise performance), and The Real Housewives of Beverly Hills (giving Lisa Vanderpump a night she will never forget). Previous celebrity guest hosts featured in the Las Vegas production include international supermodel Tyson Beckford, Dancing with the Stars and America's Next Top Model winner Nyle DiMarco, Beverly Hills 90210 and Sharknado star Ian Ziering, Dancing with the Stars Mirror Ball winner Tony Dovolani and Joey Lawrence, among others. Chippendales, one of the world's most recognized brand names, is the premier provider of entertainment for women. The Company produces Broadway-style shows worldwide and licenses its intellectual property for select consumer products ranging from apparel and accessories to slot machines and video games. The company also operates Chippendales.com, an on-line lifestyle and entertainment destination for women. Chippendales was established in 1979 and has headquarters in New York, with offices in Las Vegas and London. For additional information visit www.Chippendales.com; find us on Facebook, Twitter and Instagram @Chippendales #Chippendales.