New Additions To Rock Into Spring; Set Times Announced
M Resort Spa Casino partnered with Gangster have announced that Fiji Water and Hempful Farms will join Heineken and Findlay Chevrolet as sponsors for Rock Into Spring, a three-day pool party taking place April 28 - 30, 2017 at M Resort's pool.
Additionally, M Resort Spa Casino along with Gangster have donated $50,000 worth of tickets to active and retired military vets at http://www.vettix.org/
Celebrity guests Chris Adler of Lamb of God, Chino XL, Rama Duke and Grammy Award winning producer Jared Lee Gosselin have also been announced as joining in the festivities.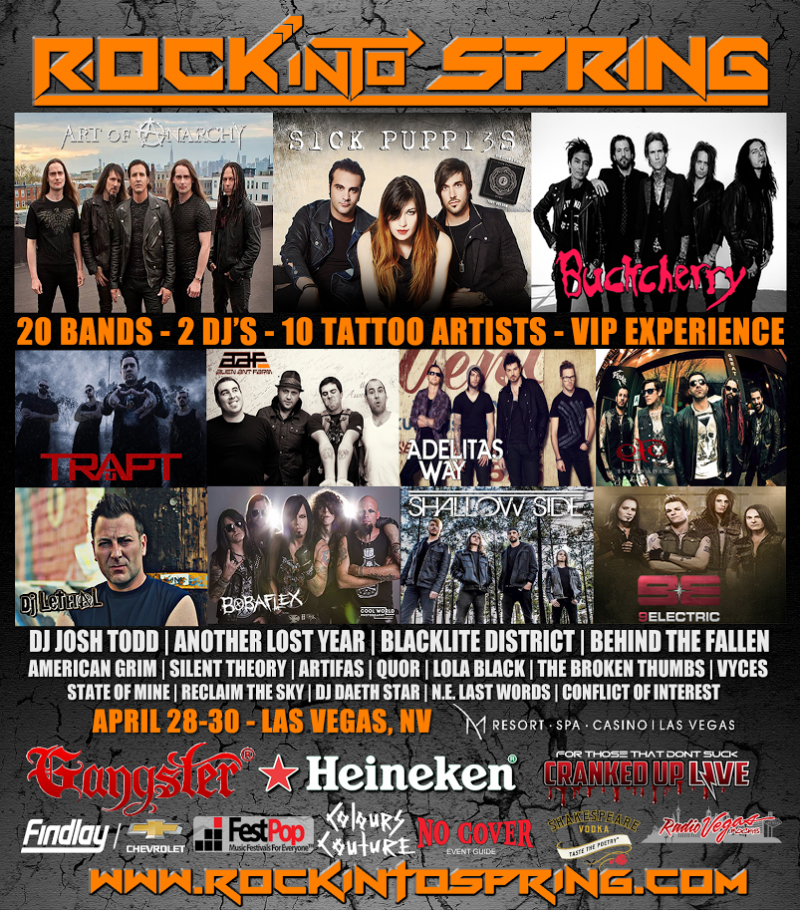 Heineken, the world's most international brewer has signed on to sponsor the three-day pool party with their legendary brand of beer. Local Chevy dealership Findlay Chevrolet will be giving away a brand new car on Sunday, April 30th during the event.
FestPop, Inc has been on board as Rock into Spring's premiere travel partner. FestPop is committed to helping music festival fans of all ages easily discover, prepare and book their next music festival journey. http://festpop.com/
Shakespeare Vodka, No Cover Magazine, Presidential Limousine, and SB Craft Jerky have also come on board to be part of this extraordinary experience.
The festival is hosted by Cranked Up Live, Yourlisten.com, The Rocking Comedy Show and Radio Vegas Rocks and will feature live performances from over 22 bands, including: Buckcherry, Art of Anarchy, Sick Puppies, Adelitas Way, Trapt, DJ Lethal from Limp Bizkit, Alien Ant Farm, Eve To Adam, Bobaflex, 9 Electric, Another Lost Year, Shallow Side, Blacklite District, Never Say Die, Alive in Barcelona, State of Mine, Reclaim the Sky, VYCES, Behind the Fallen, Artifas, Lola Black, The Broken Thumbs, QUOR, Silent Theory, American Grim, Never Ending Last Words, Conflict of Interest and more.
Rock Into Spring will consist of three days of festivities, beginning on Friday, April 28with a concert at M Pool featuring DJ Lethal, Buckcherry, DJ Josh Todd, Alien Ant Farm, 9Electric, Never Say Die, State of Mine, Reclaim the Sky and much more.
Rock Into Spring will also have 20 Top Tattoo Artists on deck that you can set up appointments with during the event including: Ink Master's Randy Vollink, James Francis, Cleen Rock One, and King Rock, as well as MTV's Drama Diablo plus many more.
This is a 21 and over event. Valid state or federal ID is required for entry.
Single and three day passes will be available starting April 23rd at the box office located at M VUE inside M Resort Spa Casino.
Tickets are on sale now at: https://www.ticketfly.com/purchase/event/1429987?utm_medium=bks
VIP Packages are available and feature access to the main M Pool and DayDream, the Pool Club at M Resort: http://rockintospring.com/vip-experience/.
For Sponsorship Opportunities and/or if you would like to be a food or merch vendor at Rock Into Spring, please visit http://rockintospring.com/contact/ for the appropriate applications and contact information.
For M Resort Spa and Casino room reservations, please call: 1.877.673.7678.
SET TIMES:
FRIDAY:
• CHINO XL AND RAMA DUKE 4:00 PM
• BATTLE OF THE BANDS WINNER 4:15 PM
• STATE OF MINE 4:50 PM
• RECLAIM THE SKY 5:35 PM
• DJ JOSH TODD OF BUCKCHERRY 6:20 PM
• NEVER SAY DIE 6:55 PM
• 9ELECTRIC 7:40 PM
• DJ LETHAL FROM LIMP BIZKIT - HOUSE OF PAIN 8:25 PM
• ALIEN ANT FARM 9:00 PM
• BUCKCHERRY 10:30 PM
SATURDAY:
• BEHIND THE FALLEN 3:15 PM
• QUOR 4:00 PM
• SILENT THEORY 4:45 PM
• VYCES 5:30 PM
• ARTIFAS 6:15 PM
• AMERICAN GRIM 7:00 PM
• SHALLOW SIDE 7:45 PM
• ADELITAS WAY 9:00 PM
• ART OF ANARCHY 10:30 PM
SUNDAY:
• THE BROKEN THUMBS 2:00 PM
• LOLA BLACK 2:45 PM
• ALIVE IN BARCELONA 3:30 PM
• BLACKLITE DISTRICT 4:15 PM
• ANOTHER LOST YEAR 5:00 PM
• BOBAFLEX 6:00 PM
• EVE TO ADAM 7:30 PM
• TRAPT 9:00 PM
• SICKPUPPIES 10:30 PM
Related Articles View More Las Vegas

Stories

Shows
More Hot Stories For You