Theatre Southwest Announces 62nd Season - A DOLL'S HOUSE, and More!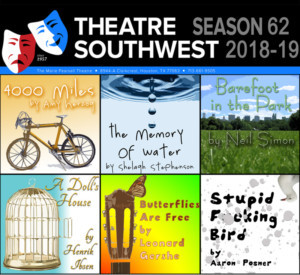 Theatre Southwest has announced its 2018-19 Season! Read all about it below.
4000 MILES by Amy Herzog
Directed by Scott McWhirter
Winner of the 2012 Obie Award for Best New Play and 2013 Finalist for the Pulitzer Prize for Drama. After finishing a cross-country bicycle trip Leo seeks comfort from his feisty 91 year-old grandmother Vera in her West Village apartment. Over the course of a single month, these unlikely roommates infuriate, bewilder, and ultimately reach each other.
Performances:
Fridays & Saturdays, Sept 7-29 at 8pm
Sunday Matinee, Sept 16 at 3pm
Auditions: July 22 & 23 at 7pm
THE MEMORY OF WATER by Shelagh Stephenson
Directed by Matt Prideaux
After years of separation, three very different sisters come together to make arrangements for their mother's funeral in this bitingly savage dark comedy. Each of the sisters have vastly differing recollections of their mother, raising questions as to just how frighteningly subjective our memories actually are.
Performances:
Fridays & Saturdays, Oct 26-Nov 17 at 8pm
Matinee, Sunday Nov 4 at 3 pm
Auditions: Sept 9 & 10 at 7pm
BAREFOOT IN THE PARK by Neil Simon
Directed by David Hymel
One of the most successful and charming laugh-out-loud Broadway comedies ever written. Paul and Corie are newlyweds in every sense of the word; he's a straight-as-an-arrow lawyer and she's a free spirit. Paul just doesn't understand Corie, and she just wants him to be a little more spontaneous.
Performances:
Fridays & Saturdays, Dec 31, Jan 4-19, at 8pm
Sunday Matinees, Jan 6 & 13 at 3pm
Auditions: Oct 28 & 29 at 7pm
A DOLL'S HOUSE by Henrik Ibsen
Directed by Crys Hymel
A revolutionary Norwegian 1879 classic is once again at the forefront of women's changing place in the world. Nora and Torvald have a seemingly traditional settled nineteenth-century marriage. Nora, however, has lived for many years with a secret which is about to be revealed.
Performances:
Fridays & Saturdays, Feb 15-March 9, at 8pm
Matinee, Sunday Feb 24 at 3pm
Auditions: Jan 6 & 7 at 7pm
BUTTERFLIES ARE FREE by Leonard Gershe
Directed by Justin Holloway
A delightful romantic comedy. Blind since birth, Don Baker has lived with his overprotective mother and is finally independent and living in his own apartment. His apartment adjoins the next-door neighbor's apartment, and the new tenant happens to be an off-beat, free-spirited, want-to-be young actress.
Performances:
Fridays & Saturdays, Apr 5-27 at 8pm
Sunday Matinee, Apr 14 at 3pm
Auditions: Feb 17 & 18 at 7pm
STUPID F***ING BIRD by Aaron Posner
Directed by Bob Maddox
A sort-of adaption of Chekhov's The Seagull. This wonderfully fresh, raw, no-holds-barred play challenges the notion of what theatre was, is and could be. It doesn't matter if you know Chekhov or not. SFB is a roller coaster of emotions from hysterical laughter, absolute anger, romantic lust, devastating sorrow and everything in between.
Performances:
Fridays & Saturdays, May 24-June 15 at 8pm
Sunday Matinee, June 2 at 3pm
Auditions: April 7 & 8 at 7pm
Related Articles View More Houston

Stories

Shows
More Hot Stories For You