SHOW
DATES
THEATRE

Dido and Aeneas


The 2021/22 Ars Lyrica season concludes with a new production of the first masterpiece of English opera. Henry Purcell, early modern Englands greatest musical dramatist,
5/21 - 5/22/2022

Zilkha Hall at the Hobby Center for the Performing Arts
800 Bagby St #300, Houston, TX 77002
Houston

Houston Symphony Music Director Designate Juraj Valcuha Conducts Beethoven 9


Music Director Designate Juraj Valcuha leads orchestra, chorus, and vocal soloists in Beethovens Symphony No. 9. Come together in Jones Hall and experience one of
5/20 - 5/22/2022

Houston Symphony Music Director Designate Juraj Valcuha Conducts Beethoven 9
615 Louisiana St., Houston, TX 77002
Houston

Jersey Boys

5/10 - 5/22/2022

TUTS Houston


The Lion King JR


Disney's The Lion King has captivated the imagination of audiences around the world and now, for the first time ever, you have the opportunity to
5/13 - 5/22/2022

The Crighton Theatre
1010 Spring Cypress Rd. #218
Conroe

You Are Cordially Invited to Sit In


Four Black college students are seeking love, fun, success, and friendship in the segregated Third Ward. But some aren't content with life in an unequal
4/1 - 5/22/2022

Stages
800 Rosine Street
Houston

The Best of John Williams: Star Wars & More


Join The Houston Symphony and enjoy themes from all your blockbuster favoritesJaws, Star Wars, Harry Potter, and moreas the Houston Symphony and Chorus celebrate the
5/27 - 5/28/2022

Jones Hall for the Performing Arts
615 Louisiana St., Houston, TX 77002
Houston

Houston Ballet presents Pretty Things


Originally set to open in March 2020, audiences will finally see Pretty Things come to the stage after a two-year wait. The mixed repertoire, triple-bill
5/20 - 5/29/2022

Wortham Theater Center
501 Texas Ave Houston, TX 77002
Houston

The Wheel Workers live music video shoot for their latest single "Suck It Up" at Axelrad on Sunday, May 29


On Sunday, May 29, 2022 The Wheel Workers will be doing a live music video shoot for the video of their single Suck It Up.
5/29

Axelrad
1517 Alabama St.
Houston

Between Riverside and Crazy


Audiences who were riveted by 4th Wall's sold-out, award-winning production of JESUS HOPPED THE 'A' TRAIN will find much to love in Guirgis's more recent,
5/12 - 6/4/2022



PHOTOS

4th Wall Theatre Company
1824 Spring Street, STE #101
Houston

Clybourne Park


An homage to Lorraine Hansberry's 1959 play, A Raisin in the Sun, Clybourne Park examines the evolution of a Chicago neighborhood over a 50-year time
5/27 - 6/11/2022

MATCH
3400 Main Street
Houston

JIMMY RAYE JONS: WHAT AMERICA DID


This is the story of how the American psyche shaped the thinking and actions of one individual. Jimmy Raye Jons: What America Did. Written by
6/10 - 6/12/2022

Midtown Art Center
3414 La Branch St.
Houston

Originals


Known for cultivating dancer-choreographers, Houston Ballet fosters artists both on and offstage for Originals. The program will feature the premiere of Floreciente, a one-act ballet
6/2 - 6/12/2022

Wortham Theater Center
501 Texas Ave, Houston, TX 77002
Houston

Song of Me


Brother and sister duo Philip and Luci reunite on the eve of Philips wedding. Over some egg rolls and fried chicken, they plan, reminisce, and
5/27 - 6/12/2022

Stages
800 Rosine Street
Houston

Death by Design


What happens when you mix the brilliant wit of Noel Coward with the intricate plotting of AgathaChristie? Set during a weekend in an English country
6/3 - 6/19/2022

Cast Theatrical Company
1909 Avenue G
Rosenberg

Lost in Yonkers


Neil Simon's Pulitzer Prize-winning play set in Yonkers, NY in 1942. Eddie, a financially-strapped widower, leaves his two young sons with their grandma, developmentally-disabled aunt
6/16 - 6/19/2022

Rotunda Theater at St. Luke's UMC
3471 Westheimer Rd
Houston

Fade To Black Play Festival - 10th Season


The Fade To Black Play Festival is Houston's 1st and only short play festival to celebrate African-American playwrights and it is the hippest, hottest theatre
6/23 - 6/25/2022

MATCH Theater
16370 Angel Island Lane
Houston

Houston Ballet presents La Sylphide


Dates:June 16, 2022, at 7:30 PMJune 18, 2022, at 7:30 PMJune 19, 2022, at 2:00 PMJune 24, 2022, at 7:30 PMJune 25, 2022, at 7:30
6/16 - 6/26/2022

Wortham Theater Center
501 Texas Ave, Houston, TX 77002
Houston

Houston Ballet Presents La Sylphide


August Bournonvilles La Sylphide originally premiered in November 1836 by the Royal Danish Ballet in Copenhagen, Denmark, and is believed to be the oldest romantic
6/16 - 6/26/2022

Wortham Theater Center
Wortham Theater Center, 501 Texas Ave, Houston, TX 77002
Houston

NOIR


A heartbroken man never leaves his apartment, finding his only solace in the music on the radio. Then a couple moves in next door. Eavesdropping
6/2 - 7/3/2022

Alley Theatre
615 Texas Avenue
Houston

CLUE


Based on the popular board game and adapted from the cult classic film,?Clue?is the comedy whodunit that will keep you guessing (and laughing) to the
7/22 - 8/28/2022

Alley Theatre
Houston

LEND ME A SOPRANO

9/16 - 10/9/2022

Alley Theatre
Houston

SEASCAPE

10/14 - 11/13/2022

Alley Theatre
Houston

WHAT-A-CHRISTMAS!

12/2 - 12/24/2022

Alley Theatre
Houston

A CHRISTMAS CAROL

11/18 - 12/30/2022

Alley Theatre
Houston

Grumpy Old Men


Visual content only
12/31

STAGE Inc - Spotlight Theatre Arts Group Etc
Bulverde



Back to the Main Page | Browse Local Theatres
---
Latest Houston Reviews
BWW REVIEW: AD Players Blends Faith and Space Adventure in APOLLO 8
by Armando Urdiales - May 16, 2022
As a young boy scout from San Antonio, one of the annual trips I always looked forward to was visiting NASA'S Johnson Space Center. Partially, my move to Space City USA was because of Houston's long history and fascination with outer space. AD Players' production of their world premiere production o...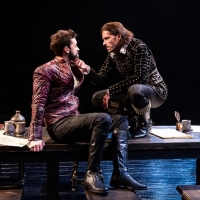 BWW Review: BORN WITH TEETH Brings High-Class Elizabethan Fan Fiction to The Alley Theatre
by Christian Gill - May 12, 2022
Everyone has those important artists they dream of seeing together, the genius writers who if locked in a room together would have some of the greatest conversations. The wonderful thing about fiction is how we can bring life to those conversations and make them just as exciting as we imagine they a...
BWW Review: JERSEY BOYS at the Hobby Center is an Infectious Escape
by Luke Evans - May 11, 2022
For a messily scripted white-comfort piece, Jersey Boys sure can make for an effective toe-tapping diversion from the ever-encroaching dread that is life in the 2020s. The breezy performances and energetic vocals on display at Theatre Under the Stars work double time to distract you from the materia...
BWW Review: Greek God, Diane, Wreaks Havoc in Rec Room Arts HURRICANE DIANE
by Armando Urdiales - May 09, 2022
The unconventional and oddball comedy from the Pulitzer Prize finalist, Madeleine George, sees the Greek god, Dionysus, reenter civilization disguised as a butch gardener, Diane. The god's mission to seduce mortal women and help end climate change creates a story that elicits guttural laughs and a g...
BWW Review: MEET THE MAMMA AND COLOR STRUCK at Vincent Victoria Presents
by Brett Cullum - May 06, 2022
These historic writings are coupled with the company's signature lively staging and passion. The two present fascinating portraits of the Black community's experience a hundred years ago, and the surprise is how little has changed....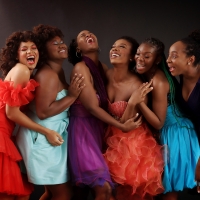 BWW Review: The Garden Theatre's SCHOOL GIRLS; OR THE AFRICAN MEAN GIRLS PLAY is a Great Collection of Talent
by Armando Urdiales - May 04, 2022
Jocelyn Bioh's play, School Girls; Or, the African Mean Girls Play, is one of the best examples of 21st-century theater. Set in an all-girls boarding school in the African country of Ghana. School Girls follows the story of a group of young women navigating their social life in the face of adversity...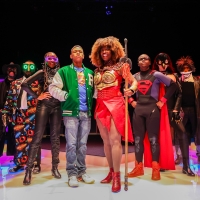 BWW Review: Stages Blends Superhero Comics and Social Justice in Black Super Hero Magic Mama
by Armando Urdiales - May 02, 2022
With the classic comic Boom! and Pow!, Stages continues its excellent season with Inda Craig-Galvain's Black Super Hero Magic Mama. Hot off the heels of the epic jukebox musical, You Are Cordially... by ShaWanna Renee Rivon, Black Super Hero Magic Mama truly represents the magnificence of Houston th...
BWW Review: ROMEO AND JULIET at Houston Grand Opera Is a Gratifying Delight
by Luke Evans - May 02, 2022
As the curtain rises in Houston Grand Opera's production of Romeo and Juliet, Charles Gonoud's 1867 adaptation of the seminal Shakespeare play, the audience is transported into a realm of romance and passion, brought to life by the soaring score and gifted performers. Though devotees of the original...
BWW Review: FIDDLER ON THE ROOF Brings Tradition to the Hobby Center Of Performing Arts
by Armando Urdiales - April 27, 2022
The Broadway classic is currently in residence at the Hobby Center and is a wonderful expression of both the beauties of our past and a great reminder that history repeats itself....
BWW Review: Art Factory's SWEENEY TODD is Well Sung But Rough Around the Edges
by Luke Evans - April 27, 2022
This sentimental value proved to be a benefit for Art Factory's intimate production, which hits some satisfying notes amid some noticeable stumbles. While I delighted in hearing the songs that I have loved since I was a faux-edgy 16 year old, I daresay that a lesser Sweeney Todd fanatic may have enj...