Multi-Disciplinary Indian Arts Non-Profit Launches In Dallas, With THREE WOMEN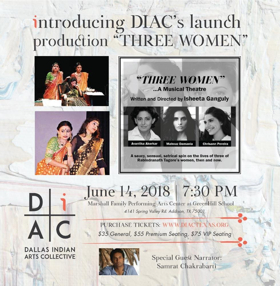 The founder of the DFW South Asian Film Festival (SAFF), Jitin Hingorani, in partnership with the founder of One Society by Shastra, Anu Agarwal, launches a multi-disciplinary, Indian arts non-profit in North Texas called DIAC, the Dallas Indian Arts Collective. The organization's mission is to educate, entertain and enrich the lives of North Texans by creating a cross-cultural platform to promote understanding and appreciation of Indian arts, whether performing, visual or literary.
"Arts creates (ex)change," said Hingorani, "and through the success of SAFF, we have noticed that Dallasites are hungry for quality South Asian programming in our art-friendly city. Much like the independent films we bring to North Texas every year, we NOW hope to bring independent artists -- dancers, singers, playwrights, authors, painters, sculptors -- to add to the vibrancy of our cultural landscape." "Art invokes the human spirit, while pushing our boundaries to think, act and feel unorthodoxly" said DIAC co-founder Agarwal. "We aim to provide a much-needed platform for these artists, so that they can share their unique and relevant stories with the community-at-large." DIAC's launch production is writer/director Isheeta Ganguly's musical play THREE WOMEN, a saucy, sensual satirical spin on the lives of Bengali author Rabindranath Tagore's three female characters, then and now. Isheeta Ganguly will travel from India with actors Avantika Akerkar, Mahnaz Damania and Chrisann Pereira, and actor Samrat Chakrabarti (special guest narrator) will be traveling from New York City. The play will be shown FOR ONE NIGHT ONLY at the Marshall Family Performing Arts Center at GreenHill School (
4141 Spring Valley Road
in Addison) on Thursday, June 14th from 7 to 9 p.m. *Tickets are $35, $55 and $75 and are available on the organization's website,
www.diactexas.org
.