BWW Review: TITAS PRESENTS: LOS ANGELES DANCE PROJECT at Moody Performance Hall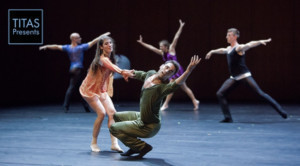 While the most recent show of TITAS Presents may be over, the dance scene at the AT&T Performing Arts Center is far from winding down. One of the freshest companies on the west coast, the Los Angeles Dance Project, brought more than standard contemporary ballet to the Moody Performance Hall. Under the artistic direction of Benjamin Millepied, the young LADP brought with it a few old favorites, and even a Kyle Abraham premiere.
The evening began with an interesting compilation of Martha Graham Duets, pulling sections of various pas de deux from cornerstone works like Diversion of Angels. While some good graham-cracker athleticism is always appreciated, the duets out of context didn't quite have the same impact as perhaps otherwise. Still, as an exercise I'm sure the duets more than warmed up the dancers for the meatier pieces to come.
Justin Peck's Helix was the first full-length piece of the series, and brought with it a pace and energy that would not relent for the rest of the night. Helix plays with motion and shape in an eponymous way. the company twist and almost writhe around in minimalistic costumes across a blank set, resulting in what can only be described as hypnosis. I do not envy the company for the amount of cardio they are putting in, for Peck's entire piece only seemed to grow in speed and fervor. This is the sort of energy I was expecting from LADP.
After a well-earned intermission, the show opens on what is definitely my favorite piece of the show: Kyle Abraham's premiere Ritalin Requiem. With an eclectic range of Philip Glass, Kendrick Lamar, and Babs, the veritable mixtape of a score felt like my driving playlist from last week. None of it should have worked, and yet for all the same reason the piece was so much more exciting. Abraham's style of Contemporary is fresh and ecstatic, simultaneously technical and not-at-all-balletic. A lengthy solo by company dancer Aaron Carr anchors the Requiem, and together with thrift shop costuming, club-like backlighting, and a movement language that I need to see more of, LADP absolutely stands at the front of where contemporary dance is going.
The final piece of the evening was Millepied's own On the Other Side, a lengthy yet fast-paced finale. Much as a tempo was set earlier in the show, it only sped up with movement after movement of intense core work and duet. Millepied plays with light, balance, and energy as company members take turns in various pairs and trios, most of which keep an up-tempo bounce despite the lyrical piano in the air. With intense lighting and noticeable breathing, the piece seems to exhibit best the strength and technique of the dancers, including standouts Nathan B. Makolandra and Patricia Zhou. If anything, I was looking for space to breath as the energy of On the Other Side remained so high.
If there was any uncertainty of great Contemporary Ballet on the west coast - we need not worry anymore. Los Angeles Dance Project's short run in Dallas was a surprisingly energetic presentation, with a particularly surprising contribution from one of dance's most interesting young choreographers. While LADP is no longer in the city, TITAS Presents is nowhere near from taking a break. The next piece in the series comes as Command Performance in early May, but what presses most on my mind is the announcement for next season, where TITAS Presents is bringing one my personal obsession to the city: Camille A. Brown. Check out more from TITAS Presents in the weeks to come, and look for tickets at http://www.attpac.org/series/titas-presents-2017-2018-season/. I was seriously so impressed by LADP, if not a bit exhausted by the shear amount of work the dancers were putting in. I cannot wait to see what TITAS Presents has in store for Dallas next.

Related Articles View More Dallas

Stories

Shows
Sam is currently a student at Southern Methodist University in Dallas studying Biology and Musical Theatre. Though he grew up performing and dancing in shows (read more...)