Student Blog: Spring Performance Season Heating Up - Frosty's World #11
"...how can a show go wrong if there are no sets, no costumes and the actors have their scripts with them?"
In the Midwest, paczkis are for Mardi Gras, and the cuisine of the Lenten Friday fish fry is only surpassed by corned beef and cabbage on St. Patrick's Day. Boiled corned beef, cabbage and carrots are fine, and I'm always good for potatoes. The friendly and health-promoting staff of Baldwin Wallace University Food Services have not been able to hide the potatoes from me. Forrest Gump time: French fries, steak fries, shoestring fries, baked wedges, mashed, and JoJo fries are just a couple of the go-to items. Besides finding a job after graduation, my next worry will be finding a consistent source of fried potatoes.
Eating fries and streaming is a great pandemic endeavor. The Baldwin Wallace Yellow Jacket Activity Board hit another winner, co-sponsoring the recent chat session with NBC's Saturday Night Live comedy star Melissa Villasenor. Her story is an amazing one. Growing up in Los Angeles, she skipped college and learned her trade by performing stand-up and open-mic nights from the age of 17. By 21 she had an audition with SNL, and voice acting jobs that aligned with her talents as an impressionist. She gave the Baldwin Wallace audience a little Dolly Parton, just for fun. It was fun to hear some behind-the-scenes secrets about the SNL workweek, and to get to know some of her sources of inspiration (i.e., Frida Kahlo). I'll bet that most of the people on the webchat searched for her Dying Mrs. Gomez SNL sketch after the show. I'm going to revisit Toy Story 4, just to catch her performance as Knifey and I'll look forward to reading her upcoming book.
Every once in a while, classes align perfectly with local events. In my History of Dance class at Baldwin Wallace, Professor Annika Sheaff addressed the evolution of jazz dance in New York during the 1920s. Shuffle Along, the 1921 hit musical by Eubie Blake and Noble Sissle was spotlighted for its impact on racial integration of the arts. On February 27th, I was thrilled to see Impact of Shuffle Along, a live musical presentation developed by Cleveland's Karamu House and Cleveland's The Musical Theater Project. The show is an instant classic. Karamu House is the oldest African American theater in the United States. Although Karamu House honors its African American history, it has evolved as a cherished source of multicultural theater and arts education for our nation. Impact of Shuffle Along introduces the modern audience to the remarkable music of Blake and Sissle, and proves why the 2016 Broadway revival of the show--featuring the choreography of Savion Glover--was tagged with ten Tony nominations. That year, Shuffle Along went head to head in the Tony competition with a little Broadway show called Hamilton.
Breaking barriers of race and culture was also the goal of the Ghostlight Project Event on March 1st. This online meet and greet gave a platform to 30 organizations across the nation that promote activism and organization of the arts community around benevolent causes. The Ghostlight Project is dedicated to promoting inclusivity in all arts and theater spaces. After the roll call and introduction of their humanitarian partners, a digital pep rally and dance party closed the show.
Even with the pandemic, the Cleveland theater scene is bumpin. I was thrilled to be chosen as a participant in Cleveland Playhouse's recent Theatre Thursday: The Art of Connection. Four short comedic plays were introduced with a unifying theme of "connection." Virtual audience member volunteers were encouraged to download the scripts before the show and participate in the readings. The works were commissioned by Cleveland Playhouse from four stellar playwrights, Philip Dawkins, Crystal Finn, Nandita Shenoy, and Lloyd Suh. Artistic director Laura Kepley was the host and there was a surprise finale! Local artist KatriceMonee created a painting live on camera, in real-time, inspired by our virtual stage performances. Talk about mixed media!
Back on campus, momentum is picking up towards the spring shows. My friend and classmate Sam Sommer wrote and directed Staged Reading: A Staged Reading. His dedicated and talented fellow students answered the question," . . . how can a show go wrong if there are no sets, no costumes and the actors have their scripts with them?" It was a thrill to see this student-created work come to life. The slapstick comedy spun out of control, as intended.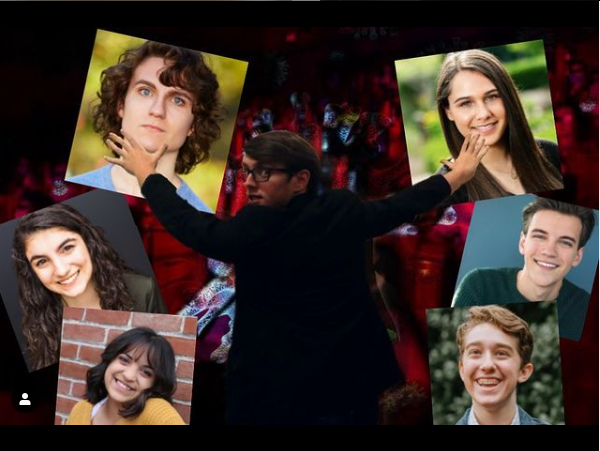 On a more subdued note, I connected last week with Baldwin Wallace University voice performance majors Sophia Sorrentino and Olivia Helman. They are preparing for their micro-opera debut performances this May. Our director of opera studies, Scott Skiba, assembled a group of internationally recognized composers and librettists to write nine micro-operas specifically for our students. The May virtual festival is a collaboration with Cleveland Opera Theatre (NOW) and New York City's On Site Opera. Olivia pointed out that it's pretty unusual to receive coaching directly from an opera composer. Most of them died in the 1800s. Never thought of that!
For a theater and arts lover, there is just too much to do on campus and too little time. Maybe grad school is the answer. That would also guarantee uninterrupted access to French fries at the Student Union!