Victory Gardens Announces Season Casting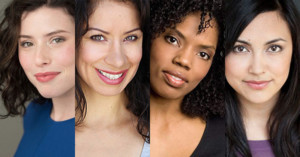 Victory Gardens Theater under the direction of Artistic Director Chay Yew and Managing Director Erica Daniels, announces casting for its upcoming productions of Indecent by Paula Vogel, directed by Gary Griffin, Rightlynd by Ike Holter, directed by Lisa Portes, Pipeline by Dominique Morisseau, directed by Cheryl Lynn Bruce, and Cambodian Rock Band by Lauren Yee, directed by Marti Lyons. The cast for Miriam for President by Madhuri Shekar, directed by Chay Yew, is yet to be announced.
Indecent
By Paula Vogel
Directed by Gary Griffin
Musical direction by Matt Deitchman
September 21 - November 4, 2018
Press September 28, 2018
Indecent features David Darlow (The Elder: Otto), Matt Deitchman (Accordion, Multi-instrumentalist), Elleon Dobias (Violin), Cindy Gold (The Elder: Vera), Noah LaPook (The Ingenue: Avram), Catherine LeFrere (The Middle: Halena), Benjamin Magnuson (The Stage Manager: Lemml), Kiah Stern (The Ingenue: Chana) and Andrew White (The Middle: Mendel).
Pulitzer Prize-winning playwright Paula Vogel (How I Learned to Drive) tells the deeply moving story of the controversial 1923 Broadway debut of Jewish playwright Sholem Asch's God of Vengeance - a play about a forbidden lesbian romance that enchanted and outraged audiences. Inspired by true events, Indecent is performed by a small ensemble of actors and musicians portraying more than 40 roles to chart an explosive moment in theatrical history and the artists who risked their careers and lives to perform it. Award-winner Gary Griffin (Hand To God, Fun Home) returns to Victory Gardens to direct this 2017 Tony Award-nominated play.
Rightlynd
By Ike Holter
Directed by Lisa Portes
November 9 - December 23, 2018
Press Opening: November 16, 2018
The cast of Rightlynd includes Jerome Beck (Applewood/Denizen 1), Robert Cornelius (Robinson/Denizen 5), LaKecia Harris (Amena/Denizen 2), Anish Jethmalani (Platt/Denizen 4), Eddie Martinez (Pac), Monica Orozco (Nina) and Sasha Smith (Manda/ Denizen 3).
Rightlynd is Chicago's 51st Ward. The L doesn't run here anymore and it is full of abandoned storefronts, crumbling apartment buildings, and its fair share of crime. A powerful real estate conglomerate is planning a massive redevelopment project that would gentrify the neighborhood and change Rightlynd forever. Only one woman stands in the way: Alderman Nina Esposito. In award-winning local playwright Ike Holter's ambitious new work, one woman tries to use her street smarts and raw determination to save the Chicago neighborhood she loves. But will the political machine turn her into the very person she is trying to destroy? Lisa Portes?(BREACH, A Little Bit Not Normal) directs the first play that sets in motion Holter's ongoing seven play saga set in this fictional Windy City neighborhood; the story cycle that includes?previous pieces?Exit Strategy,?Sender,?Prowess, and?The Wolf at the End of the Block.
Pipeline
Directed by Cheryl Lynn Bruce
February 1 - March 3, 2019
Press Opening: February 8, 2019
The cast of Pipeline includes Tyla Abercrumbie (Nya), Janet Ulrich Brooks (Laurie), Ronald L. Conner (Dun), Matthew Elam (Omari), Aurora Real de Asua (Jasmine) and Mark Spates Smith (Xavier).
Nya, an inner-city public high school teacher, is committed to her students but desperate to give her only son, Omari, opportunities her students will never have. When a controversial incident at his private school threatens to get him expelled, Nya must confront his rage and her own choices as a parent. But will she be able to reach him before a world beyond her control pulls him away? ?With profound compassion and poetry, Dominique Morisseau's?(Skeleton Crew,?Detroit 66, and the Broadway-bound?Ain't Too Proud to Beg)?Pipeline?brings to light a powerful and important conversation about parenthood, the state of our public school system, and the prison pipeline that claims so many of our inner city youth.
Cambodian Rock Band
By Lauren Yee
Directed by Marti Lyons
April 5 - May 5, 2019
Press Opening: April 12, 2019
The cast of Cambodian Rock Band includes Rammel Chan (Duch), Vichet Chum (Chum), Eileen Doan (Pou/Guard), Peter Sipla (Rom/Journalist), Matthew Yee (Leng/Ted) and Aja Wiltshire (Neary/Sothea),
Part comedy, part mystery, part rock concert, this thrilling story toggles back and forth in time, as father and daughter face the music of the past. Neary, a young Cambodian American, has found evidence that could finally put away individuals who carried out the Cambodian genocide. But her work is far from done. When Dad shows up unannounced-his first return to Cambodia since fleeing 30 years ago-it's clear this isn't just a pleasure trip. A wild rock-and-roll journey through the eyes of father and daughter, Artistic Director Chay Yew brings the world premiere journey of Lauren Yee's (Samsara), Cambodian Rock Band?from?South Coast Repertory Theatre to Victory Gardens.
Related Articles View More Chicago

Stories

Shows
More Hot Stories For You