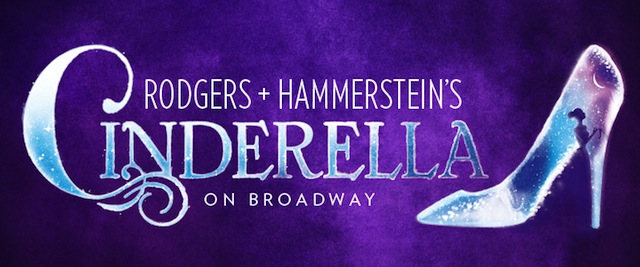 Click Here for More Articles on CINDERELLA THE MUSICAL
'The Showtune Mosh Pit' for March 25th, 2015
THE LATEST IN UNAUTHORIZED GOSSIP AND BUZZ FROM THE HEART OF CHICAGO'S SHOWTUNE VIDEO BARS, AND MUSICAL THEATER NEWS FROM CHICAGO TO BROADWAY
Overheard last weekend under the showtune video screens at Sidetrack and The Call:
Some of Chicago's theaters and other venues which only stage one or two musicals a year are getting into the game with the hint of spring that's been in the air lately. Let's review some prime examples, shall we?
Of course, you're probably looking forward with great excitement to "Carousel" at Lyric Opera Of Chicago, now in rehearsals and looking forward to a run of April 10-May 3 at the Civic Opera House. Starring Broadway and television stars Steven Pasquale ("Bridges Of Madison County") and Laura Osnes ("Cinderella") as Billy and Julie, the unconventional hero and heroine in Richard Rodgers and Oscar Hammerstein II's 1945 musical play set in New England, this production is rightfully gaining national attention. The star of Lyric's "The Sound Of Music" last year, Jenn Gambatese, returns as Carrie, with Matthew Hydzik her Enoch. Tony winner Jarrod Emick is Jigger, Denyce Graves is Nettie, Charlotte d'Amboise is Mrs. Mullin and journeyman star Tony Roberts is the Starkeeper, with David Lively as Mr. Bascombe and the Joffrey Ballet's Abigail Simon as Louise. The team of Rob Ashford and David Chase directs and conducts. Get your tickets now, peeps! June will bust out a little early this year.
http://www.lyricopera.org/carousel/
But before that happens, the Civic Opera House will host Lyric's world premiere mariachi opera "El Pasado Nunca Se Termina (The Past Is Never Finished)" on March 28 and 29, 2015. After tryout performances this month in the Pilsen neighborhood and in Waukegan, this piece, with libretto and direction by Leonard Foglia and music by Jose "Pepe" Martinez will make its downtown debut this weekend. The musicians of Mariachi Aztlan provide the accompaniment. And while this is an important part of Lyric's multi-cultural outreach programming, it also seems like a type of music theater that Mosh Pit peeps would immediately relate to, albeit with elements from a folk or operetta tradition mixed in. Be sure to click on the "sneak peek" video in the link below. It seems quite interesting!
http://www.lyricopera.org/pasado/
Beginning performances this Friday, March 27, 2015, at the Royal George Theatre's mainstage is "Louis And Keely: 'Live' At The Sahara," fresh from a seven-month run in Los Angeles. The show stars Tony winner Anthony Crivello as jazz great Louis Prima, and Vanessa Stewart as singer Keely Smith, and is directed by film director Taylor Hackford ("An Officer And A Gentleman"). The script is by Stewart, Hackford and Jake Broder, framing the most popular songs associated with Prima and Smith, including "That Ol' Black Magic" and "What Is This Thing Called Love." The run is announced through May 31st.
Anthony-Crivello-and-Vanessa-Stewart-to-Lead-LOUIS-AND-KEELY-at-Chicagos-Royal-George
And there are plenty of other examples of places dipping their toes once again into musical theater waters. For instance, Northlight Theatre is presenting the world premiere of "Shining Lives" from May 8-June 14, 2015. Based on a play the company commissioned called "These Shining Lives," the musical version has book, lyrics and direction by Jessica Thebus, and music by Andre Pluess and Amanda Dehnert (the latter is also the music director). Jess Godwin stars, along with Johanna McKenzie Miller, Bri Sudia and Tiffany Topol, supported by Alex Goodrich, Erik Hellman and Matt Mueller. It's 1922, and four women work at Chicago's Radium Dial Company, making watches. True story.
Northlight-Theatre-to-Present-SHINING-LIVES-A-MUSICAL
Chicago's InFusion Theatre Company is producing the new play-with-music, "Another Kind Of Love," from May 10-June 14, 2015, at the Chopin Theatre on Division Street. The show has a book by Crystal Skillman, lyrics by Skillman and Caroline Dorsen and music by Heidi Rodewald (Broadway's "Passing Strange", which she co-wrote with Stew). Directed by Mitch Golub and music directed by Jefferey Thomas, the show is about sisters who reunite for a concert commemorating the anniversary of their rock legend mother's suicide. The cast includes Alison Hixson, Brady Johnson, Courtney Jones, Amber Kelly, Annie Prichard and Tyler Young. Actors play instruments.
Photo-Flash-Meet-the-Cast-of-InFusion-Theatres-ANOTHER-KIND-OF-LOVE
Hyde Park's Court Theatre is presenting "The Secret Garden" from May 21-June 21, 2015, with artistic director Charles Newell directing Lucy Simon and Marsha Norman's Broadway musical. Doug Peck will music direct, bringing his knowledge of Indian music to bear, no doubt. Young Tori Whaples stars as Mary Lennox, with Rob Lindley and Jeff Parker (Archibald and Neville) fighting over the eyes of Lily, Jennie Sophia. Also starring are Marya Grandy, Maya Hlava, James Earl Jones II, Elizabeth Ledo (Martha), Aubrey McGrath (Dickon), Christine Mild and Alka Nayyar.
Court-Theatre-Sets-Cast-of-THE-SECRET-GARDEN
On the satirical side of things, Hell In A Handbag Productions announced its upcoming season, and one item particularly caught our interest: "Bette: Live At The Continental Baths," directed by Christopher Pazdernik and featuring Caitlin Jackson as the lady in question. This "musical cabaret" will take place July 17-August 21, 2015, at Mary's Attic in Andersonville. Men in towels are promised. But will Barry Manilow be at the piano?
Hell-in-a-Handbag-Sets-2015-16-Season
And we're finding out about some of these occasional musical theaters planning similar exciting projects for 2016. To wit: Rogers Park's Lifeline Theatre will premiere a new adaptation of Jane Austen's "Northangar Abbey" from May 26-July 17, 2016, with music and lyrics by Chicagoan George Howe. The book of the musical is by Robert Kauzlaric, and Elise Kauzlaric will direct.
NORTHANGER-ABBEY-MIDNIGHT-COWBOY-More-Set-for-Lifeline-Theatre
Glencoe's Writers Theatre is answering my prayers for a professional staging of Stephen Sondheim and George Furth's "Company" somewhere abouts, as no one can answer my question, "When was the last time anybody staged 'Company' here?" Well, from June 15-July 17, 2016, Writers will stage the landmark show in its new thrust theater designed by Jeanne Gang and Studio Gang Architects. William Brown will direct and Tom Vendafreddo will music direct. Can't wait!
MARJORIE-PRIME-COMPANY-and-More-to-Launch-Writers-Theatres-Season
And the Goodman Theatre will present the Leonard Bernstein/Comden and Green musical "Wonderful Town" from June 25-August 7, 2016, giving that 1953 show its first major airing in Chicago in many years. Mary Zimmerman will direct, as she did with Bernstein's "Candide" at the Goodman in 2010. Those two productions, along with the current "West Side Story" at the Drury Lane Theatre (closing on Sunday) and last summer's "On The Town" at the Marriott Theatre, mean that Chicago will have seen major local productions of all four of Bernstein's big Broadway hit during this decade. What other city can say the same? Now we just need "1600 Pennsylvania Avenue" and we'll be all set! Don't hold your breath, peeps.
DISGRACED-Riveras-ANOTHER-WORD-FOR-BEAUTY-and-More-Set-for-Goodman-Theatre
So that's the big news from this week. Next time we'll catch up with season announcements from some of the more usual suspects like the Paramount Theatre and Kokandy Productions. There are several prominent openings in the offing, too, at the Marriott, Porchlight and Drury Lane theaters. So, if I don't see you there, I'll see you under the video screens.....right?-PWT
[Be sure to subscribe to the Mosh Pit! Click here to subscribe to our BroadwayWorld Message Board discussion thread. Receive your e-mail notice that the weekly "Showtune Mosh Pit" is available!]
[And click here to "Like" BroadwayWorld Chicago on Facebook!]