Rodgers + Hammerstein's Cinderella - Broadway
Rodgers + Hammerstein's Cinderella is the Tony Award-winning Broadway musical from the creators of South Pacific and The Sound of Music that's delighting audiences with its surprisingly contemporary take on the classic tale. This lush production features an incredible orchestra, jaw-dropping transformations and all the moments you love - the pumpkin, the glass slipper, the masked ball and more-plus some surprising new twists! Be transported back to your childhood as you rediscover some of Rodgers + Hammerstein's most beloved songs, including 'In My Own Little Corner,' 'Impossible/It's Possible' and 'Ten Minutes Ago' in this hilarious and romantic Broadway experience for anyone who's ever had a dream.
"The ultimate and most enduring of makeover shows is back in town, and this CINDERELLA is no passive damsel waiting for a rescuing knight. She takes charge of her destiny."
-The New York Times
"EYE-POPPINGLY OPULENT enough to wow any six-year-old at heart!"
-The New Yorker
Video preview
Photo preview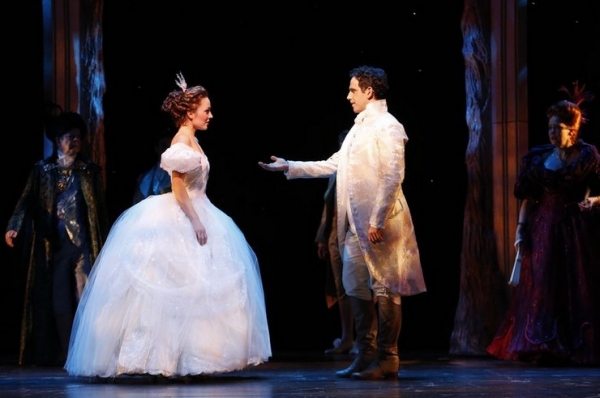 Schedule
Running Time: 2 hours and 20 minutes, with one intermission
Featured Reviews For Rodgers + Hammerstein's Cinderella
STAGE REVIEW Cinderella - Entertainment Weekly
Luckily, there are some fairy godmothers behind the scenes who redeem this production, including Anna Louizos for her stellar scenic design and William Ivey Long for his gloriously ornate costumes. Long and director Mark Brokaw also stage how-the-heck-did-they-do-that visual tricks that transform Cinderella from rags into red-carpet-ready riches before our eyes. And on stage, several performances sparkle - notably the hilarious Ann Harada (Avenue Q's original Christmas Eve) as dumpy stepsister Charlotte. Of course, none of the young women seated near me were inclined to nit-pick as they rose for a standing ovation at the end. Never underestimate the power of a ball gown and glass slippers. B
Theater review: 'Cinderella' - NorthJersey.com
You wish the second act were faster and funnier - but, taken as a whole, "Cinderella" works, providing a solid and congenial framework for Rodgers and Hammerstein's wonderful songs.
Rodgers + Hammerstein's Cinderella Broadway Cast