Raven Theatre Announces 2018-19 Season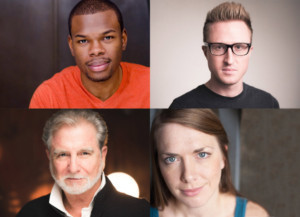 Raven Theatre is pleased to announce its 2018-19 Season, kicking off this fall with the sharp and boisterous play CRUMBS FROM THE TABLE OF JOY by two-time Pulitzer Prize-winner Lynn Nottage (Sweat, Ruined). Tyrone Phillips directs this drama about family, faith and revolution.
The season continues next winter with Paula Vogel's Pulitzer Prize-winning masterpiece HOW I LEARNED TO DRIVE, featuring Jeff Award-nominated actress Eliza Stoughton as Li'l Bit. Artistic Director Cody Estle directs this artful, surprising and often-funny memory play that explores how we are shaped by the people who hurt us.
In spring 2019, Raven brings Anna Jordan's savage, unrelenting drama YEN to Chicago for the first time. Elly Green directs this play about growing up, opening the windows and letting in the light.
Raven's 2018-19 Season concludes in summer 2019 with the Chicago premiere of Laura Eason's THE UNDENIABLE SOUND OF RIGHT NOW, a poignant and potent portrait of those who can change with the times and those who get left behind, directed by BJ Jones.
Raven Theatre is located at 6157 N. Clark St. (at Granville) in Chicago's Edgwater neighborhood. A variety of 2018-19 Season subscription packages will go on sale Wednesday January 24, 2018 at www.raventheatre.com or by calling (773) 338-2177.
Comments Raven Theatre Artistic Director Cody Estle, "I'm excited to present my first season as Artistic Director of Raven Theatre. It thrills me that, for the first time in the theatre's history, each production features a female playwright, two of whom are Pulitzer Prize-winners. I am also pleased that the season brings three directors who are new to Raven Theatre, but are not new to Chicago audiences. The central characters in each play face critical moments of change in their lives. While always difficult, change opens the way to new beginnings. I look forward to sharing these characters' new beginnings as we shepherd in a new beginning for Raven Theatre."
Raven Theatre's 2018-19 Season:
October 4 - November 18, 2018
CRUMBS FROM THE TABLE OF JOY
By Lynn Nottage
Directed by Tyrone Phillips
Press opening: Monday, October 8, 2018 at 7:30 pm
Brooklyn, 1950. Ernestine and Ermina Crump have moved to New York with their father, Godfrey, who is seeking spiritual guidance from a man called Father Divine. In the swirling, glamorous commotion of this new city, with calls for equal rights and communist rebellion hanging in the air, the girls begin a turbulent journey toward independence and a challenging future.
February 7 - March 24, 2019
HOW I LEARNED TO DRIVE
By Paula Vogel
Directed by Artistic Director Cody Estle
Featuring Eliza Stoughton as Li'l Bit
Press opening: Monday, February 11, 2019 at 7:30 pm
Rural Maryland, 1960s. From behind the wheel of a Chevy '56, a woman named Li'l Bit navigates the tangled boulevards of her adolescence, reflecting on her complex and troubling relationship with her family. But old secrets and fresh discoveries abound as she struggles to accept her past and the demons that live there.
March 21 - May 5, 2019
YEN - Chicago Premiere!
By Anna Jordan
Directed by Elly Green
Press openings: Monday, March 25 and Tuesday, March 26, 2019 at 7:30 pm
London, right now. Two practically feral teenaged brothers live alone in their filthy flat with a dog named Taliban, perpetually bathed in the blue glow of their screens: playing video games, watching porn, waiting for the occasional visit from their detached mother, and surviving. But when a strange neighbor girl barges through the door, the boys' little blue world begins to change color.
May 2 - June 16, 2019
THE UNDENIABLE SOUND OF RIGHT NOW - Chicago Premiere!
By Laura Eason
Directed by BJ Jones
Press opening: Monday, May 6 at 7:30 pm
Chicago, 1992. The city and its culture are changing, but grungy old Hank's Bar isn't. The "soulless" noise of electronic music is on the rise. Hank, proprietor of a legendary rock club, must battle the rising tide of The Next Big Thing as it threatens to destroy his legacy and fracture his family.
About the Playwrights
Lynn Nottage's (Crumbs from the Table of Joy) play Sweat received the 2017 Pulitzer Prize for Drama and three Tony Award nominations. Her play Ruined received the 2009 Pulitzer Prize for drama, along with an Obie, the Lucille Lortel Award, New York Drama Critics' Circle Award, Drama Desk Award, and Outer Critics Circle Award for Best Play (Manhattan Theatre Club, Goodman Theatre). Her other plays include Intimate Apparel (New York Drama Critics' Circle Award for Best Play; Roundabout Theatre, CENTERSTAGE, South Coast Repertory); Fabulation, Or the Re-Education of Undine (Obie Award; Playwrights Horizons, London's Tricycle Theatre); Crumbs from the Table of Joy; Las Meninas; Mud, River, Stone; Por'Knockers and Poof! Nottage is the recipient of numerous awards, including the 2007 MacArthur Foundation "Genius Grant," the National Black Theatre Festival's August Wilson Playwriting Award, the 2004 PEN/Laura Pels Award for Drama, and the 2005 Guggenheim Grant for Playwriting, as well as fellowships from the Lucille Lortel Foundation, Manhattan Theatre Club, New Dramatists, and New York Foundation for the Arts. She is a member of The Dramatists Guild, an alumna of New Dramatists and a graduate of Brown University and the Yale School of Drama, where she is a visiting lecturer. www.lynnnottage.net
Paula Vogel (How I Learned to Drive) has written How I Learned to Drive (Pulitzer Prize, New York Drama Critics Award, Obie Award, Lucille Lortel, Drama Desk, Outer Critics Circle and many more). Other plays include A Civil War Christmas, The Long Christmas Ride Home, The Mineola Twins, Hot 'N' Throbbin, The Baltimore Waltz, Desdemona, And Baby Makes Seven and The Oldest Profession. Her plays have been produced by Second Stage, New York Theatre Workshop, the Vineyard Theatre, Roundabout and Circle Repertory Company. Her plays have been produced regionally all over the country at the Center Stage, Intiman, Trinity Repertory, Woolly Mammoth, Huntington Theatre, Magic Theatre, The Goodman Theatre, American Repertory Theatre, Dallas Theatre, Berkeley Repertory, and Alley Theatres to name a few. Harrogate Theatre and the Donmar Theatre have produced her work in England.
Anna Jordan (YEN) is a London-based playwright, director and acting coach. Awards include the Bruntwood Prize for Playwriting 2013 for YEN, Shortlist of Susan Smith Blackburn Prize for YEN, Best Fringe Production for Chicken Shop at Park Theatre (West End Frame Awards) and Overall Winner / Audience Choice Award for Closer To God (Off Cut Festival). Writing credits include: We Anchor In Hope (Royal Court Theatre - Beyond the Court), A Serious Case of the Fuckits (Royal Central School of Speech and Drama), YEN (Royal Exchange / Royal Court), Chicken Shop (Park Theatre London), Freak (Assembly Studios / Theatre503), Stay Happy Keep Smiling (Soho Theatre), Bender (Old Red Lion) and Fragments (Riverside Studios). Her plays have also been performed internationally. Anna is Artistic Director of Without a Paddle Theatre. As a director she has worked at the National Theatre on NT Connections play Tomorrow I'll Be Happy, as well as directing numerous productions at new writing powerhouse Theatre503. She also directed Crystal Springs at Eureka Theatre in the San Francisco. She works frequently at London drama schools including RADA, LAMDA, Central, Arts Ed and Italia Conti. Anna is currently working with Headlong, The Royal Exchange, The Royal Court and Frantic Assembly.
Laura Eason (The Undeniable Sound of Right Now) is a Brooklyn-based screenwriter and playwright. She is best known for four seasons as a writer/producer on the Netflix drama House of Cards (WGA nomination for outstanding writing in a drama series, three Primetime Emmy Award nominations for drama series) and her play Sex With Strangers (Steppenwolf Theatre, Chicago; Second Stage, NY; Hampstead Theatre, London; Sydney Theatre, AU; Blackwing Productions, Buenos Aires, AR; one of the most produced plays in the U.S. of the '15-'16 and '16-'17 seasons with more than 50 separate productions). Her award-winning stage adaptations for family audiences include The Adventures of Tom Sawyer (Hartford Stage, CT; New Victory, NY; and more than thirty productions around the U.S.) and Around the World in 80 Days (Lookingglass Theatre, Chicago and many productions in U.S. and London/UK). Eason is an ensemble member and the former Artistic Director of Lookingglass Theatre Company in Chicago (2011 Regional Theatre Tony Award), and a Dramatists Guild, WGAE, AEA, SAG, and SDC member. Laura is an alumna of Northwestern University and WP Playwright's Lab. More information at www.lauraeason.com or @LEasonNYC
About the Directors
Tyrone Phillips (Crumbs from the Table of Joy) is the founding Artistic Director of Chicago's Definition Theatre Company. Named one of the Chicago Tribune's "Hot New Faces of 2015" and Newcity's "Players 2016: The Fifty People Who Really Perform for Chicago," he is a graduate of the University of Illinois Urbana-Champaign where he received his BFA with honors. Directing credits include the critically-acclaimed production of Byhalia, Mississippi (Joseph Jefferson Awards nomination), which remounted to open the Steppenwolf 1700 Theatre, Dutchman (Definition Theatre), The MLK Project: The Fight for Civil Rights (Writers Theatre), 33 to Nothing (A Red Orchid Theatre), Dontrell, Who Kissed The Sea (Illinois Theatre), We the People, Our Town, Lord of the Flies, The Tempest (Niles North Theatre). You also may have seen his work as associate director for Red Velvet (Chicago Shakespeare Theatre) and as the assistant director for Trevor the Musical, Parade and The Mystery of Love and Sex (Writers Theatre). Tyrone also studied abroad at Shakespeare's Globe and was an emerging professional resident at the Milwaukee Repertory Theatre where he worked on A Raisin in the Sun, The Mountaintop, and Clybourne Park. Tyrone is represented by Grossman and Jack Talent and was recently selected as one of Newcity's "Players-the 50 leaders of Chicago's theater, dance, opera and comedy culture of 2018".
Cody Estle (How I Learned to Drive) is the new Artistic Director of Raven Theatre. Previously he served as the Associate Artistic Director at Raven and has directed a number of productions for the theatre. His work includes directing for Northlight Theatre, Shattered Globe Theatre, Strawdog Theatre, First Floor Theatre, Redtwist Theatre, The Artistic Home, Haven Theatre and more. He was the Artistic Assistant at Northlight Theatre, a Directing Associate at Goodspeed Musicals and taught on the faculty of Cherubs at Northwestern University. He has been an assistant director at Steppenwolf Theatre, Northlight Theatre, Writers Theatre, Court Theatre and Marriott Theatre. Estle holds a B.A. in directing from Columbia College Chicago.
Elly Green's (YEN) upcoming productions include Pillars of the Community by Henrik Ibsen/Samuel Adamson for Strawdog Theatre and You for Me for You by Mia Chung for Sideshow theatre, both in Spring 2018. Previous credits include: After Miss Julie, The Night Season (Strawdog) The Woman in Black (Wildclaw), The Distance (Haven), No More Sad Things (Sideshow), The Woman Before (Trap Door) and Rabbit (Stage Left). Elly trained in the UK at Birkbeck College, LAMDA and the National Theatre Studio. www.ellygreendirector.com
BJ Jones (The Undeniable Sound of Right Now) is in his 20th season as Artistic Director of Northlight Theatre, where he has commissioned and directed the world premieres of Faceless, Charm, White Guy on the Bus, Chapatti, Stella & Lou, The Outgoing Tide (Jeff Nomination - Best Director), Better Late and Rounding Third. Notably he has directed productions of Outside Mullingar, Grey Gardens, The Price (Jeff Nomination - Best Director), A Skull in Connemara, The Cripple of Inishmaan, and The Lieutenant of Inishmore. As a producer he has guided the world premieres of Shining Lives, The Last Five Years, The Gamester and Studs Terkel's The Good War. From Second City to Shakespeare, BJ has directed Pitmen Painters (Jeff Nomination - Best Director, TimeLine), A Number (Next), 100 Saints You Should Know (Steppenwolf) and The Dresser (Body Politic). Regional: Glengarry Glen Ross (Suzie Bass Nominee - Best Director, Atlanta's ALLIANCE THEATRE), Enchanted April (Asolo Theatre), and productions at Cherry Lane Theatre NY, Galway International Arts Festival, Baltimore Center Stage, and Utah Shakespeare Festival. As a performer, Mr. Jones is a two-time Joseph Jefferson Award winner and has appeared at Northlight, Goodman, Steppenwolf, Court and other theatres throughout Chicago. Film/TV credits include The Fugitive, Body Double, Law and Order: Criminal Intent, Early Edition, Cupid and Turks, among others.
About Raven Theatre
Raven Theatre tells stories of today and the past that connect us to our cultural landscape. Through its plays as well as its educational programming, Raven is committed to serving our communities' needs through the arts.
Raven Theatre Company is funded in part by the Alphawood Foundation, Dramatists Guild Fund, Elizabeth F. Cheney Foundation, The MacArthur Fund for Arts and Culture at Prince, Polk Bros. Foundation, The Arts Work Fund for Organizational Development, S&C Electric, The Gaylord and Dorothy Donnelley Foundation, the PAV Fund and the Illinois Arts Council, a state agency.
PHOTO CREDIT: Raven Theatre's 2018-19 Season directors (top, l to r) Tyrone Phillips and Cody Estle (bottom, l to r) BJ Jones and Elly Green.