Totem Pole Playhouse Celebrates A Record-Breaking Season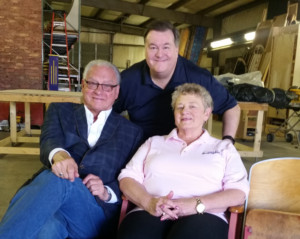 Totem Pole Playhouse has returned to financial stability thanks to improved box office revenue, successful fundraising events, grants and improved fiscal management after teetering on the verge of bankruptcy several years ago, announced Producing Artistic Director, Rowan Joseph and Rose Tripi, President of the Board of Directors.
"I think the greatest achievement since Rowan took over the management of the Playhouse has been that we have not taken a single penny from our endowment," said Rose Tripi, President of the Board of Directors for the Playhouse. "Not only that, but we've added a second endowment fund in Adams County as part of the Adams County Community Foundation."
"Totem Pole had over three-quarters of a million dollars in 2008 in the endowment," added Joseph. "When I started in 2013, that was down to less than fifty thousand dollars, which was frightening. The truth is, Totem Pole had been losing more than a hundred thousand dollars annually over many years and was living off of its endowment. We have been able to add money every year since to the Franklin County endowment, and so far that contribution has doubled each year from the year before. Our combined endowment funds, coupled with an investment property we own, now totals over one hundred and fifty thousand dollars."
Joseph said the Playhouse intends to set a cap on the total of its two endowment funds at three-hundred thousand dollars. "Many years ago it made sense for arts organizations to have a large multimillion-dollar endowment but with current interest rates so low that is no longer the best financial practice. Today, the ideal role model is to have enough to cover a major unforeseen financial catastrophe and otherwise to never touch any of the invested funds. So far we've rolled over any interest we've made each year but that interest will eventually go into operating funds once we hit our planned cap."
Totem Pole has also seen a substantial increase in box office revenues with this past season's production of Million Dollar Quartet bringing in $332,650.25 and setting a new box office sales record. In addition, the final production of the season, Love Letters, starring Meredith Baxter and Michael Gross from the classic TV series, Family Ties, sold out all eight of its performances. Box office manager, Renee Rankin, said, "We sold out many of our houses this season, especially for the final two productions and the season opener, Driving Miss Daisy with Michael Learned from The Waltons. We also had more groups than we've had since 1983 when Jean Stapleton was starring in shows here." Stapleton's husband William (Bill) Putch ran the Playhouse from 1954 to 1983.
Carl Schurr, who ran the Playhouse for 25 years from 1984 to 2008, noted the valuable contribution Totem Pole has made not only locally but nationally. "This past season, there was a Tony Award nominated play running on Broadway, A Doll's House, Part 2, in which three of the four cast members performed earlier in their careers on stage at Totem Pole: Jayne Houdyshell, Julie White and Stephen McKinley Henderson. Miss Houdyshell appeared in 30 productions over many summers, and both she and Miss White have both gone on to win a Tony Award for their acting, the highest achievement a stage actor can attain."
In addition to a slate of shows each summer season, Totem Pole presents its annual production of A Christmas Carol each December at the Majestic Theater in Gettysburg in association with Gettysburg Community Theatre. "Truthfully, once you factor in the cost of renting another venue, the production's two-story revolving set and special effects, plus a cast double the size of anything our stage could handle, we don't make nearly as much money as we do on shows produced at the Playhouse," said Totem Pole's long-time General Manager, Sue McMurtray. "A Christmas Carol does however give us a stronger presence in Adams County and it has helped to boost tourism in Gettysburg during the winter holidays."
This March, Totem Pole will begin presenting an annual production of Andrew Lloyd Weber and Tim Rice's Jesus Christ Superstar in association with Chambersburg Community Theatre at the Capitol Theater in downtown Chambersburg. Actor's Equity Association, the union which represents professional stage actors, has restrictions which forced the Playhouse to move A Christmas Carol To Gettysburg. "I promised the Franklin County Visitor's Bureau when that happened that I would figure out a way to make up for the move. It really bothered me that after ten years we were able to bring back the show which so many grew up with in Chambersburg each Christmas, only to turn around and move it to the Majestic. The truth is, just as Carl Schurr and Wil Love's original production grew too big for the old Central Center, our new production was just too big for the Capitol to handle. The Majestic is the best home for the show just as the Capitol, I believe, will be a perfect fit for Jesus Christ Superstar each Easter season - hopefully for many years to come."
Joseph said the Playhouse has also benefited greatly from various grants and sponsorships, such as $33,000.00 grant earlier this year from the Franklin County Commissioners for new lighting equipment at the 47-year old Playhouse. The Adams County Community Foundation sponsored student matinees of A Christmas Carol the past two years and Adams Electric Cooperative, Inc. has sponsored a free children's theater production each summer at the Playhouse for the past five years. Thanks to a legacy gift from the estate of William M. Moore, Jr., a high school educator and drama director for many years in Frederick, MD, the Playhouse was able to endow two $1,000.00 scholarships to be awarded each year to high students as part of the annual Totem Pole Playhouse Awards, which recognize outstanding production of local high school musicals in Franklin, Adams, and Fulton Counties. Additionally, acclaimed political comic Lewis Black gave a benefit performance as a fundraiser for the Playhouse in March that raised over $36,000.00. Filmmaker and director, John Putch, donated the proceeds from a special screening of his award-winning movie, The Father and the Bear, which was filmed at Totem Pole Playhouse and various locations around Franklin and Adams County.
Since taking charge of the management of the Playhouse, Joseph has overseen the renovation the men's and women's dressing rooms, remodeled the "green room" (where the actors wait offstage between scenes and take meal breaks), installed a new state-of-the-art sound system, added six additional paved handicap parking spaces, and replaced the Playhouse's iconic 1970's wagon wheel house lights with new energy-efficient LED pendant lights. The Playhouse also reached a long-term rental agreement this past spring for a new 10,000 sq.ft. scenic, costume, and props shop located several miles from the Playhouse.
Totem Pole is currently conducting a capital campaign to raise $400,000.00 to repurpose the old rehearsal hall into a new permanent office space and the old scenic shop into a full-size rehearsal hall, souvenir shop, and new women's bathroom facilities. Chambersburg architectural firm, Noelker & Hull Associates is the architect for the renovations, which will be conducted in several stages beginning as early as this spring and continue through the summer of 2019, as the funds are raised.
"As you can see, it isn't any one thing or any one person who is responsible for saving Totem Pole Playhouse," Joseph said, "it's many things and many people, especially the generations of families who continue to fill our seats once again each summer. I honestly lost count this season of how many folks came up to me after a show and said, 'This is the first time I've been back to the Playhouse in 10 or even 20 years;' or 'My parents and grandparents were subscribers every year.' I feel as though I am the caretaker of this treasured little piece of so many people's lives."
Totem Pole Playhouse General Manager, Sue McMurtray and Producing Artistic Director, Rowan Joseph (foreground) with 25-year veteran Producing Artistic Director, Carl Schurr, in the playhouse's old scenic shop which is being converted into new women's restrooms, a souvenir shop, and a new rehearsal hall to be named after Schurr and Wil Love, veteran actor at Totem Pole Playhouse.
Totem Pole Playhouse's 25-year veteran Producing Artistic Director, Carl Schurr, and General Manager, Sue McMurtray, (seated) with current Producing Artistic Director, Rowan Joseph in the Playhouse's new 10,000 sq. ft. scenic & costume shop located several miles down the road from the historic summer theatre. The old shop at the Playhouse is being renovated into new women's bathrooms, a souvenir shop, and a larger rehearsal hall to be named after Schurr and Wil Love, veteran actor at Totem Pole Playhouse.
Related Articles View More Central Pennsylvania

Stories

Shows
More Hot Stories For You