Kick To Recreate The Live INXS Concert Experience At Daryl's House, 4/29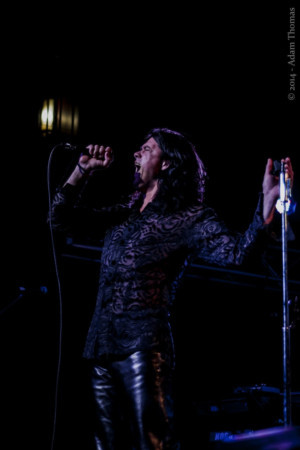 KICK - The INXS Experience, the most authentic recreation of the highly-popular, late 1980s supergroup, INXS will replicate the live INXS concert experience in PAWLING, NY when they perform live at Daryl's House on Sunday, April 29 at 7 p.m. Tickets are on sale now at http://www.darylshouseclub.com
KICK, the only nationally-touring INXS tribute band in the United States, delivers a high-energy, 90-minute jam-packed set featuring INXS' biggest hits, including "Need You Tonight," "Devil Inside," "New Sensation," "Disappear," and "Suicide Blonde," along with some of the deeper tracks from INXS' extensive catalog, including fan favorites "Stay Young," "To Look At You," "I Send A Message," and "Shine Like It Does."
Formed in 2014, two years after INXS stopped touring, KICK - The INXS Experience has beautifully managed to capture the spirit of INXS in both its sound and live performance, bringing the highest level of musicianship to the audience while showing passion for the music of INXS. Vocalist, guitarist, and singer-songwriter Cory Massi is the founding frontman of KICK and has long held the respect and admiration for the late great Michael Hutchence. He even auditioned for the reality TV show, Rockstar: INXS in 2004, where contestants competed to become the new lead vocalist for INXS.
"I loved Michael's singing and his personality," notes Massi. "I saw INXS when I was a teenager in '88 and '89; they were great, and the people were just gaga over them. Michael left a big impression on us with his star power. That guy really had it. Our range is similar, and I just went for it."
KICK also features Johnny Dee on drums, Don Leslie on bass, Mark Goodnough on piano and synthesizer, Todd King and Jason Taylor on guitars, and Tom Wheat on saxophone.
With a career spanning 40 extraordinary years and a solid chart history that includes seven Billboard Top 10 hits (# 1 Need You Tonight, # 2 Devil Inside, # 3 New Sensation, # 4 What You Need, # 7 Never Tear Us Apart, # 8 Disappear, and # 9 Suicide Blonde), INXS is undoubtedly one of the world's most successful bands. In the United States alone, they have sold over 15 million albums, making them the third-highest selling Australian music act in the U.S. behind AC/DC and The BeeGees. Few rock bands have achieved the success and longevity that INXS has enjoyed.

KICK website: www.get-kicked.com
KICK facebook: www.facebook.com/KICKtheINXSexperience
KICK instagram: www.instagram.com/kick_the_inxs_experience
KICK twitter: www.twitter.com/get_kicked