Adirondack Theatre Festival Announces 25th Anniversary Season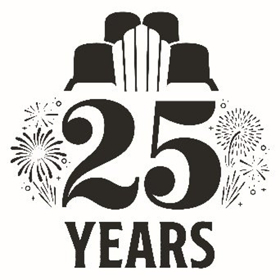 Adirondack Theatre Festival announces the lineup for ATF's 25th Anniversary Season. The leading professional theatre in the Capital Region dedicated to new plays and musicals, ATF's season runs June 14 - August 9, 2019 with performances at the Charles R. Wood Theater in Downtown Glens Falls, NY. The summer season of fully produced new works features 4 Mainstage shows and 4 special events, including a multiple award-winning science thriller, a romantic comedy musical based on an incredible true story, a Monty Python-esque musical comedy set in the Dark Ages, and an uplifting musical about a young boy connecting with the grandfather he never knew he had.
"I'm proud to be a part of an organization that plays such a vital role not only in the local arts scene, but in the National Theatre community," says Chad Rabinovitz. "A quarter of a century is an important milestone for our organization and the best way to celebrate it is with the biggest and best season of new plays and musicals in ATF's history. I couldn't be more excited for the summer of hilarious, moving, thought-provoking, and impactful entertainment. And as always, what you see at ATF, you can't see anywhere else in the world."
Adirondack Theatre Festival's Anniversary Season follows a record-breaking summer of sold-out performances in 2018, having doubled attendance and subscribership in the past three years. The 2019 Season kicks off with Jeremy Schonfeld & Emily Goodson's, Calling All Kates, running June 14-22, 2019. This romantic comedy musical is based on the true story about a young man (Marc) who plans a honeymoon around the world only to have his fiancé break up with him, leaving him with non-transferrable and non-refundable plane tickets. Marc does a social media search to find someone with the exact same name as his ex to travel the globe with him.
"Calling All Kates was featured in our 2018 season as a developmental reading. It was without a doubt the most successful and well-attended reading we've ever done. The show is even better now and is ready for a fully staged, hysterical and heartfelt production," says Chad Rabinovitz, who will also direct the show.
ATF will present The Enlightenment of Percival von Schmootz by the celebrated comedic songwriting duo, Michael Kooman & Chris Dimond, from July 5-13, 2019. Directed by Scott Weinstein (Knights of the Sales Office), this Monty Python-esque musical follows a ridiculously optimistic young man fed up with a world filled with plagues, pestilence, and poor personal hygiene as he sets out on a quest to end the Dark Ages. In his attempts to bring the light of hope to the world, Percival von Schmootz meets with hilariously disastrous results at every turn.
An edge-of-your-seat science thriller from Canadian playwright, Arun Lakra, takes the stage June 23-27, 2019. Directed by Marshall Pailet (Loch Ness and Nikola Tesla Drops the Beat), Sequence follows Time Magazine's "Luckiest Man Alive" who has successfully bet double or nothing on the Super Bowl coin toss for 20 consecutive years. He's getting ready to risk $800 million on the 21st when a young woman claims to have figured out his mathematical secret. This mind-blowing drama is the recipient of:
· Woodward/Newman Drama Award - Winner
· Betty Mitchell Award Winner - Outstanding New Play
· Calgary Theatre Critics Award - Best New Script
· Alberta Playwriting Competition - Grand Prize Winner
· STAGE International Script Competition - FINALIST
· Gwen Pharis Ringwood Award for Drama
The final mainstage show of ATF's 2019 season is Douglas Lyons & Ethan D. Pakchar's uplifting musical, Beau, performing August 3-9, 2019. Eight actor-musicians tell the story of Ace Baker, who spends the first decade of his life fatherless. At 12 years old, a phone call reveals that his grandfather, Beau, has been alive all his life...and his mother knew. Family secrets unravel as Ace rushes to make up for lost time with a man who changes his life and puts a guitar in his hand. Beau is presented by special arrangement with R.K. Greene, The StoryLine Project, LLC.
Adirondack Theatre Festival will bring back its highly successful PB&J Café: A Dinner Theatre for Kids. The PB&J Café gives young theatre-goers the opportunity to participate in a pre-show art activity, dine during the live theatre performance, and come home with autographs from their favorite actors. This year's production is the classic adventure, Alice in Wonderland, by Lewis Carroll and adapted by Kathryn Schultz Miller, performing June 25-28 & July 16-20, 2019.
Additional special events for the 2019 Season will feature ATF's Greatest Hits - a collection of fan-favorite songs from ATF musicals over the past 25 years,July 7-8, 2019. A concert reading of a new musical, Start Again, from the writer of ATF's best-selling show, Nikola Tesla Drops the Beat, July 19-20, 2019. And an utterly unique blend of comedy, magic, and contortion with Jonathan Burns: Flexible Comedy, June 28 & 29, 2019.
Flexible Subscription Packages ranging from 3 passes to 7 passes are on sale Feb. 12, starting as low as $95. Individual tickets are on sale April 2. Through ATF's Subscribe It Forward program, last year's subscribers who choose to renew will get the gift of a free additional subscription to give to any friend who was not a subscriber to the previous season. ATF is the only theatre in the world offering this innovative initiative that celebrates the loyalty of its core supporters. Packages and tickets to individual shows may be purchased by calling (518) 480-4878 or visiting the Wood Theater Box Office.
For more information on the full season, including detailed show descriptions and video trailers, visit www.ATFestival.org.