THE DORIS DEAR CHRISTMAS SPECIAL Announces Additional Guests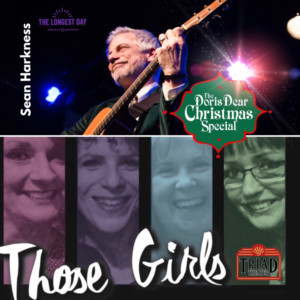 Celebrating her third year of holiday magic, Mac Award winning and BroadwayWorld.com nominee drag artist Doris Dear, known as "America's Perfect Housewife", announces that the all new "Doris Dear Christmas Special", is honored and excited that Sean Harkness will be joining the party all three nights at The Triad Theater on December 19, 20 & 21st at 7pm. Sean's multiple awards include the coveted MAC, Bistro, and BroadwayWorld.com awards. Sean has eight commercial releases as an artist, many on Windham Hill Records [BMG/RCA/Sony] and has an active international touring schedule that takes him around the globe.
Also joining the party for the first time is that multiple award-winning vocal harmony powerhouse group "Those Girls"! Made up of Eve Eaton, Rachel Hanser, Karen Mack & Wendy Russel, their fresh takes on all things vocal have quickly made them a New York City favorite with audiences and critics alike.
Sean and "Those Girls" will be joining Lisa Yaeger, Lina Koutrakos, Rick Jensen and Steve Doyle as guests on stage for the holiday party.
This year, Doris Dear will also be donating a portion of the proceeds from the shows to The Alzheimer's Association. The character of Doris Dear that Ray DeForest created 4 years ago, was inspired by his mother, Taffy, who passed away from Alzheimer's. "Thank you to Ray DeForest and the Doris Dear Christmas Special for your generous support," said Christopher Smith, executive director of the Alzheimer's Association, New York City Chapter. "Proceeds from the Doris Dear Christmas Special will advance critically needed Alzheimer's and dementia research and help to keep the Alzheimer's Association, New York City Chapter's care, support and education programs available to all New Yorkers free of charge." Donations will also be taken at the door as people exit the show and can be made online through the Doris Dear Alzheimer's portal here: http://act.alz.org/goto/THEDORISDEARCHRISTMASSPECIAL
The show is a holiday extravaganza, so grab a whiskey sour and pull up a seat for this yearly holiday celebration and we guarantee you will leave with a smile on your face and a song in your heart.
The show is written and performed by Dramatist Guild member and SAG/AFTRA National LGBT Board Member Ray DeForest and inspired by the great musical TV specials that were the standard of TV watching in the 50's, 60's and 70's!
Ray DeForest in "The Doris Dear Christmas Special" plays The Triad Theater (158 west 72nd Street, NYC) December 19, 20 & 21 at 7pm. Reservations required. Ticket links and information are available at http://www.triadnyc.com/event/520f2df4a52860936d670d428b463fe6
MORE ABOUT RAY DEFOREST
Doris Dear, the inner Housewife of Ray DeForest, has been featured in movies (Men in Black 3, The Normal Heart) and TV shows (The Carrie Diaries, Boardwalk Empire) and has toured with "her" successful show "Doris Dear's Gurl Talk". Ray has been performing professionally for 42 years around the world in tours, stage shows, revues and hosted multiple TV shows on major networks. Ray is currently collaborating on a new musical heading to Broadway next season and developing a new TV show.
More Hot Stories For You