Latest News on Rachel Hanser
Rachel Hanser News
BWW Review: MAC AWARDS CEREMONY at Symphony Space Featuring The Photography of Helane Blumfield
by Stephen Mosher - Apr 15, 2022
The thirty-sixth annual MAC Awards were presented on Tuesday night in a ceremony that was widely remarked upon for the length of its duration.
Photos: On the Red Carpet at the 2022 MAC AWARDS
by Genevieve Rafter Keddy - Apr 13, 2022
The 36th MAC Award Winners were announced Tuesday, April 12, 2022 at a LIVE ceremony at NYC's Symphony Space. BroadwayWorld was there and you can check out the photos here!
BWW Feature: Spotlight on THOSE GIRLS - A Video Library
by Stephen Mosher - Mar 29, 2021
Popular with audiences and sisters to an entire community of performers, THOSE GIRLS were born in 2016 and made their mark in the business in record time. See why.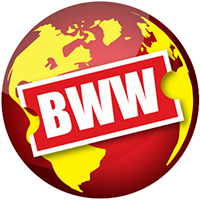 Goddard Riverside Presents Week Two of Women History Artist Month Festival
by A.A. Cristi - Mar 5, 2021
Every March during Women's History Month, Goddard Riverside's Community Arts Program hosts an exciting month-long arts festival celebrating female artists and perspectives. All events are also written, directed, performed, or produced by women.
BWW Interview: At Home With Karen Mack and A LOT of Cookies
by Stephen Mosher - Nov 2, 2020
The renowned singer-songwriter is known and loved for all her talents and the fun that comes with her when she walks in the door. But her cookies!
BWW Feature: MAC AWARD RECIPIENTS ANNOUNCED On Facebook Live
by Stephen Mosher - Mar 31, 2020
On Monday, March 30th, the 2020 MAC Awards were broadcast via Facebook Live from the living rooms or Lennie Watts and Amy Wolk/Lorinda Lisitza in a split-screen presentation in which The Three Stooges of Cabaret made their community of artists laugh with many hi-jinks, giggles, grins, silliness, and an ongoing series of the new MAC Award theme song, penned by Wolk and Lisitza themselves. The intent was to bring some levity to a difficult time in the world and, judging by the comment scroll during the home-made telecast, the hardworking trio tickled the funnybones of many. As names were announced, recipients called in to say a few words (apropos to the proceedings, Mr. Watts' telephone ringtone is the Benny Hill theme song) and particularly moving speeches from the proceedings came from Lisa Viggiano, Meg Flather, and Jeff Harnar. The entire show can be seen on Broadway World HERE. Results of the voting can be seen below.
VIDEO: Watch the 30th Annual MAC Awards!
by Nicole Rosky - Mar 30, 2020
With the Coronavirus stopping all social gatherings and causing the closing of Don't Tell Mama for the duration, MAC has made a change from the previously announced event which was to be held at the club.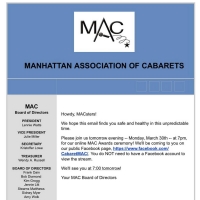 BWW Feature: MAC AWARDS Will Be Announced Live Via Facebook Monday. March 30th at 7 pm
by Stephen Mosher - Mar 29, 2020
The MAC Awards were scheduled to be celebrated on March 30th at Sony Hall. Instead they will be announced via Facebook Live from Lennie Watts' home. The times are a little different now, but the celebration of art is the same.
BWW Feature: Stephen Mosher's Pandemic Playlist Number One
by Stephen Mosher - Mar 14, 2020
During the live entertainment shut-down in New York City people will need entertainment. Stephen Mosher starts a new series on Broadway World Cabaret - a regular playlist the puts a light on the talents who fill the stages of the clubs of NYC.
Andrea McArdle and Donna McKechnie, Max von Essen and More Nominated for MAC Awards
by Chloe Rabinowitz - Feb 25, 2020
The Manhattan Association of Cabarets (MAC) has announced the 2020 MAC Award nominees. The nominees were determined by votes cast by the active MAC membership, except for the four song and recording categories, which were determined by special committees.