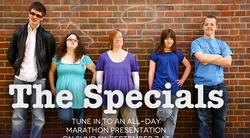 Filmed over four years and narrated by housemates Sam, Hilly, Lucy, Lewis and Megan, all between the ages of 19-23 and close friends since childhood, "The Specials" shares the ups and downs of their daily lives from first love to heartbreak, from leaving college to finding a job, as well as the day-to-day interactions and complications of sharing a house together. The housemates live life to the max - they enjoy everything from surfing and karaoke to even competing in the Special Olympics.
"We were extremely thrilled to bring this series to OWN. We fell in love with the fun, adventurous energy and bond the housemates share," said producer Carolyn Strauss. "It is our hope that viewers are not only entertained by their experiences, but inspired by their excitement for life and encouraged to accept and celebrate all people no matter their walk in life."
The Webby Award-winning series was originally produced as short form,10-minute webisodes in England. OWN will televise fresh, newly adapted episodes following housemates as they continue to support each other through major changes in their lives -- everything from breakups, to a parents' divorce and finally an engagement. The series truly highlights that we are all more alike than different.
"The Specials" is produced by Katy Lock and Daniel May for KADA Media and executive produced by Carolyn Strauss and D.B. Weiss ("Game of Thrones"), Rosie O'Donnell in association with KidRo Productions and OWN: Oprah Winfrey Network.