Trumpeter Cuong Vu Rekindles Chemistry With Bill Frisell on Second RareNoise Release, 9/28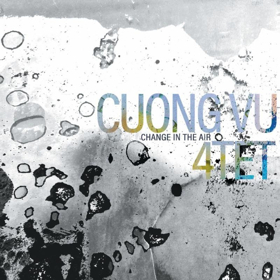 As a follow-up to 2017's acclaimed Ballet: The Music of Michael Gibbs, Seattle-based trumpeter Cuong Vu joins forces once again with guitar great Bill Frisell, bassist Luke Bergman and drummer Ted Poor on the boundary-pushing quartet outing for RareNoiseRecords, Change in the Air. With all the members of the quartet contributing compositions, this one finds the four participants on equal footing on ten adventurous originals. From Poor's dreamy, noirish opener "All That's Left of Me Is You" and his lonesome echo-laden waltz "Alive" to Bergman's dynamic "Must Concentrate," Frisell's delicate "Look, Listen" and his beguiling heartland melody "Long Ago" and Vu's angular "Round and Round" and his edgy and electrified "March of the Owl and the Bat," these four stellar musicians are truly on one accord and dealing with a rare level of nuance and depth of communication on Change in the Air.

"It was a team effort," said Vu. "The only real leader thing that I did was make sure everyone had the studio dates in their calendars, set up rehearsals, made sure they knew where the studio was; more like secretarial work, is what I did. My only intention was that we should all bring in tunes to make it as collective as we could. This collection of people allowed me to let go and trust, and I knew that we all just wanted to make the best music that we could together." Poor added that the team effort developed quite naturally. "Cuong invited us all to contribute and I'm very pleased with how the band was able to sincerely welcome such a broad range of compositions into the fold. We needed repertoire and I think everyone felt comfortable and confident bringing in their own music. At that point we had played a lot of music together and I for one felt as though we were well on our way to developing a clear band sound and identity."

Vu commented on the various compositional qualities that his three band mates brought to the table on Change in the Air. "Bill's writing, like his playing, at first glance is seemingly simplistic though always full of character. And when you patiently zoom in you find that it's filled with multi-layered info that is cohesively bonded. His pieces can be played on any collection of instruments and arranged in any way, and the truth of what he intended will come through as the listener will find it as deeply moving as it is beautiful. Luke's writing is smart, clever, ironic, funny and feels inevitable. He comes from having seriously investigated a wide and eclectic range of music but he's rooted in a rock band-based type of viewpoint. I think it all comes out in the music that he writes. And Ted is one of these guys who sounds like the source music for whatever genre he plays, and he sounds like a wise, experienced elder playing it. What I find impressive is in how he's able to get deep into whatever type of music and so quickly absorb it. He's like a jack-of-all-trades type of drummer because of that ability, along with the technical freedom to execute it all. I'm not surprised that his writing reflects all that. The three tunes that he brought to the table are so different from each other and they all feel extremely rooted and focused in the specific context that each inhabits."
Regarding his three stylistically wide-ranging compositions on Change in the Air, Poor offered: "I liked the idea of trying to writing something that could pose as an old standard found in an archive somewhere, and that's how I came up with 'All That's Left of Me Is You.' The title is a potential lyric for the final melodic phrase of the song. While the song does not in fact have lyrics I wanted us to play it as if we were playing an instrumental version of a standard song like 'Embraceable You' or 'If You Could See Me Now.' For 'Lately' I just had the sound of Cuong and Bill playing the melody and chords vividly in my ears, and I wrote it in one sitting not long before our recording session. 'Alive' was written back in 2012 for a gig I had in New York with Mark Turner and Pete Rende. I have enjoyed playing that tune with a number of different bands but until now it hasn't been recorded. We needed a few tunes with intensity and tempo to balance the set and 'Alive' felt like an obvious choice."

Poor's sublime brushwork is beautifully showcased on "All That's Left of Me Is You," "Lately" and particularly on the rubato closer "Far From Here," which bears the stamp of the late drumming great and longtime Frisell collaborator Paul Motian. "Paul Motian is a hero of mine," said Poor. "Seeing him at the Village Vanguard with Frisell or with his own bands is something I'll never forget. His playing was riveting, provocative and pure music. Regarding brushwork, he's definitely one of my favorite drummers, along with Andrew Cyrille, Elvin Jones and Philly Joe Jones (his brush playing on 'Young and Foolish' from Everybody Digs Bill Evans comes to mind). All of those great players are able to extract infinitely nuanced sound and a powerful specificity of mood and feel. Brushes are exciting for me because they allow you to create sustain and offer such a wide range of attack, from staccato to a legato bloom of sound that has no attack at all."

Frisell, who moved from New York to Seattle in 1988 and remained there for 30 years before returning to the Big Apple, says the chemistry for this particular quartet began in the Emerald City. "I was lucky to have first met Luke Bergman and over the years we have been playing more and more in all kinds of different situations together. It's been awesome connecting with him. Then as soon as Ted moved to Seattle we started playing a lot together too, just getting together at his house and playing tunes. It was the same with Cuong. As soon as he came to Seattle we started playing together. So it was great to have someone to be able to get together with and practice together and just play music together. That happened with all those guys separately and then eventually the four of us got together as a quartet. Cuong has been such an incredible inspiration-energizer for music in Seattle. Luke and Ted too. They all make things happen."

While the quartet tackled the music of composer-arranger and Frisell's mentor Michael Gibbs on its first RareNoise record together, they decided to stick strictly with originals on Change in the Air. Vu's trumpet work is brilliant throughout. Whether its his extraordinary lyricism on Frisell's "Look, Listen" and Poor's dreamy jazz ballad "All That's Left of Me Is You," his plaintive call on Poor's melancholy "Lately" or his staccato bursts and skronking statements on his own "March of the Owl and the Bat," his playing is marked by bold instincts and nuanced expression. Poor cited one possible influence on Vu's "March of the Owl and the Bat": "Cuong has written a number of pieces over the years that are based on driving, angular syncopated rhythms. We are both huge fans of the Swedish heavy metal band Meshuggah and their rhythmic language informs our approach significantly. We worked off of a chart in the studio and the biggest challenge was to internalize the rhythms and meters and make them feel good. From there the embellishment and shaping of the tune flowed naturally."

Frisell offers authoritative solos and beautiful, pianistic accompaniment to the fabric of these ten tunes on Change in the Air. "I'm just trying to listen and do the right thing," he said. "I'm a huge fan of master accompanists like Hank Jones, John Lewis, Tommy Flanagan, Richie Powell, Horace Silver...all guys that are working from the inside out. I for sure love hearing someone play a great solo but much more than that what really gets me off is trying to figure out what's going on with the whole band and how all the pieces fit together. When I listen to Miles' band with Herbie Hancock, Ron Carter, Tony Williams and Wayne Shorter....man! Every note from all of them all the time is astounding and essential. The magic is in how they play together."

Vu also commented on his uncanny chemistry with Frisell, which is especially apparent in their intimate interactions on Frisell's chamber-like "Look, Listen" and the sparse closer, "Far From Here": "It's pretty much a necessity for me to be surrounded by deeply empathetic listeners whose main priority is to serve the music being created in each instance. And it takes a long time to find the right people who'll create the right mixture together. I really do think that all three of us (Luke, Ted, and I) have a natural strength in 'empathic listening' - making the others sound better while stating your own opinion with an openness to all possibilities in the immediate moments. And I do really think that we're pretty decent at that approach. But add Bill to the mix...that's his genius! He makes everybody that he's ever played with sound better and always puts them in a different light. It helps that I'm in that same zone of thinking, but it's really about Bill making it happen."

Frisell also commented on the source of the quartet's remarkable chemistry: "You play with someone for the first time and you feel something that makes you want to come back for more. And I think the key to that is pretty simple. We listen. The best things happen when everyone's attention is focused on everyone else around them ...away from themselves."

Regarding the source of the album's title, Vu pointed to the state of world affairs today as a kind of dark undercurrent to Change in the Air. "I've never felt so much anxiety about the future on so many levels - environmentally, politically and especially with the 'leadership' in our country - than I do now," he said. "In terms of what's going on and how we've gotten to this place, it feels overwhelmingly ominous, dangerous and as if it's only the beginning of what will come. I'm scared but, hopefully, just paranoid."

Born on September 19, 1969 in Saigon, Vietnam's largest city, Vu moved with his family to Seattle when he was six years old. He picked up trumpet at age 11 and later received a scholarship to attend the New England Conservatory of Music in Boston. After moving the New York City in 1994, he formed the group Ragged Jack with keyboardist Jamie Saft, saxophonist Andrew D'Angelo and drummer Jim Black in 1997. During his time in New York, Vu worked with Laurie Anderson, David Bowie, Gerry Hemingway, Myra Melford, Bobby Previte, Dave Douglas and more. He appeared on Pat Metheny's Grammy-winning albums Speaking of Now (2002) and The Way Up (2005). Vu returned to Seattle in 2007 to teach at the University of Washington, where he is currently a full professor.