| | |
| --- | --- |
| BIO: If you take for granted that music exists as an expression of the inner mortal psyche, life can turn into an infinitely captivating adventure when musical creation is placed in the hands of a singular breed of enigmatic perfectionists. When those graced with the rare gifts of astounding technical abilities and songwriting prowess are also fueled by a sacred trinity of creativity, originality, and self-belief, the results will always steer clear of any sub-genre categorization. Formed in the college town of Umeå in northern Sweden in 1987, MESHUGGAH have spent the last twenty years and cumulative thirteen releases developing, exploring, and redefining their complex, inimitable approach on the art of expressing their collective Id. An entity that has not sounded like anyone else in over thirteen years, MESHUGGAH are one of the few purely and honestly lateral-thinking forces genuinely dedicated to pushing the boundaries of extreme music simply because doing so comes naturally to them. Unafraid to take risks and tackle new experiences, they create albums you can listen to six years later and still discover things you never noticed before. The mystical lore surrounding them pertains to their mathematical execution of odd-cycle time signatures shifting around common 4/4 time. As a result, it isn't shocking to see some of the biggest names in metal standing in the wings at MESHUGGAH shows, shaking their heads at the band's majestically demented, down-tuned, groove-laden, and precisely performed polyrhythms that never veer out of control. Devotees include Tool, The Deftones, Kirk Hammett & Lars Ulrich of Metallica, Rob Halford of Judas Priest, James LaBrie of Dream Theater, and Boston's prestigious Berklee College of Music, which incorporates MESHUGGAH's back catalogue into their curriculum, fortifying the belief that such perfectly calibrated music adds a crucial ingredient to a modern musical education. While the band's self-assured beginnings speak plainly, they had no idea their future contributions to music would be the sonic equivalent of what Sir Isaac Newton did for the development of calculus. In 1989, with a line-up that included Jens Kidman on vocals & guitar, Fredrik Thordendal on guitar, Peter Nordin on bass, and Niklas Lundgren on drums, MESHUGGAH's self-titled thrashy, virgin release (which came to be known as Psykisk Testbild due to the album's artwork) was self-released on vinyl and limited to 1,000 copies. Every copy sold. In 1991, their full-length debut album, Contradictions Collapse, heralded the arrival of drummer extraordinaire, Tomas Haake, and the band's obvious nod to vintage Metallica was a potent indicator of the barely-contained violence fermented within. But it was in 1995 - one of Swedish metal's most significant years in terms of influential releases – that the myth of MESHUGGAH gained momentum. Produced by a 21-year-old Daniel Bergstrand at Soundfront Studios in Uppsala, Sweden and consisting of equal parts instinct, inspiration, and natural talent, Destroy Erase Improve provided positive proof that the band had tapped a truly multi-dimensional, divergent vein. Joined by rhythm guitarist Mårten Hagström in 1994 for the recording of the None EP (freeing Kidman from those duties) and marking the beginning of the band's own identity, DEI was released to the sound of dropping jaws among their growing number of fervent followers and was a literal showcase of how far the band could push their ideas. Subsequently, it has been lauded as one of heavy metal's most masterfully evolutionary albums and hailed as MESHUGGAH's finest hour. Drum! Magazine praised it for its "ridiculous, driving, brutal insanity." Ranking #12 in Revolver Magazine's "69 Greatest Hard Rock Albums Of All Time," it recently became the 21st album inaugurated into Decibel Magazine's pantheon of extreme metal – The Hall of Fame: "These mad scientists have obliterated the existing paradigms of death, thrash, and prog metal, upping the ante for heavy music to a level of mathematical profundity. A mind-bending masterpiece." "Intelligence," states theoretical physicist Stephen Hawking, "is the ability to adapt to change." When Peter Nordin developed an inner-ear nerve problem in 1995 that prevented him to continue with the group, MESHUGGAH recruited Gustaf Hielm to take over bass duties on 1997's The True Human Design EP and 1998's Chaosphere. The latter's manic, bludgeoning rage collided head-on with blistering skill ("five technically virtuosic Scandinavian ogres using jackhammers to smash other jackhammers" cited Spin Magazine), and the result was a masterclass in aggression leading Rolling Stone to rank MESHUGGAH as one of music's "10 Most Important Hard and Heavy Bands." In 1999, MESHUGGAH played at the Milwaukee Metal Fest, a week of dates with Cannibal Corpse, toured supporting Slayer, and were then handpicked to play eleven shows as direct support for Tool's U.S. arena tour in 2001. In a serendipitous, Hollywood-styled turn of events, music from Destroy Erase Improve aired during prime time television on MTV's reality series The Osbournes (albeit for the sole purpose of tormenting their neighbors of obviously weaker musical constitution), courtesy of Jack Osbourne. While the Swedes prided themselves in not being a commercially accessible band, they were invited to be featured guests on Ozzfest 2002's 2nd Stage. MESHUGGAH accepted, and the race was on to complete the new album. After pushing the limits of heaviness with Chaosphere, there was only one place left to go: even heavier. Thordendal & Hagström made the leap to custom-built 8-string Nevborn guitars and thereby inherited a new musical vocabulary to work with. Abandoning the use of chords and almost exclusively utilizing single notes and slowing their pace to sub-aquatic meanderings, the subdued result was a lethal dose of self-professed "concentrated evil," Morse-code solos courtesy of Thordendal, and a lot of low-end. Completed just two days prior to the band leaving Sweden to join Ozzfest, the darker, more sinister, and all-encompassing menacing vibe of Nothing was doused in accolades. "The magnum opus of controlled insanity," wrote Terrorizer. "One of the most inventive metal albums to arrive in some time," praised Guitar One. "Nothing," boasted Tool drummer Danny Carey, "is another prime example of MESHUGGAH's musical expertise and unique compositional style that continues to evolve and change the way people listen to music." In light of the showers of praise, the Swedes were still not prepared when news broke of Nothing landing on the American Billboard Top 200 chart – a first for a band on Nuclear Blast's roster and one of the most extreme albums ever to achieve that feat at the time. Following their participation on Ozzfest, MESHUGGAH once again hit the road with Tool, and ultimately sold 100,000 copies of their fourth full-length recording. It would be three years before the next studio album surfaced, but in the interim, kudos for the band kept coming. In 2004, Alternative Press voted MESHUGGAH "The #1 Most Important Band In Metal." "MESHUGGAH have carved out their own niche as one of the most innovative and challenging extreme acts of our generation." That same year, Fredrik & Mårten ranked #35 in Guitar World's list of "100 Greatest Metal Guitarists." "Over the polyrhythmic percussive madness of drummer Tomas Haake, Hagström & Thordendal create crushing, machine-gun riffs that are convoluted rhythms in themselves, as well as fluid, sublime, Allan Holdsworth-style solos." Such furiously mesmerizing music obviously requires its share of discipline. Each year without a release becomes inversely proportional to the climbing expectations among MESHUGGAH fans for the band to out-do themselves. Tackling a dark musical landscape while addressing the subjects of contradiction, paradox, negation, and the inevitability of clashing opposites with all the tension that results from it, MESHUGGAH's studio offering for 2005 was a 47 minute-long "uni-song" divided into four quasi-movements (or thirteen suites, depending on your personal interpretation). An audio exam in patience and endurance, Catch Thirty Three offered a reward only to those who were insistent on completing the journey through this warped, metaphoric dream state. Obviously mastering the 8-string guitars that were prototypes on the previous album, MESHUGGAH tapped into the hypnotic power of repetition, suggesting a lot of visual imagery and movement. Proudly cold and emotionless, this "concept album without a concept" with seemingly stream-of-consciousness vocals had the feel of a philosophical journey through life and death, not excluding the soul-gutting ponderations. Again, the praise was incessant. "Catch Thirty Three could be the soundtrack to the darkest, strangest, heaviest movie never made," held Revolver. "Catch Thirty Three lifts MESHUGGAH's work to unreachable levels," commended Guitar World. "One of the most brilliant metal discs in recent years," raved Guitar One. It went on to become Terrorizer Magazine's Album of the Year for 2005. What's more, while the band's discography underwent scholarly analysis at the 34th Annual Meeting of The Music Theory Society of New York State in 2006, MESHUGGAH remixed and remastered Nothing at their own Fear And Loathing Studio in Stockholm, Sweden to finally re-offer it to fans sounding "the way we always wanted it to!" In the latter half of 2007, the article "Re-casting Metal: Rhythm and Meter in the Music of MESHUGGAH," appeared in a volume of Music Theory Spectrum, the journal of The Society for Music Theory. Mercifully, the wait for the sixth installment in MESHUGGAH's quest to a) continuously experiment; b) avoid predictability; and c) offer a dose of consistency will only clock in at 1,015 days. Recorded and mixed at Fear And Loathing Studio and featuring artwork by Joachim Luetke (Dimmu Borgir, Arch Enemy, Kreator), 2008's detonation of consciousness, obZen is an unapologetic statement of where the Swedes stand now as a band, and there simply aren't enough adjectives, expletives, or theories to describe the album's enthralling, auditory physics. With stand-alone lyrics worthy of their own book of prose (which include the band's latest contributions to the English language), MESHUGGAH play with the same jagged, abrupt ferocity intrinsic to their eccentric genius. Fueled by the percussive gymnastics of the drummer's drummer Tomas Haake (whose talent can simply be described as 'Neil Peart on peyote'), the long, enrapturing bent notes of Thordendal & Hagström's 8-string guitars hover like predators while the ceaseless rumblings of Dick Lövgren's commandeering bass work are fodder for Kidman's authoritative and handsomely corroded vocals. The unmerciful pummelings of "Bleed" and "obZen" are yet another ode to the band's rhythmic eccentricity; the howling precision & apocalyptic aggression of "Combustion," the compounded prog-matism of "Dancers To A Discordant System," the hypnotic soul-searching of "Pineal Gland Optics," and asymmetrical signatures of "Pravus" & "Electric Red" all attest to why the band are massively influential among their peers, and why fans of this extremely aggressive rhythm-based genre of metal pledge their support to the ongoing evolution of a discipline that shakes the very foundations of convention. Change breeds change. Change fosters growth. Growth is life. MESHUGGAH's music may never be known for its instant appeal, but it will forever maintain its long-time love affair with metric insanity. obZen has widened, expanded, and improved the road MESHUGGAH have been traveling on since their inception. Dedicated to the continual exploration of the infinite structures and (di)versions of the 4/4 standard, obZen's emotive contemplations have the ability to infiltrate the psyche after repeated listens to flip an inner-switch triggering an epiphany, lulling you into a deepening quandary of existential explorations. An expression of a duplicitous serene/violent consciousness, obZen can be used as a meditation to travel deeply within or leave your body behind as you listen to it; it can become your permission slip to deviate from the chains of mortal predictability, to change, to grow, to evolve, and show evidence of life. Like the thunderous pulsations of the heart incessantly beating to get us through this menial existence we call life, MESHUGGAH excels at revealing that all paths leading to syncopated bliss are paved with arrhythmia. | |
Latest Articles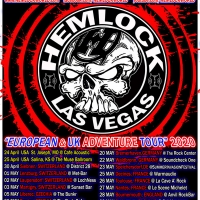 Hemlock Announce the 'European & UK Adventure Tour' 2020
by TV News Desk - March 04, 2020
Las Vegas, Nevada Heavy Metal band HEMLOCK are celebrating 27 years as a band with the announcement of the 'European & UK Adventure Tour' 2020. The tour includes two U.S. dates that begin on April 24th n St. Joseph, MO at Cafe Acoustic....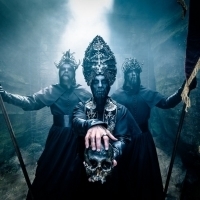 Behemoth Drop Video For SABBATH MATER
by BWW News Desk - July 24, 2019
Behemoth are hitting the road this summer with Slipknot on the Knotfest Roadshow Tour. All dates are below. The band has shared the video for 'Sabbath Mater' from its latest album I Loved You At Your Darkest. ...

Trumpeter Cuong Vu Rekindles Chemistry With Bill Frisell on Second RareNoise Release, 9/28
by BWW News Desk - September 18, 2018
As a follow-up to 2017's acclaimed Ballet: The Music of Michael Gibbs, Seattle-based trumpeter Cuong Vu joins forces once again with guitar great Bill Frisell, bassist Luke Bergman and drummer Ted Poor on the boundary-pushing quartet outing for RareNoiseRecords, Change in the Air. With all the membe...

Cuong Vu's Change in the Air feat. Bill Frisell Out in Late September on RareNoise
by BWW News Desk - August 30, 2018
RareNoiseRecords was founded in 2008 by two Italians, entrepreneur Giacomo Bruzzo and music producer Eraldo Bernocchi. Located in London, the label's mission is to detect and amplify contemporary trends in progressive music, by highlighting their relation to the history of the art-form, while choosi...
Loudwire Music Awards Partners With Apple Music
by BWW News Desk - August 15, 2017
LOUDWIRE MUSIC AWARDS--the ultimate rock 'n' roll award ceremony and concert announced today (August 15) ANTHRAX and NOTHING MORE will perform alongside previously announced artists...