Sarah Jae Leiber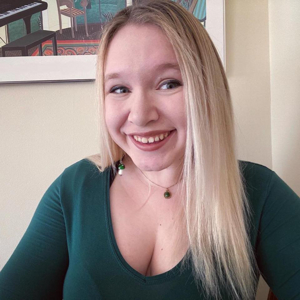 Sarah Jae Leiber is the Entertainment Editor here at BroadwayWorld! She writes videos for WatchMojo, regular film reviews for Screen Mayhem, and theatre satire for The Broadway Beat, with bylines elsewhere at Bitch Media, Screen Queens, Sally Mag, Small Screen, The Niche, Uncomfortable Revolution, and The Validation Project. Sarah was a member of Actors Theatre of Louisville's 48th Professional Training Company. She is also a playwright and screenwriter with a B.A. in theatre and history from Muhlenberg College.
Follow her on Twitter @sarahjaeleiber.
MOST POPULAR ARTICLES
LAST 30 DAYS
LAST 365 DAYS
BWW Interview: Hear From Matt Selman & Elisabeth Kiernan Averick About THE SIMPSONS' Broadway-Musical-Worthy Season Premiere!

August 27, 2021

Overcome with nostalgia, Marge decides to stage a revival of her high school musical, "Y2K: The Millennium Bug." 
---
BWW Interview: Tony Winner Ali Stroker is Excited to Perform 'As Long As You're Mine' as Part of WICKED IN CONCERT!

August 25, 2021

This special performance will feature reimagined, never-before-heard musical arrangements created just for this broadcast, performed by celebrity artists from the worlds of film, pop music and television.
---
BWW Inteview: Maestro Luke Frazier Shares Details on Great Performances, New Arrangements for WICKED IN CONCERT!

August 24, 2021

Frazier arranged the musical numbers featured in this star-studded concert, which include "The Wizard and I," "Defying Gravity," "Popular, Wonderful," "No Good Deed," "For Good" and "As Long As You're Mine."
---
BWW Interview: Alison Luff Dishes on Wrestling Drama HEELS!

August 20, 2021

Luff plays Staci Spade, Jack's wife who learns that she has to contend with the emotional stakes her in-laws have invested in their wrestling goals and the demands it puts on her family.
---
Bill Freas Releases 'Yellowstone Lake' LP

August 18, 2021

Bill Freas is an accomplished Philadelphia based composer, arranger, producer, and performer. Freas has contributed his musical talents to numerous projects and artists, both during live performances and in the studio.
---
BWW Interview: Siân Heder Puts Deaf Talent, Music, & Family On Screen in CODA

August 12, 2021

Ahead of the premiere, BroadwayWorld had the chance to speak to Heder about how the film came to be, how she ended up casting actors from famed theater Deaf West, and how working on a bilingual set became part of her artistic routine.
---
Jesse Williams Will Lead TV Adaptation of Richard Greenberg's Play TAKE ME OUT

August 9, 2021

Williams will also lead the upcoming Broadway revival, set to premiere in March of 2022 from Second Stage Theatre.
---
BWW Interview: TED LASSO's Phil Dunster Discusses Jamie Tartt's Evolution From Reality Star to Richmond Starter

August 9, 2021

Beloved Apple TV+ series Ted Lasso recently returned for season two — with fan favorite character Jamie Tartt conspicuously missing from any football lineup. 
---
BWW Interview: VIVO & IN THE HEIGHTS Screenwriter Quiara Alegría Hudes on Music as Medicine & Second Chances

August 9, 2021

BroadwayWorld had the pleasure of speaking to Hudes about the five-year production process on Vivo, discovering the characters (and what they look like), and the core values around which she wrote the script.
---
BWW Interview: Jane Krakowski Unpacks Her Jazzy SCHMIGADOON! Number, Performed Entirely in a Tiny Car

August 6, 2021

BroadwayWorld had the pleasure of speaking to Krakowski about her performance, which falls in line with her many other satirical roles that demand to be taken seriously.
---
BWW Interview: Kristin Chenoweth Shares Details on Filming 'Tribulation,' the SCHMIGADOON! Showstopper

August 5, 2021

It took only three takes to perfect the five-minute, single-shot send-up of THE MUSIC MAN.
---
BWW Interview: Ariana DeBose Reveals Which Musical Theatre Characters Inspired Her SCHMIGADOON Performance!

August 3, 2021

It's not just The Music Man's Marian the Librarian who helped DeBose create the character of Emma Tate.
---
BWW Interview: Jaime Camil Brings His Love for Musical Theatre to SCHMIGADOON!

August 2, 2021

BroadwayWorld had the pleasure of speaking to Camil about building a musical theatre character for the screen, his own passion for the theatre, and Doc Lopez's contentious relationship with his too-amorous parents.
---
BWW Interview: Kimiko Glenn & Megan Hilty Dish on CENTAURWORLD!

July 30, 2021

BroadwayWorld had the pleasure of catching up with Glenn and Hilty over Zoom. We talked about the new series, the joys of voice acting, and how working on Centaurworld surprised them in the best way. 
---
BWW Interview: Megan Nicole Dong Talks CENTAURWORLD!

July 29, 2021

Centaurworld follows a war horse who is transported from her embattled world to a strange land inhabited by silly, singing centaurs of all species, shapes, and sizes.
---
BWW Interview: Tony Winner Reed Birney Talks Acting, Truth, & HOME BEFORE DARK; See an Exclusive Clip Here!

July 28, 2021

We had the pleasure of sitting down with Birney to talk about how he approaches acting, how he approaches true crime, and what's coming down the pike for him as an actor.
---
A Comprehensive Guide to All the Musical Theatre References in SCHMIGADOON!

August 6, 2021

Did you miss some of the many, many musical theatre references on Schmigadooon? We've got you covered! Find out where you first heard those references to Brigadoon, The Music Man, Oklahoma!, and more.
---
BWW Interview: Phillipa Soo Narrates New Rom Com Audiobook THE STAND-IN!

July 16, 2021

Set in present-day Toronto, The Stand-In, by debut author Lily Chu, is an Own Voices rom-com about a Chinese-Canadian woman named Gracie who is mistaken by paparazzi for a famous Chinese actress in town performing in a play. 
---
HAMILTON, Cynthia Erivo, Bernadette Peters & More Earn 2021 Emmy Nominations - See the Full List!

July 13, 2021

This morning, Hamilton star Jasmine Cephas Jones and Ron Cephas Jones announced the 2021 Primetime Emmy Nominations, which included 12 nominations for the Disney Plus recording of Hamilton in addition to nomination for Broadway veterans like Billy Porter, Cynthia Erivo, Julie Andrews, the Lopezes and so many more.
---
REVIEW ROUNDUP: What Do Critics Think of ANNETTE?

August 5, 2021

Find out what critics are saying about the musical drama, which is about a stand-up comedian with a fierce sense of humor who falls in love with Ann, a world-renowned opera singer.
---