Trout Steak Revival Releases Official Video For TAKE HEART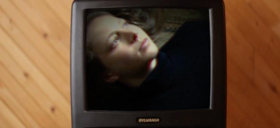 Today, Trout Steak Revival officially released their music video for "Take Heart", off their recent album Spirit To The Sea. Ditty TV premiered the video on their channel The Curve, where Trout Steak's Travis McNamara shares a special message about the song.
Spirit To The Sea expands Trout Steak Revival's repertoire beyond Colorado bluegrass without leaving behind the communal nature of the band's origins. The new album is more diverse and inviting than their past albums, rolling out the carpet for new fans with many different tones, vibes, and topics underlying the songs. Whether listeners are in search of a deep connection with lyrics or simply need a good melody to dance to, Spirit To The Sea provides a mix of music that is a pleasure to relate to. Songs crafted out of love, fear, heartbreak, wonder, joy, and freedom provide a glimpse into the soulful depth of the individual members of Trout Steak Revival
Spirit To The Sea was produced by Chris Pandolfi of the Grammy award winning, Infamous Stringdusters. This is the second album that Pandolfi and Trout Steak Revival have worked on together. Pandolfi also produced the band's last album Brighter Every Day.
Winter Tour 2018
11/30 Cervantes Masterpiece Ballroom, Denver, CO**
12/1 Aggie Theatre, Fort Collins, CO***
12/8 KAFM Radio Room, Grand Junction, CO*
12/28 Ivy Ballroom, Buena Vista, CO
12/29 Schmiggity's, Steamboat Springs, CO
12/30 Winter Park Ski Resort, Winter Park, CO*
12/31 Warren Station Center for the Arts, Keystone, CO
1/4 Public House, Crested Butte, CO
1/5 Sheridan Opera House, Telluride, CO
...and more dates to be announced
*on-sale info coming soon
** w/ special guest Bridget Law, Lindsay Lou, Old Salt Union,
The Sweet Lillies, we dream dawn, Bonfire Dub, and Magnolia North
*** w/ Old Salt Union and Lindsay Lou