Where to Dine and Party on NEW YEARS EVE AND NEW YEARS DAY 2018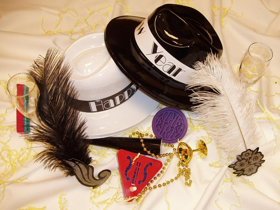 New York City comes alive for the New Year's holiday and we have suggestions of restaurants that are ready to help you usher in 2018. Check out the fantastic variety of spots around New York City that are presenting their signature menus. The prices listed do not include taxes or gratuity and reservations are suggested or required.
Zen Taco (Upper West Side) They are ringing in the New Year by kicking off their all new brunch on New Year's Day. Their menu features Latin and Asian inspired dishes such as a Vietnamese Torta, Papas con Panza, Chilaquiles, and Vegetable Fried Rice with a fried egg and a choice of meat. The best part, they've put together a cocktail menu that features your favorite brunch beverages with a twist. Alongside their frozen margaritas, Zen Taco also offers Bloody Mary Pops, Tequila Bloody Mary with an Avocado Popsicle, My Mojito Pops, Bacardi White and Blueberry Liquor with a Blueberry Mojito Pop, and more. Visit: www.zentacousa.com.
Kellari Taverna (Midtown) This elegant restaurant is known for fine Mediterranean cuisine and gracious hospitality. They are offering a three-course meal on New Year's Eve with a complimentary glass of sparkling wine for $95. Appetizers include Mushroom Fritters, Octopus, or Smoked Salmon Salad. Choose from entrees like Halibut Filet, Truffle Surf & Turf or Lavraka. A special chef selection of dessert will top off your meal. Visit: http://kellariny.com/.
Del Frisco's Double Eagle Steakhouse (Midtown) Known for a Wine Spectator Grand award-winning wine list and famed hand-cut steaks, Del Frisco's Double Eagle Steakhouse New York will offer an exclusive New Year's Eve prix fixe menu for guests interested in ringing in a big and bold new year. Along with pours of cult wines, guests can enjoy signature favorites like the Seared Wagyu Beef Carpaccio, Spaghetti Squash Gratin with Crushed Pistachios, Chilled Oysters with Caviar Mignonette and the 45-Day Dry Aged Double Bone in Prime Ribeye "Double Eagle Steak." The full dinner menu will also be available, featuring notable items such as the 14-Day Dry Aged Colorado Prime Lamb or the 32-ounce Wagyu Tomahawk Chop. Visit: https://delfriscos.com/steakhouse/new-york/.
Dos Caminos (Times Square location) Countdown to 2018 with a special fiesta on New Year's Eve. Guests will be treated to an open bar, live DJ, passed hors d'oeuvres, party favors and more. The celebration starts at 7:00 PM and goes until 1:00 AM. Tickets start at $450 and VIP tickets are available for $750. Visit: https://www.eventbrite.com/e/new-years-eve-in-times-square-tickets-38011670931. On New Year' Day, Dos Caminos has you covered with their signature Bottomless Brunch available at all locations for just $18. Visit: http://www.doscaminos.com/.
Blue Fin (Times Square) Ring in the New Year 2018 just steps from the ball drop at Blue Fin with an open bar, award winning food, live entertainment, raw bar/sushi and party favors. The festivities start a 9:00 PM and go to 2:00 AM. Tickets start at $550. VIP booths are available. For tickets, visit https://www.eventbrite.com/e/new-years-eve-in-times-square-tickets-37807640671. For more information about Blue Fin, visit http://www.bluefinnyc.com/.
Tudor City Steakhouse (Tudor City) This new addition to the neighborhood will be celebrating New Year's Eve in style. For $185 guests will enjoy a four-course dinner, live swing band, champagne toast, and all the festive trimmings like hats and noisemakers. Choose a starter of Shrimp Ceviche, Lobster Bisque or Wedge Salad. Have the seafood mid-course of Seafood Bouquet for the table. Mains include Beef Wellington or Grilled Salmon. All main courses are served with family style sides. Top off your meal with a selection of house made desserts. Visit: http://tudorcitysteakhouse.com/.
HandCraft Kitchen & Cocktails (Gramercy) This popular craft cocktail and craft beer restaurant/bar is hosting a four-hour New Year's Eve celebration. For $100 per person guests will enjoy open bar and passed hors d'oeuvres from 9 pm until 1 am. Festivities include a champagne toast at midnight and the ball drop live from Times Square on a big screen. To secure a table, dinner reservations must be made by 8 pm on New Year's Eve. Brunch will be served throughout New Year's Day from 11:00 am to 6:00 pm and will include a complimentary Bloody Mary or fresh juice. Visit: http://handcraftnyc.com/.
Hakubai (Murray Hill) NYC locals and tourists looking for a unique way to ring in the New Year can immerse themselves in Japanese culture at Hakubai, an authentic Kaiseki restaurant located in NYC's only Japanese-owned hotel, The Kitano Hotel New York. Hakubai offers expertly prepared Kaiseki cuisine served at carefully timed intervals and on an exquisite array of porcelain, pottery and lacquer dishware. Meals can be enjoyed in privately-booked Tatami rooms where guests dine on rice straw mats sans shoes. On New Year's Day, Hakubai will offer a traditional six course Osechimenu, which features menu items meant to ensure good health, fertility, a good harvest and a long life in the coming year. There will be only three seatings: 10:30am - 1:00pm, 1:30pm - 4:00pm, and 6:00pm - 8:30pm. Reservations are required. Visit: http://www.kitano.com/Dining/Hakubai.
Bagatelle (West Village) The restaurant will be kicking off the New Year with their lively party brunch on New Year's Day with music by Stan Courtois beginning at 11:30am. Their all-famous brunch doesn't just offer delectable French cuisine and endless champagne, it offers music, dancing and a promised great time. Their menu features items such as Ceviche traditional, Avocado Toast with Poached Eggs, Matcha French Toast, and more. Visit: http://www.bagatellenyc.com/reservations/.
Left Bank (West Village) The charming neighborhood restaurant will be ringing in the New Year with a special, reasonably priced prix-fixe menu. On December 31st, there will be two seatings, the first is at 5:00 pm at $65 per person and the second at 8:30pm at $85 per person. At the first seating, guests can choose from an array of appetizers, entrees and desserts throughout their four-course meal. Diners at the second seating will receive an additional, fifth course of local wild mushroom toast with shaved parmesan & herbs. From shaved brussels sprouts with hazelnuts and pecorino and seared potato gnocchi with butternut squash to roasted split chicken and maple syrup pie, New Year's Eve at Left Bank will be a feast to remember. A 3-foot tall croquembouche, a cream puff tower constructed with hard crack caramel will be used as the "ball drop" at midnight, lit with sparklers, and then passed around the dining room for all to share. And on Monday, New Year's Day, Left Bank will be serving brunch from 12pm to 4pm. If you're wanting a more intimate New Year's Eve or New Year's Day experience, Left Bank offers private dining in their cellar room for parties of up to 20 people. Visit: https://www.leftbanknewyork.com/.
FryGuys (East Village) No matter where or what you're planning for New Year's celebration, the potato powered FryGuys will be standing by for hangover preventative tummy loading or the satisfaction of post party munchies with its newest offering. Stop in for a boat load of its OG twice fried frys, topped with scrambled eggs, bacon and cheese, then crowned with a fried egg and fried chicken. Dubbed the "Brunch So Hard," it's $10 and can easily addresses two hearty pre or post New Year's Eve celebrating appetites. Visit: http://fryguysnyc.com/.
Spring and Varick (SoHo) The restaurant, located at The Dominick Hotel, will be offering their a la carte menu until 9:00 pm on New Year's Eve. After 9:00 pm there will be packages that include party favors, entertainment and a Champagne toast. For $95, guests can enjoy a 5-course meal that includes starters like Oyster & Caviar, Leek Terrine, and Watercress Truffle Salad. Mains include Hasselback Butternut Squash, Lobster Ravioli, or Poached Halibut. Put the finishing touches on dinner with assorted desserts. There are also add-on packages that can include open bar for five hours or a wine pairing with their in-house sommelier. Visit: https://www.springandvarick.com/.
A top meal is one of the best ways to reflect on the joys of 2017 and ring in 2018. Gather your group and enjoy a Happy New Year!
Photo Credit: Freeimages.com