Click Here for More Articles on FOOD & WINE
BWW Interview: Meet Jimmy Goldman of BROTHER JIMMY'S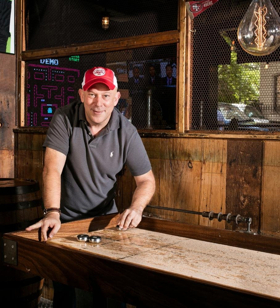 NYC-raised Jimmy Goldman attended both Duke & Carolina, after which he returned to NYC with such love and appreciation for Southern culture (BBQ, Beer and College Basketball) that he would open the very first Brother Jimmy's on Manhattan's Upper East Side shortly after college. Founded in 1989, it quickly became the NYC staple that reminded transplanted Southerners what good 'ol Southern hospitality is all about and showed Northerners just what they'd been missing all these years.
We had the pleasure of interviewing Jimmy Goldman about his career as a restaurateur.
What was your earliest interest in owning a restaurant?
While in college in Chapel Hill, NC, I was tasked to run a Jazz Club as an intern assignment. It was there that my interest in restaurants first peaked and I thought it was very cool to see how many moving parts need to run smoothly in order to successfully own and manage a business.
Who were some of your career mentors?
A huge influence in my career path would definitely be Michael Weinstein, founder of Ark Restaurants Corp. I worked under Michael for a while and he taught me a lot about the ins-and-outs of the restaurant business. I would also consider Stewart Rosen a career mentor of mine - he is the co-owner of Sarabeth's and owner of Docks Oyster Bar.
What culinary styles have influenced your career?
Having gone to college in the south - where I attended both University of Chapel Hill and Duke University - I was exposed to southern cuisine and culture. At the time, Durham was experiencing the start of a culinary renaissance and I loved watching the city's food scene unfold.
I am also very passionate about Asian food. Through my extensive travels overseas and to Asia, I have an exceptional palette for authentic Asian cuisine. My travels were so profound that they inspired me to open up a few sushi and Peruvian restaurants in St. Martin. In 1998, I sold control of Brother Jimmy's and relocated to St. Martin with my then-wife, Jodi Solomon. I opened up three restaurants - Bamboo, Sky Beach and Tantra - but they were unfortunately hit by Hurricane Irma, which lead to my decision to return to New York and reclaim control of Brother Jimmy's.
What do you consider the most distinguishing moments that you've experienced as a restaurant industry leader?
My most distinguishing moment would definitely be the impact I've had on St. Martin - specifically introducing global food trends to the island. It was there that I was able to evaluate the past and adapt my restaurant's culinary styles for the present and future. I now utilize this approach for all of my restaurants.
For more information on my experience in St. Martin, please refer to this article: https://www.wsj.com/articles/new-york-restaurateur-makes-rescue-in-st-martin-1505175406?mod=e2fb.
What is your favorite meal?
My favorite meal is dumplings on a Sunday night. I also LOVE brunch.
Tell me a little bit about your restaurant and your future plans for it.
In 2018, I reclaimed Brother Jimmy's two New York City restaurants and officially announced that I'm back to lead the team! I recently embarked on a journey to rebrand the restaurants, bringing the brand to new culinary heights and programming.
Through this pivot, my main goal is to bring back the fun! It is a place for sports, games, southern comfort style food, good music, drinks and friends. We are already revamping the menus, updating the décor of both the Murray Hill and 8th Avenue restaurants, and hope to remind New Yorkers what Brother Jimmy's is all about. Additionally, Brother Jimmy's is opening a rooftop beer garden at its 8th Avenue/Madison Square Garden location!
Aside from that, our growth is out of NYC due to escalating occupancy costs and the absence of good Southern food with a great sports program done right. Our product is unique and fun. Our new slogan says it all - "Southern Food, Southern Fun, Southern Living." We are successful in Washington D.C., West Palm Beach, Fla. and throughout Connecticut. We are about to execute a lease for Orlando. We have developed a fast-casual model of Brother Jimmy's and the first ones are due to open in Atlanta, Lake Worth, Fla., and Naples, Fla. over the next six months.
Brother Jimmy's Locations
Brother Jimmy's has two locations in New York City - Midtown (416 8th Ave, on the corner of 8th and 31st) and Murray Hill (181 Lexington Ave, on the corner of Lexington & 31st). Brother Jimmy's has franchised locations in Westchester, Stanford, New Haven, Maryland/DC & Florida. For more information, please visit: https://brotherjimmys.com/.
Photo Credit: Courtesy of Melissa Hom