Thomas Ostermeier Directs Nina Hoss in RETURNING TO REIMS at St. Ann's Warehouse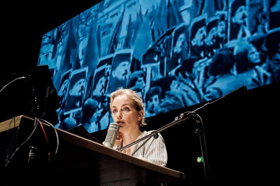 St. Ann's Warehouse presents the American Premiere of Schaubühne Berlin's Returning to Reims, an adaptation of French author Didier Eribon's memoir of the same name, directed by Berlin auteur Thomas Ostermeier, February 4-25. This production marks the first collaboration between St. Ann's and the Schaubühne, whose production of Richard III recently garnered acclaim in BAM's Next Wave Festival. Eribon's 2014 book couples an emotional personal story of identity, estrangement and homecoming with the current French political landscape and the rise of nationalism in countries across Europe and in America. In Ostermeier's adaptation, Homeland star Nina Hoss is an actress in a sound studio recording a voiceover for a documentary about Eribon's return home to his working-class family after his father's death. The "understated and remarkable" Hoss (The Stage) narrates Eribon's youthful and difficult journey to awareness as a gay man, recalling the harshness of growing up in extreme poverty and with a fiercely homophobic father. While the documentary flashes across a giant screen, the actress and the director of the film (played by Bush Moukarzel) struggle over the text and how to best capture Eribon's painful realizations upon his arrival in Reims. The left-wing parties and the liberal middle-class, with which he now identifies, and which had traditionally championed the working-class to which he once belonged, have abandoned the workers to vote for the far right party, the National Front of Marine le Pen.
How have things come to this? When did the causes of the Left change from defense of the "oppressed" and "allegiance to revolution" to "economic security" and "personal responsibility" of the poor and disenfranchised? How much is Eribon to blame himself for renouncing his past? And are there solutions? These are questions Eribon mines and Ostermeier and cast pursue in this documentary-within-a-play, as they search for clues in Eribon's return to Reims. Says The Guardian, "Ostermeier extends the boundaries of political theatre by turn[ing] the stage into a source of living debate," as the political implications of Eribon's personal narrative begin to seep into the dynamics of the actress and director played by Hoss and Moukarzel.
On its release, Lambda Literary praised Eribon's memoir as "both a delicately told tale of a young Frenchman crafting a gay self in the working-class world and a stunning analysis of how acculturation into a social class identity affects sexual identity and vice versa." In Ostermeier's equally lauded production, commissioned and produced by Schaubühne Berlin and Manchester International Festival, (co-presented with HOME Manchester and Théâtre de la Ville Paris), hidden aspects of the characters' personal biographies are simultaneously exposed as the questions Eribon's story evokes drive them into debate. As the play hits on the uncoupling of identity politics from class, the unsettling rise of the far right, and the hypocrisies of neoliberalism, Hoss also dives into her own political-familial history through the story of her father, a former Communist trade unionist and a founder of Germany's Green Party; and we also hear from the studio sound engineer, played by Ali Gadema.
In an interview with The Guardian, Hoss says, "Neoliberalism has managed to take away the safety net underneath people's lives - and convinced them that, from now on, it will be entirely their own fault if they fail. If there is ever going to be a revival of the left, it'll be because they have managed to fill that space and regain trust. I don't have any solutions. I only have questions. And yet I am oddly optimistic. Playing allows us to expand reality. By playing we can explore, exaggerate and sharpen ideas with great freedom and thus reach some sort of insight. Thinking and doing are important, but only art allows us to break down borders in our imagination."
Thomas Ostermeier has become known both for his cutting portrayals of capitalist structures and his bold interpretations of classics at the Schaubühne in Berlin. His most recent production Stateside was his wrenching, rap-infused staging of Richard III, deemed by Exeunt Magazine "a deep reflection on the politics of performance and performances within politics."
Returning to Reims features set and costumes from Nina Wetzel, with associate set designer Doreen Back, music by Nils Ostendorf, sound design by Jochen Jezussek, dramaturgy by Florian Borchmeyer and Maja Zade, and lighting design by Erich Schneider. The documentary film is directed by Sébastien Dupouey and Thomas Ostermeier, with Dupouey, Marcus Lenz, and Marie Sanchez on camera, editing by Dupouey, sound by Peter Carstens and Robert Nabholz, music by Nils Ostendorf, sound design by Jochen Jezussek, and documentation by Laure Comte and BAGAGE (Sonja Heitman, Uschi Feldges). Jake Witlen and Sabrina Brückner served as live system engineers, and Stefan Nagel and Annette Poehlmann production managed.
Performances of Returning to Reims will take place February 4 at 5pm; February 6-10, 13-17, and 20-24 at 8pm; and February 10, 17, 18, 24, and 25 at 2pm.
Critics are welcome as of Thursday, February 8, at 8pm for an official opening Sunday, February 11, at 7pm.
Tickets start at $35, and can be purchased at www.stannswarehouse.org, 718.254.8779 and 866.811.4111.
Thomas Ostermeier was born in 1968 in Soltau. From 1992-96 he studied directing at the Hochschule für Schauspielkunst "Ernst Busch," Berlin. In 1990-91 he worked as an actor in Einar Schleef's Faust-Project at the Hochschule der Künste, Berlin. In 1993-94 he was an assistant director and actor with Manfred Karge in Weimar and at the Berliner Ensemble. In 1995, he directed Die Unbekannte, by Alexander Blok, in accordance with Meyerhold's system of biomechanics. In 1996, he directed Recherche Faust/Artaud at the bat-Studiotheater Berlin. From 1996-99, Ostermeier was Artistic Director of the Baracke at the Deutsches Theater, Berlin. Productions there included Fat Men in Skirts by Nicky Silver (1996), Knives in Hens by David Harrower (1997 awarded with Friedrich-Luft-Prize), Brecht's Mann ist Mann (1997), Suzuki by Alexej Schipenko (1997), Shopping and Fucking by Mark Ravenhill (1998), Below the Belt by Richard Dresser (1998), The Blue Bird by Maeterlinck (1999). In 1998 the Baracke was nominated "Theatre of the Year." In 1998 and 1999 Ostermeier directed Disco Pigs by Enda Walsh and Fire Face by Marius von Mayenburg at the Schauspielhaus Hamburg. His final production at the Baracke was Suzuki II by Alexej Schipenko.
Since September 1999 Ostermeier has been resident director and member of the Artistic Direction of the Schaubühne. He has also directed several productions at the Münchner Kammerspiele: 2002 Der starke Stamm by Marieluise Fleißer (2005), Vor Sonnenaufgang by Gerhart Hauptmann (2007), Die Ehe der Maria Braun by Rainer Werner Fassbinder (which was brought to the Theatertreffen 2008, and 2009), Susn by Herbert Achternbusch, The Girl on the Sofa by Jon Fosse (2002) at the Edinburgh Festival (awarded with the Herald Angel Award) and, at the Burgtheater in Vienna, The Master Builder by Henrik Ibsen (2004). In November, 2004, Ostermeier was appointed "artiste associé" for the Festival d'Avignon by the new artistic director of the festival, Vincent Baudriller, and has been presenting shows at the Festival almost every year since then.
His productions of Knives in Hens (1997), Shopping and Fucking (1998), Nora (2003), Hedda Gabler (2006) and Die Ehe der Maria Braun (2008) earned invitations to Theatertreffen Berlin. In 2003, Nora was awarded the Nestroy Prize as well as the Politika Prize during the theatre festival in Belgrade BITEF. In 2006, Hedda Gabler received the audience award of the Theater-gemeinde Berlin, while The Little Foxes was awarded the same prize in 2015. His productions John Gabriel Borkmann and Hamlet were awarded with international prizes as best productions in the season 2008/2009: John Gabriel Borkmann with the Grand Prix de la Critique of France (April 2009) and Hamlet with the Barcelona Critics Prize (September 2009). Ostermeier's production The Cut received the critic´s prize at the international theatre festival KONTAKT in Torun (Poland) in Mai 2010. For Measure for Measure, he received the Friedrich-Luft-Prize for the "Best Theatre Performance in Berlin" in 2011. In Chile, Hamlet was awarded with the critic's prize as Best International Production 2011; it received a similar honor in Turkey with the 18th Istanbul Theatre Festival 2012, and in Teheran for best direction at the FADJR International Theatre Festival in 2016. For his contributions to the European theatre, he was awarded an honorary Doctor of Arts degree from the University of Kent in 2016. In 2017, Ostermeier was awarded the "Premio della Critica Teatrale" for his production of Richard III.
In 2009, Ostermeier was appointed "Officier des Arts et des Lettres" by the French ministry of culture, and promoted to the degree of "Commandeur" in 2015. In May, 2010, Ostermeier was announced as the German president of the Deutsch-Französischer Kulturrat (DKFR), German-French Council of Culture. Ostermeier received the Golden Lion of the Venice Biennale for the entirety of his work in 2011.
His latest productions at the Schaubühne are An Enemy of the People by Henrik Ibsen (2012), Death in Venice/Kindertotenlieder based on works by Thomas Mann/Gustav Mahler (2013), The Little Foxes by Lillian Hellman (2014), Richard III, by William Shakespeare (2015), the world premiere of Yasmina Reza's Bella Figura (2015), Professor Bernhardi by Arthur Schnitzler (2016) and Returning to Reims, based on the book by Didier Eribon (2017).
Born in Stuttgart in 1975, (and best known in America for her role as Astrid in Showtime's Homeland), Nina Hoss has been a member of the Schaubühne ensemble since the 2013/2014 season. Hoss studied acting at the Hochschule für Schauspielkunst "Ernst Busch" in Berlin.
Between 1998 to 2013, with interruptions, she was a member of the ensemble at Deutsches Theater Berlin. She performed in Emilia Galotti by Gotthold Ephraim Lessing (Direction: Michael Thalheimer, 2001), Medea by Euripides (Direction: Barbara Frey, 2006), The Cherry Orchard by Anton Chekhov (Direction: Stephan Kimmig, 2012), Hedda Gabler by Henrik Ibsen (Direction: Stefan Pucher, 2013), as well as Jedermann by Hugo von Hofmannsthal at the Salzburger Festspiele, under the direction of Henning Bock in 2005.
Hoss has made numerous appearances in film and television, in A girl called Rosemarie (Direction: Bernd Eichinger, 1996), Naked (Direction: Doris Dörrie, 2001), The Elementary Particles (Direction: Oskar Roehler, 2005), The White Masai (Direction: Hermine Huntgeburth, 2005), Summer Window (Direction: Hendrik Handloegten, 2011), Gold (Direction: Thomas Arslan, 2013) and A Most Wanted Man (Direction: Anton Corbijn, 2014). In 2014, she began the recurring role of Astrid in the series Homeland. She has collaborated closely with Christian Petzold (Yella, 2007, Jerichow, 2009, Barbara, 2012, Phoenix 2014). In 2017 she starred in Volker Schlöndorff's film Rückkehr nach Montauk. She won the Adolf Grimme Award in 2003 and 2005, the Bavarian Film Award in 2005, the Silver Bear Award of the Berlin International Film Festival in 2007 and the German Film Award in 2008. In 2013, she received the Order of Merit of the Federal Republic of Germany and in 2015 the "Chevalier" Award of the French Ministry of Culture.
At Schaubühne, she has played Regina Giddens in The Little Foxes by Lillian Hellman (Direction: Thomas Ostermeier, 2014), Andrea in Bella Figura by Yasmina Reza (Direction: Thomas Ostermeier, World Premiere, 2015), and is currently in Returning to Reims, based on the book by Didier Eribon(Direction: Thomas Ostermeier, 2017). For her role as Nelly in Phoenix she was awarded the Dublin Film Critics Circle Award 2015 and was elected Best Actress at Seattle International Film Festival. In 2016 Hoss was part of the jury of the 73rd Venice International Film Festival.
The Schaubühne am Lehniner Platz was founded in 1962, and has been led by artistic director Thomas Ostermeier since 1999. The foundation of his tenure was laid in the formation of a new ensemble of permanently employed actors (who essentially have been working together ever since), regularly extended by new appointments. The Schaubühne premieres a minimum of ten shows per season alongside a repertoire of over 30 existing productions.
Starting from the concept of an ensemble theatre, the actors, dramatic characters and situations of a play take center stage at the Schaubühne. One of the theatre's distinctive features is a stylistic variety in approaches to directing, which includes new forms of dance and musical theatre. The search for a contemporary and experimental theatre language which focuses upon storytelling and a precise understanding of texts-both classical and contemporary-is a unifying element. The repertoire encompasses the great dramatic works of world literature alongside contemporary plays from internationally renowned writers which, with over 100 world and German premieres over the past 18 years, have been a key component of the theatre's work.
The search for new dramatic forms has benefitted from a lively international exchange which has regularly brought the Schaubühne and its ensemble into close contact with other theatrical traditions. Alongside directors from Berlin such as Ostermeier, Michael Thalheimer, Armin Petras, Patrick Wengenroth, Falk Richter, and Marius von Mayenburg, the Schaubühne frequently offers a platform in Berlin to notable directors from abroad. Currently, productions by Milo Rau, Simon McBurney, Romeo Castellucci, Katie Mitchell, Rodrigo Garcia, Yael Ronen and choreographer Constanza Macras are being shown at the theatre. At the same time, the Schaubühne showcases its productions abroad in over 100 performances every year: whether at big international theatre festivals like the Festival d'Avignon, the Salzburg Festiva, the Athens and Epidaurus Festival, the Festival Internacional de Buenos Aires (FIBA), and the Territorija Festival in Moscow; or as guest performances at theatres around the world including in New York, Paris, Amsterdam, Rome, Quebec, São Paolo, London, Moscow, Oslo, Ramallah, Melbourne, Ottowa, Taipei, Tel Aviv, Seoul, Rennes, Barcelona, Adelaide, Tokyo, Prague, Sydney, Montreal, and Beijing.
Every spring since 2000, the Festival of International New Drama (FIND) has given internationally renowned theatre makers the opportunity to show their work at the Schaubühne. The recent focus has been upon writer-theatre makers who write and direct their own work or substantially develop existing dramatic material. Since 2011 FIND has been complimented by the "FIND plus" workshop program, a forum for acting, directing, and dramaturgy students from several European countries.
St. Ann's Warehouse plays a vital role on the global cultural landscape as an American artistic home for international companies of distinction, American avant-garde masters and talented emerging artists ready to work on a grand scale. St. Ann's signature flexible, open space allows artists to stretch, both literally and imaginatively, enabling them to approach work with unfettered creativity, knowing that the theater can be adapted in multiple configurations to suit their needs.
In the heart of Brooklyn Bridge Park, St. Ann's Warehouse has designed a spectacular waterfront theater that opened in October 2015. The new Joseph S. and Diane H. Steinberg Theater offers St. Ann's signature versatility and grandeur on an amplified scale while respecting the walls of an original 1860's Tobacco Warehouse. The building complex includes a second space, a Studio, for St. Ann's Puppet Lab, smaller-scale events and community uses, as well as The Max Family Garden, designed by landscape architects Michael Van Valkenburgh Associates and open to Brooklyn Bridge Park visitors during Park hours.
Susan Feldman founded Arts at St. Ann's (now St. Ann's Warehouse) in 1980 as part of the New York Landmarks Conservancy, to help save the National Historic Landmark Church of St. Ann and the Holy Trinity in B­rooklyn Heights. For twenty-one years, St. Ann's presented a decidedly eclectic array of concert and theater performances in the church sanctuary.
From Fall 2001 through the 2014-15 season, the organization activated found spaces in DUMBO with the world's most imaginative theater- and music-makers, helping to make the burgeoning neighborhood a destination for New Yorkers and tourists alike. After twelve years (2001-2012) in a warehouse that was located at 38 Water Street, St. Ann's transformed another raw space at 29 Jay Street into an interim home (2012-2015), while the organization adapted the then-roofless Tobacco Warehouse at 45 Water Street in Brooklyn Bridge Park into the new St. Ann's Warehouse.
Almost four decades of consistently acclaimed landmark productions that found their American home at St. Ann's include Lou Reed's and John Cale's Songs for 'Drella; Marianne Faithfull's Seven Deadly Sins; Artistic Director Susan Feldman's Band in Berlin; Charlie Kaufman and the Coen Brothers' Theater of the New Ear; The Royal Court and TR Warszawa productions of Sarah Kane's 4:48 Psychosis; The Globe Theatre of London's Measure for Measure with Mark Rylance; Druid Company's The Walworth Farce, The New Electric Ballroom and Penelope by Enda Walsh and Walsh's Misterman, featuring Cillian Murphy, and Arlington; Lou Reed's Berlin; the National Theater of Scotland's Black Watch and Let the Right One In; Kneehigh Theatre's Brief Encounter, 946 and Tristan & Yseult; Yael Farber's Mies Julie; Dmitry Krymov Lab's Opus No. 7; The Donmar Warehouse all-female Shakespeare Trilogy: Julius Caesar, Henry IV, The Tempest; Kate Tempest's Brand New Ancients; Tricycle Theatre's Red Velvet, the Young Vic production of A Streetcar Named Desire with Gillian Anderson; Mark Rylance's Nice Fish, the National Theatre's People, Places & Things, and the World Premiere of the complete Taylor Mac's A 24 Decade History of Popular Music, including the one-time only 24-hour marathon in 2016. St. Ann's has championed such artists as The Wooster Group, Mabou Mines, Jeff Buckley, Cynthia Hopkins, Daniel Kitson, Emma Rice and Kneehigh, and presented an historic David Bowie concert in 2002.
The new St. Ann's Warehouse retains the best of its past homes: the sense of sacred space of its original home in St. Ann's Church and the vastness and endless capacity for reconfiguration artists have harnessed in St. Ann's temporary warehouses in DUMBO.