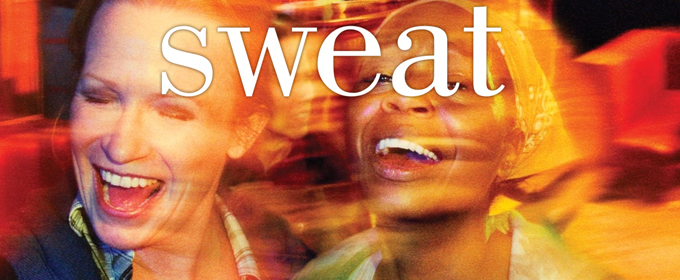 Click Here for More Articles on SWEAT
What Does SWEAT Mean to You? Submit a Video to the #WeAreSweat Campaign!
Today, the acclaimed Broadway play Sweat, announced #WeAreSweat, a campaign celebrating the power and sense of community that Lynn Nottage's Pulitzer Prize-winning play inspires in audiences.
Sweat is asking people who have seen the play to join the campaign. Below are instructions on how you can join the movement:
Share your voice.
Sweat is giving a voice to Americans who aren't always heard. Now it's your turn. We want to hear your voice. We want to know what this play means to you.
Here's what to do:
1) Record yourself.
Record a video of yourself telling us what Sweat means to you. It can be as short as 30 seconds or as long as 2 minutes.
When filming, keep those iPhones horizontal!
2) Say "WE ARE Sweat."
At some point in the video, make sure to say the phrase "WE ARE Sweat." You can even say it a few times if you want. Don't forget!
3) Send it in.
Upload your video at SweatBroadway.com/WeAreSweat by Friday, May 19.
Here are some things to think about when recording your video:
· Why do you personally connect to this play?
· Why do you think it's an important play for right now?
· Who does Sweat inspire you to be?
· Why does our country need this play?
· Don't forget to say "We are Sweat!"
· Share your voice with us so we can share it with the world.
· Please, get as personal as you'd like. We want your voice to be heard.
The searing new play Sweat is the winner of the 2017 Pulitzer Prize for Drama and is nominated for Best Play by the Tony Awards, Drama Desk Awards, Drama League Awards, and Outer Critics Circle Awards.
Sweat, by two-time Pulitzer Prize winner Lynn Nottage, directed by Kate Whoriskey is playing at Broadway's Studio 54 (254 West 54th Street). Broadway performances of Sweat began March 4 for a March 26, 2017 opening.
The full cast includes Carlo Albán (Oscar), James Colby (Stan), Khris Davis (Chris), Tony Award nominee Johanna Day (Tracey), John Earl Jelks (Brucie), Will Pullen (Jason), Lance Coadie Williams (Evan), Tony Award nominee Michelle Wilson (Cynthia), and Alison Wright (Jessie).
Lynn Nottage is the first woman to win two Pulitzers for Drama and the first ever woman of color to win two Pulitzer Prizes in any category. She joins an esteemed group of playwrights who have won multiple Pulitzers that includes theatre titans Edward Albee, Eugene O'Neill, Robert E. Sherwood, Thornton Wilder, Tennessee Williams, and August Wilson.
Sweat has also been nominated for three Tony Awards including Best Play, two nominations for Best Featured Actress in a Play (Johanna Day and Michelle Wilson); three Drama League Awards: Distinguished Production of a Play and Distinguished Performance (Johanna Day and Michelle Wilson); three Outer Critics Circle Awards: Outstanding Broadway Play, Outstanding Director of a Play (Kate Whoriskey), and Outstanding Featured Actress in a Play (Johanna Day); and two Drama Desk Awards including Outstanding Play.
Sweat was chosen as one of the Best Plays of 2016 by The New York Times, Wall Street Journal, Los Angeles Times, Time Out New York, The Star-Ledger, The Bergen Record, Deadline, The Wrap, The Huffington Post, New York Amsterdam News, Theatermania, and Broadway World.
Sweat was co-commissioned by the Oregon Shakespeare Festival and D.C.'s Arena Stage. The play received its world premiere at OSF in July 2015, in a sold-out run. The production subsequently played an acclaimed run at Arena Stage in January 2016. Sweat played an acclaimed engagement at New York's Public Theater in November 2016, where it was extended three times, with critics writing about the play's breathtaking timeliness, compassion, and power.
With warm humor and tremendous heart, Lynn Nottage's Sweat tells the story of a group of friends who have spent their lives sharing drinks, secrets and laughs while working together on the line of a factory floor. But when layoffs and picket lines begin to chip away at their trust, the friends find themselves pitted against each other in the hard fight to stay afloat.
Kate Whoriskey directs this stunning new play about the collision of race, class, family and friendship, and the tragic, unintended costs of community without opportunity.
Sweat is produced on Broadway by Stuart Thompson, Louise L. Gund, Tulchin Bartner Productions, Jon B. Platt, Roy Furman, Len Blavatnik, Shelly Mitchell, Scott Rudin, Ted Snowdon, Kevin Emrick, True Love Productions, John Gore, Deborah Taylor/Richard Winkler, and The Public Theater.
The creative team for Sweat features John Lee Beatty (scenic design), Jennifer Moeller (costume design), Peter Kaczorowski (lighting design), Rob Milburn and Michael Bodeen (sound design), and Jeff Sugg (projection design).
Related Articles
More Hot Stories For You
Broadway Actor Doreen Montalvo, Known For IN THE HEIGHTS and ON YOUR FEET, Dies at 56
BroadwayWorld is saddened to report that stage and screen actor Doreen Montalvo has died at age 56. The news was confirmed by friends on social media....

VIDEO: Watch Audra McDonald, Javier Muñoz and George Salazar in John McDaniel's New Musical, STICKS & STONES
The online concert premiere of the new musical Sticks & Stones will feature a star-studded cast including Audra McDonald, Javier Muñoz and George Sala...

Photo Flash: Matthew Broderick, Joel Grey and More Celebrate the Return of Joe Allen
Joe Allen Restaurant, the iconic haunt of the Broadway community, has opened its doors once again after 7 months, due to the government mandated shutd...

Tony-Nominee Anthony Chisholm Passes Away At 77
BroadwayWorld is saddened to report the passing of Tony-nominated actor, Anthony Chisholm. ...

VIDEO: Mandy Patinkin and Kathryn Grody Explain Why YOU Should Vote!
Mandy Patinkin and his wife Kathryn Grody want YOU to vote this November and they've come together again through the magic of Twitter to tell you why....

Meet Our NEXT ON STAGE: SEASON 2 College Top 15!
You voted, here they are! In no particular order, meet our top 15 in the college category....