Tony, OBIE, and Drama Desk Award Winner Pam Mackinnon Named New Artistic Director At American Conservatory Theater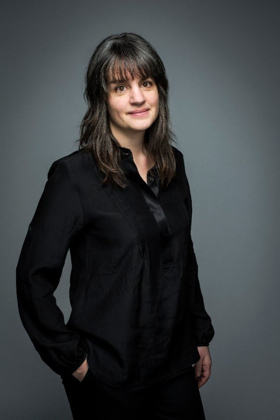 Following an extensive nationwide search,American Conservatory Theater (A.C.T.) Board of Trustees and Executive Director Peter Pastreich today named Tony, OBIE, and Drama Desk Award winner Pam MacKinnon the new artistic director of San Francisco's premier nonprofit theater organization. MacKinnon succeeds Carey Perloff who will depart from American Conservatory Theater at the end of the 2017-18 season after 25 years at the helm. MacKinnon will begin planning the 2018-19 season alongside Perloff effective immediately. In addition, she will begin partnering with the leaders of A.C.T.'s world-class actor training programs and ever-expanding community programs, ensuring A.C.T. continues its role as the Bay Area's leading theater arts educational organization.
"I am thrilled and honored to be named artistic director of
American Conservatory Theater
," says MacKinnon. "I am eager to build on the company's rich legacy of artistic excellence and expand the vision and achievements of
Carey Perloff
,
Edward Hastings
, and founder
William Ball
to ensure that A.C.T. remains at the forefront of American theater. I look forward to furthering A.C.T. as a creative home for world-class artists and a place of rigorous artistic exploration and commitment in the Bay Area." "On behalf of the Board of Trustees, I am pleased to welcome
Pam MacKinnon
to A.C.T.," says A.C.T. Board of Trustees President Kay Yun. "Pam's wealth of experience, demonstrated leadership, and dedication to theater, makes her a fantastic choice to carry A.C.T. into the future. We look forward to working with her and introducing her to our donors, subscribers, and patrons." Adds
David Riemer
, Chair of the Artistic Director Search Committee: "We set out to find an artist and leader who could inspire our company and community based on the quality of their work, their passion for collaboration, and their unique vision for the future of A.C.T.
Pam MacKinnon
is that person. She is widely hailed as a star by the top artists and leaders in our field. We expect our audiences to be energized, our students to be challenged, and our community to be further engaged by the work she brings to our stages." "We were incredibly impressed by Pam's extensive resume and deep knowledge of the theater world," said Kirke Hasson, Chair of A.C.T.'s Board of Trustees. "We feel very fortunate to have found someone so committed and passionate to lead A.C.T. forward." The Artistic Director Search Committee, led by Riemer, was comprised of 10 members of A.C.T.'s Board of Trustees and three members of A.C.T. staff leadership. They were assisted by Greg Kandel and David Mallette from Management Consultants for the Arts, one of the premier executive search firms in the field of performing arts.
Pam MacKinnon
won the Tony and Drama Desk Awards and received an Outer Critics Circle nomination for her direction of
Edward Albee
's Who's Afraid of
Virginia Woolf
?(
Steppenwolf Theatre
Company,
Arena Stage
, Broadway) starring
Tracy Letts
,
Amy Morton
,
Carrie Coon
, and
Madison Dirks
. Her production also received the Tony Award for Best Revival of a Play. She won an OBIE Award for excellence in directing as well as Tony and
Lucille Lortel
nominations for
Bruce Norris
's Clybourne Park (
Playwrights Horizons
,
Mark Taper Forum
, Broadway). Currently running on Broadway is her production of
Beau Willimon
's The Parisian Woman starring
Uma Thurman
. Other Broadway productions include Amélie, A New Musical; the world premiere of
David Mamet
's China Doll with
Al Pacino
;
Wendy Wasserstein
's The Heidi Chronicles with
Elizabeth Moss
; and
Edward Albee
's A Delicate Balance with
Glenn Close
and
John Lithgow
. Pam also serves as Executive Board President of the Society of Stage Directors and Choreographers (SDC). Pam has directed extensively off Broadway and around the country. Her credits include
Bruce Norris
's The Qualms (
Playwrights Horizons
and
Steppenwolf Theatre
Company);
Sarah Treem
's When We Were Young and Unafraid (Manhattan Theatre Club); Donald Margolies's Dinner With Friends (
Roundabout Theatre Company
);
Craig Lucas
's The Lying Lesson (
Atlantic Theater Company
);
Horton Foote
's Harrison, TX (
Primary Stages
);
David Bar Katz
's The Atmosphere of Memory with
Ellen Burstyn
(
LAByrinth Theater Company
);
Itamar Moses
's Completeness (
South Coast Repertory
,
Playwrights Horizons
);
David Wiener
's Extraordinary Chambers (
Geffen Playhouse
);
Arthur Miller
's Death of a Salesman(
The Old Globe
);
Victor Lodato
's 3F, 4F (Magic Theatre). She is a longstanding interpreter of the plays of
Edward Albee
. In addition to the productions mentioned above, she directed regional premieres of The Play About the Baby (
Philadelphia Theatre Company
and
Goodman Theatre
) and The Goat, or Who Is Sylvia? (
Alley Theatre
and Vienna's English Theatre) and world premieres of Peter and Jerry (now titled At Home at the Zoo) (Hartford Stage and
Second Stage
Theater), Occupant (
Signature Theatre
), and A Delicate Balance(
Arena Stage
). Pam has received nominations for a San Francisco Bay Area Theatre Critics Circle Award for Amélie, A New Musical (
Berkeley Repertory Theatre
), a
Joseph Jefferson
Award forWho's Afraid of
Virginia Woolf
? (
Steppenwolf Theatre
Company), and a
Helen Hayes
Award for
Bruce Norris
's Unmentionables (Woolly Mammoth Theatre Company). She also received the Abe L. Binder Award from the Alliance of Resident Theatres/New York for her "dedication to New York City's non-profit theatre and exceptional vision as a director" as well as the inaugural Lilly Award for direction. Pam is an alumna of the Drama League, The
Women's Project
Theater, and
Lincoln Center Theater
's Directors Labs. She is an Associate Artist of the
Roundabout Theatre Company
; and longstanding Affiliated Artist and Board member of Clubbed Thumb, a downtown
New York Theater
company dedicated to new American plays. Says A.C.T. Executive Director Peter Pastreich: "Pam's impressive breadth of experience, combined with her passionate commitment to theater, make her the ideal choice for artistic director. She will be a terrific asset to the organization and to the San Francisco Bay Area theater community. I look forward to working closely with her." "
Pam MacKinnon
is an impressive and thrilling choice for A.C.T.'s new artistic director," adds Brad Erickson, executive director of Theatre Bay Area. "Her celebrated success on and off Broadway and in regional theaters across the country-including here in the Bay Area-promises an exciting new era for A.C.T. and the entire Bay Area theater community." Says Tony Award- and Pulitzer Prize-winning actor-playwright
Tracy Letts
(Who's Afraid of
Virginia Woolf
; August: Osage County; Killer Joe): "Pam is not only a great theater director, she has burning curiosity and boundless passion. She's also a lot of fun. All of the above I consider qualities necessary to run a theater. I can't wait to see what she does with A.C.T." Says Academy Award nominee
Uma Thurman
(The Parisian Woman; Pulp Fiction; Kill Bill): "New York's loss. Pure gold,
Pam MacKinnon
, to whom I am forever grateful. Congratulations, San Francisco!" "I am so thrilled for Pam," says Tony Award nominee
Phillipa Soo
(Amélie, A New Musical; Hamilton). "The A.C.T. community has gained an incredible leader with outstanding qualifications-great intelligence, skill, and influence, with a heart to match. Thank you, Pam, for all of your contributions to the
New York Theater
community, and congratulations!"
Photo credit: Chad Batka