Stew & Heidi Perform One Night Only Concert June 18 To Launch New CDs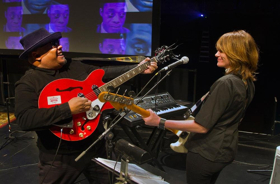 STEW & THE NEGRO PROBLEM - the powerhouse indie rock band fronted by longtime collaborators Stew and Heidi Rodewald - will perform a one-night-only concert at THE TOTAL BENT/NATIVE SONG DOUBLE RECORD RELEASE PARTY, featuring selections from the duo's two most recent recordings, on Monday, June 18 at Le Poisson Rouge (158 Bleecker St.) in Manhattan. Doors open at 7 pm for the concert beginning at 8 pm. Admission is $25 (in advance) and $30 (door). Seats can be purchased at www.lpr.com
Performing with Stew and Heidi at Poisson Rouge will be Marty Beller, Ato Blankson-Wood, John Blevins, Kenny Brawner, David Cale, Vondie Curtis Hall, Dana Lyn, Art Terry, Brad Mulholland, Urbano Sanchez and Curtis Wiley.
It's been 10 years since Stew and Heidi's ground-breaking musical PASSING STRANGE took Broadway by storm, followed by the 2009 release of the acclaimed film directed by Spike Lee. Now, STEW & THE NEGRO PROBLEM return with this evening of songs from the 2018 recordings "Notes of a Native Song," and "Total Bent."
THE TOTAL BENT was developed by The Public Theater, where the musical had its debut, and was hailed by The New York Times as "blazingly entertaining; an ecstatic combination of revival meeting and rock concert."
NOTES OF A NATIVE SONG features a score that delves into the complex aspects of the late, literary giant James Baldwin's life and work. The recording captures, according to The New York Times, "meditations on Baldwin's themes - of the comfort of exile, of the anger and pain that being black in America can inspire work that blends myth and imagined history."
Stew is the librettist, Co­Composer and Lyricist for Passing Strange(2008 Tony-Best Book, 2­time 2007 Obie (Best New Theater Piece and Best Ensemble), Family Album (2014 Oregon Shakespeare Festival), Notes of a Native Song (Spring 2015 Harlem Stage), Wagner, Max! Wagner!! (Fall 2015 Kennedy Center) The Total Bent (Public Theater 2016), Making It (Spring 2010 St. Anne's Warehouse), Brooklyn Omnibus (Fall 2010 Brooklyn Academy Of Music) Resurrection City (2016 Studio Theatre), Chicago Omnibus (Museum of Contemporary Art, Chicago 2012) FILM: Spike Lee's Passing Strange. ROCK AND ROLL: Stew and The Negro Problem. Albums: "Post Minstrel Syndrome", "Joys and Concerns", "Guest Host" and "The Naked Dutch Painter" (both called Album of the Year by Entertainment Weekly), "Welcome Black", "Something Deeper than These Changes", "Making It" and the cast album of "Passing Strange". Numerous Lincoln Center appearances, United Nations, Symphony Space. Guest Host and Album of the Year by Entertainment Weekly TV: Stew is co­composer (w/ Heidi Rodewald) of "Gary Come Home," for SpongeBob SquarePants. ARTS EDUCATION: Doctor of Humane Letters, Oshkosh University, Wisconsin; California Inst. of the Arts; New School; Stanford; University of Wisconsin, Madison; University of the Arts, Philly. Stew is a Sundance Institute Alum.
Heidi Rodewald is the Tony Award nominated, Obie Award winning co-composer of the musical Passing Strange, which transferred from The Public Theater to Broadway in 2008. Rodewald composed music for Karen Kandel's Portraits: Night and Day (2004); Brides of the Moon by The Five Lesbian Brothers (2010); and co-composed music with Stew for Shakespeare's Othello and Much Ado About Nothing and Romeo and Juliet (2010-12). Rodewald joined the band The Negro Problem in 1997, where she began a longtime collaboration with Stew. She has collaborated with him in a range of capacities - as a co-composer, producer/arranger and performer. She is the co-composer with Stew of the musical Family Album which premiered at the Oregon Shakespeare Festival during the 2014 season, Notes of a Native Song, at Harlem Stage in 2015,Wagner, Max! Wagner!! at the Kennedy Center in 2015, and The Total Bent at The Public Theater, 2016. Heidi scored the film I Dream Too Much which had its world premiere at the 2015 SXSW Film Festival, and is currently working on her second short film score for director Leigh Silverman. She is the composer of The Good Swimmer, with librettist Donna DiNovelli, which will have its world premiere at the BAM Next Wave Festival in November 2018.
Related Articles
More Hot Stories For You