Photos: Hitchcock Look-A-Like Contest at 'The 39 Steps'
On Tuesday September 23rd, 2008 the 'First Annual Hitchcock Look-a-Like Contest' took place on stage at the Cort Theatre, home of 'The 39 Steps'. The event was part of the month long celebration of Hitchcock Month.  Photos were submitted through the 39StepsOnBroadway.com website. 
The three contenders and their families were all treated to the performance.  Hugh Hysell from HHC Marketing led the event. The audience voted by applause for their favorite.  The winner was audience member Bob Greenberg. All three contestants and their families were treated to a party at Tony Di Napoli's with the cast and crew of The 39 Steps. 
The 39 Steps is adapted by Patrick Barlow and directed by Maria Aitken.  The production is based on an original concept by Simon Corble and Nobby Dimonand on the book by John Buchan.  
Mix 
Alfred Hitchcock
's cinematic masterpiece with a juicy spy novel. Then, add the manic dash of vintage Monty Python and you have THE 39 STEPS - equal parts hilarious whodunit, espionage thriller and quick-change comedy, adapted for the stage from Hitchcock's famous 1935 film and 
John Buchan
's 1915 novel. THE 39 STEPS features sets and costumes by
Peter McKintosh
, lighting by 
Kevin Adams
 and sound by 
Mic Pool
.   Dialect coach is 
Stephen Gabis
.  Original movement created by Toby Sedgwick.  Additional movement created by Christopher Bayes.  Production management is by Aurora Productions.  Production stage manager is Nevin Hedley. 
The 39 Steps
has been a runaway hit in London's West End, playing to sell-out houses at the Criterion where it continues to delight and thrill audiences.  The first production of THE 39 STEPS was directed by Fiona Buffini and produced on stage by North Country Theatre in April 1996 at the Georgian Theatre, Richmond, North Yorkshire.  The production received its American debut at the Huntington Theatre Company in Boston, MA.  The Broadway premiere began previews on January 4, 2008 and officially opened on January 15 at Roundabout Theatre Company's American Airlines Theatre.   
The 39 Steps
is produced by 
Bob Boyett
, 
Harriet Newman Leve
/
Ron Nicynski
,
Stewart F. Lane
/
Bonnie Comley
, Manocherian Golden Prods., 
Olympus Theatricals
/
Douglas Denoff
, Pam Laudenslager/
Pat Addiss
, Roundabout Theatre Company (
Todd Haimes
, Artistic Director; 
Harold Wolpert
, Managing Director;
Julia Levy
, Executive Director), Huntington Theatre Company (
Nicholas Martin
, Artistic Director; Michael Maso, Managing Director) and Edward Snape for Fiery Angel Ltd. Tickets are available from TeleCharge at 212-239-6200, online at
www.telecharge.com
 or at the Cort Theatre box office (138 West 48th Street, between Sixth and Seventh Avenues).   39 tickets at $39 are available at every performance.  Performances are Tuesday at 7:00 PM, Wednesday through Saturday at 8:00 PM, with matinees Wednesday and Saturday at 2:00 PM, Sunday at 3:00 PM. 
Photo Credit Peter James Zielinski

The 39 Steps at the Cort Theatre

Cast members Arnie Burton, Cliff Saunders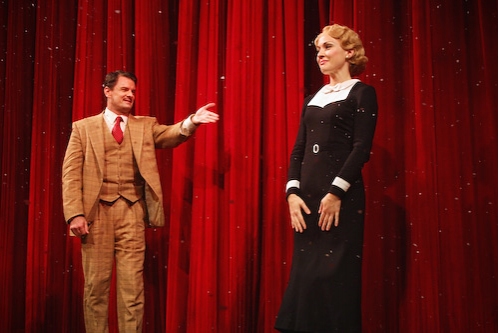 Cast members Rob Breckenridge (Richard Hannay understudy), Jennifer Ferrin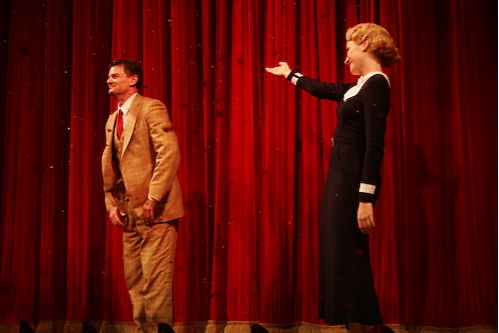 Rob Breckenridge, Jennifer Ferrin

Arnie Burton, Rob Breckenridge (Richard Hannay understudy), Jennifer Ferrin, Cliff Saunders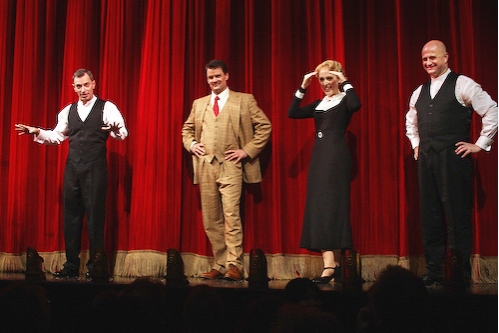 Arnie Burton, Rob Breckenridge (Richard Hannay understudy), Jennifer Ferrin, Cliff Saunders

Hugh Hysell from HHC Marketing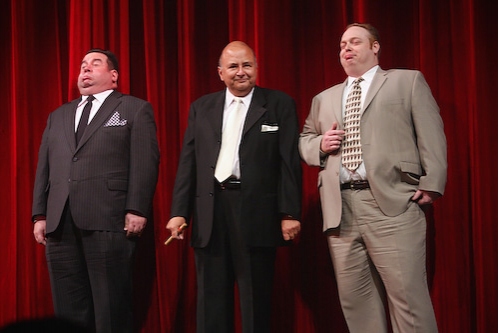 Contestants Bob Greenberg, Dominic Defilippis, George Matthews

Contestant George Matthews

Contestant Dominic Defilippis

Contestant Bob Greenberg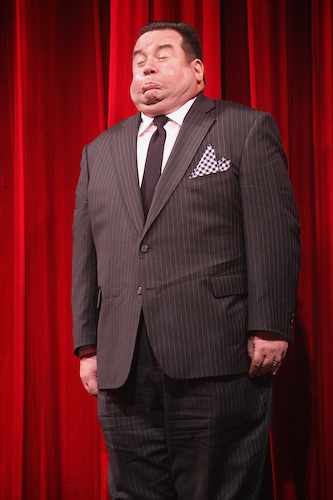 Contestant Bob Greenberg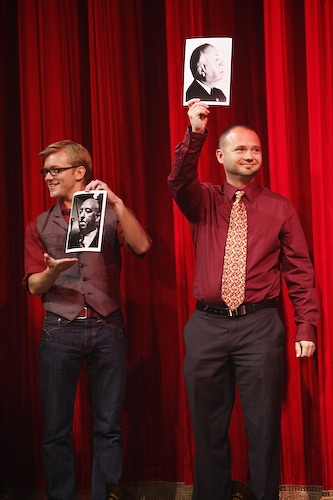 Eddie Rabon and Matt Sicoli from HHC Marketing provide audience with photos of the real Hitch for comparison

Contestants Bob Greenberg, Dominic Defilippis, George Matthews pose-off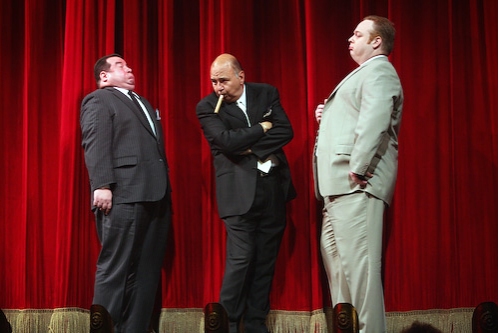 Contestants Bob Greenberg, Dominic Defilippis, George Matthews pose-off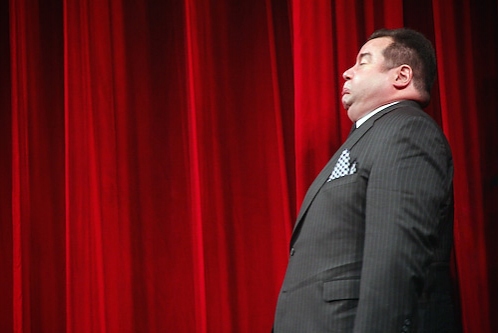 Contestant Bob Greenberg duplicates the famous Hitchcock side profile

Bob Greenberg, Dominic Defilippis, Hugh Hysell and George Matthews

Hugh Hysell with contestants Bob Greenberg, Dominic Defilippis, George Matthews

Bob Greenberg declared the winner of the First Annual Alfred Hitchcock Look-A-Like Contest