Click Here for More Articles on NEW YORK CITY
Mary-Anne Wright Pushes the Envelope with IN THE WAKE at FailSafe Festival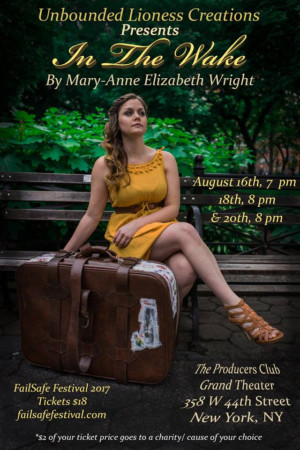 Mary-Anne Wright, founder of the humanitarian initiative UNBOUNDED LIONESS CREATIONS, brings us the evocative new play IN THE WAKE.
Wright's compelling storytelling will leave the audience asking for more; more truth, more beauty and more unspoken realities given a voice.
IN THE WAKE explores themes of love, loss and secret histories. The haunting acapella melodies and rhythms will transport you to a new place rich in metaphorical imagery. Dark pasts are uncovered in the guise of a simple love story on a farm you have never heard of.
The cast includes: Mary-Anne Wright, Josh Wooster, Camilla Crawford, Kami Visitsak, Mariana Bravo and Ashley Ware.
Performances are Wednesday, August 16 @ 7pm , Friday, August 18 @ 8pm, Sunday, August 20 @ 8pm. Tickets are $18 cash at the door. $2 of your ticket price goes to a charity of your choosing. You can reserve tickets by e-mailing failsafefestival@gmail.com with the following: FSF 2017: In The Wake, (your name, contact information and number of tickets requested).
Performances will be at The Grand Theater @ The Producers Club ~ 358 W 44th St, New York, NY 10036 as part of the FailSafe Festival (failsafefestival.com).
Related Articles
More Hot Stories For You