Krysta Rodriguez to Join NSO for WEST SIDE STORY IN CONCERT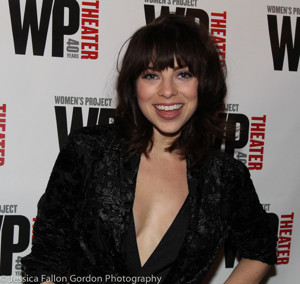 Broadway's Krysta Rodriguez of the Tony Award®-nominated revival of Spring Awakening, joins the cast of the National Symphony Orchestra'sWest Side Story in Concert, led by Principal Pops Conductor Steven Reineke, February 14, 16, and 17, 2018 in the Kennedy Center Concert Hall. Rodriguez replaces previously announced Ana Villafañe as Anita, who has withdrawn due to scheduling conflicts.
Rodriguez was most recently seen Off-Broadway in the New York premiere of Theresa Rebeck's play What We're Up Against. On Broadway, she originated the role of Wednesday Addams in The Addams Family, played BeBe in the revival of A Chorus Line, and starred opposite Zachary Levi in First Date. On television, she was best known as fan-favorite Ana Vargas in NBC's Smash and for sharing the screen with John Lithgow in NBC's Trial and Error.
Other featured cast for West Side Story in Concert are Corey Cott as Tony (Broadway's Newsies and Bandstand), Solea Pfeiffer as Maria (Eliza in Hamiltontour), Ephraim Sykes as Riff (Seaweed in NBC's 2016 live production of Hairspray Live!), and Joel Perez as Bernardo (Broadway's Fun Home).
Three performances of West Side Story in Concert take place in the Concert Hall at
the Kennedy Center on Wednesday, Friday, and Saturday, February 14, 16, and 17, at 8 p.m.
Leonard Bernstein at 100
Born on August 25, 1918, in Lawrence, Massachusetts, Leonard Bernstein became a towering figure of 20th-century music and culture. Bernstein was world-renowned as the composer of West Side Story, Candide, and On the Town, among numerous stage and orchestral works; as the celebrated music director of the New York Philharmonic and other leading orchestras, with whom he created a trove of acclaimed recordings; as an educator whose televised Young People's Concerts with the New York Philharmonic created more than one generation of music lovers; and as a lifelong humanitarian who spoke out whenever he witnessed injustice.
"Leonard Bernstein at 100" is a year of local, national, and worldwide events that pay tribute to this iconic artist whose influence and impact on arts and culture in the U.S. and around the world have transcended both genres and generations. Throughout the centennial celebration, which begins at The John F. Kennedy Center for the Performing Arts in Washington, D.C., performances of theater, classical, jazz, choral works, dance, and education events will explore and celebrate the many facets of Leonard Bernstein as musician, composer, educator, and humanitarian.
While truly a citizen artist to the world, Washington, D.C. was one of Leonard Bernstein's creative homes. Bernstein frequented the Kennedy White House, regularly composed for and conducted Washington ensembles and at area venues, served as emcee for the fundraiser for the National Performing Arts Center (later named the Kennedy Center) and premiered lasting and notable works such as MASS-at the opening of the Center-and West Side Story here in the nation's capital.
Concert details follow:
Wednesday, February 14, 2018, at 8 p.m.
Friday, February 16, 2018, at 8 p.m.
Saturday, February 17, 2018, at 8 p.m.
National Symphony Orchestra
Steven Reineke, conductor
Francesca Zambello, Director
Eric Sean Fogel, Assistant Director
S. Katy Tucker, visual designer
Mark McCullough, visual designer
Lynly Saunders, costume
CAST:
Corey Cott as Tony
Solea Pfeiffer as Maria
Krysta Rodriguez as Anita
Joel Perez as Bernardo
Ephraim Sykes as Riff
West Side Story in Concert
Part of the Kennedy Center's Leonard Bernstein at 100 celebration
TICKET INFORMATION
Tickets ($24-$109) are available at the Kennedy Center Box Office, online at kennedy-center.org, and via phone through Instant Charge, (202) 467-4600; toll-free at (800) 444-1324. For all other ticket-related customer service inquires, call the Advance Sales Box Office at (202) 416-8540.
ABOUT THE NSO POPS
Show-stopping pops concerts have been a staple of the National Symphony Orchestra's more than 80 years of performances. These concerts have ranged from performances on a barge on the Potomac River, to concerts on the Ellipse, and in National Parks around the greater Washington area. The 2000-2001 season saw the creation of the post of Principal Pops Conductor specifically for Broadway great Marvin Hamlisch, who held the position until the 2010-2011 season. The 2011-2012 season was the first with Steven Reineke as Principal Pops Conductor. NSO Pops performances take place at all the NSO's principal performance venues: Wolf Trap, the West Lawn of the U.S. Capitol, and in the NSO's primary home, The John F. Kennedy Center for the Performing Arts, with a subscription season featuring the Orchestra with guest artists from a variety of musical genres.
Photo Credit: Jessica Fallon Gordon