Click Here for More Articles on 2020 AWARDS SEASON
Did You Know... Our Favorite Fun Facts About the 2017 Tony Nominees!
Over the course of each Broadway season, unexpected and unique storylines inevitably pop up. This morning, with the announcement of the 2017 Tony Award nominations, a number of new narratives have come to life.
From the same shows claiming all of the nominations in multiple categories to co-stars nominated against each other to entire casts being nominated, there are a ton of fun facts floating around about this year's nominations. Not to mention the conflicts of interest over turned while playing "Six Degrees of Kevin Spacey!"
Check out some of our favorite Tony nomination fun facts below, and if you think of any that we miss, tweet us @BroadwayWorld and we will share our favorites.
CLICK HERE to check out a full list of this year's nominees, and HERE for reactions from the lucky few!
The American Theatre Wing's 71st Annual Tony Awards, hosted by Kevin Spacey, will air live from Radio City Music Hall on the CBS Television Network on Sunday, June 11, 2017 (8:00-11:00 PM, ET/delayed PT). The Tony Awards are presented by The Broadway League and the American Theatre Wing.
---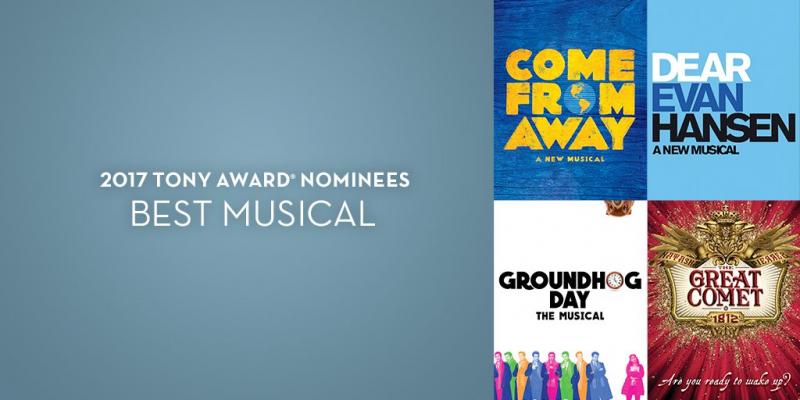 This season, the same four shows secured all of the nominations in the Best Musical, Best Book of a Musical, and Best Score of a Musical categories. Those shows are COME FROM AWAY, DEAR EVAN HANSEN, GROUNDHOG DAY, and NATASHA, PIERRE & THE GREAT COMET OF 1812.
This marks only the seventh time in Tony history that this has occurred. The other instances are:
2005: DIRTY ROTTEN SCOUNDRELS, MONTY PYTHON'S SPAMALOT, THE 25TH ANNUAL PUTNAM COUNTY SPELLING BEE, THE LIGHT IN THE PIAZZA
2001: A CLASS ACT, JANE EYRE, THE FULL MONTY, THE PRODUCERS
1991: MISS SAIGON, ONCE ON THIS ISLAND, THE SECRET GARDEN, THE Will Rogers FOLLIES
1990: ASPECTS OF LOVE, CITY OF ANGELS, GRAND HOTEL, MEET ME IN ST. LOUIS
1980: A DAY IN HOLLYWOOD/A NIGHT IN THE UKRAINE, BARNUM, EVITA, SUGAR BABIES
1971: COMPANY, THE ME NOBODY KNOWS, THE ROTHSCHILDS
In four of those years, the awards for all three categories were swept by a single show; COMPANY, EVITA, CITY OF ANGELS, and THE PRODUCERS.
---
With THE GREAT COMET's nomination, this marks the ninth time that a Best Musical nominee was officially credited as being created by a single person. The others were:
2016: Lin Manuel Miranda for HAMILTON
1996: Jonathan Larson for RENT
1993: Willy Russell for BLOOD BROTHERS
1988: Mbongeni Ngema for SARAFINA!
1978: Elizabeth Swados for RUNAWAYS
1973: Micki Grant for DON'T BOTHER ME, I CAN'T COPE
1972: Melvin Van Peebles for AIN'T SUPPOSED TO DIE A NATURAL DEATH
1957: Frank Loesser for THE MOST HAPPY FELLA
While a number of these shows are now considered to be genre breaking and/or defining works, only RENT and HAMILTON ended up winning the Best Musical prize.
---
As noted in a tweet from @TheIntervalNY, 2017 marks only the third time that the Best Play category has included more than one work authored by a woman. The other two years were:
2002: METAMORPHOSES by Mary Zimmerman and TOPDOG/UNDERDOG by Suzan-Lori Parks
1960: A RAISIN IN THE SUN by Lorraine Hansberry and TOYS IN THE ATTIC by Lillian Hellman
None of those four plays won.
---
With GROUNDHOG DAY'S nomination, over the past 20 Broadway seasons, there have been 30 Best Musical nominees based on properties that either originated as films, or had been adapted to film before coming to Broadway.
With 81 total nominees during that time period, movie to musical adaptations account for over 37% of nominees in the category during that time period.
---
This season, NATASHA, PIERRE & THE GREAT COMET OF 1812 leads the way with 12 nominations. In each of the past six seasons, a show that had, or tied for, the most overall nominations has won the Best Musical trophy.
2016: HAMILTON
2015: FUN HOME (eventual winner) tied with AN AMERICAN IN PARIS for the most nominations.
2014: A GENTLEMAN'S GUIDE TO LOVE AND MURDER
2013: KINKY BOOTS
2012: ONCE
2011: THE BOOK OF MORMON
In 2010, FELA! and the revival of LA CAGE AUX FOLLES led the nominations with 11 apiece, but MEMPHIS ended up taking home the night's biggest prize.
---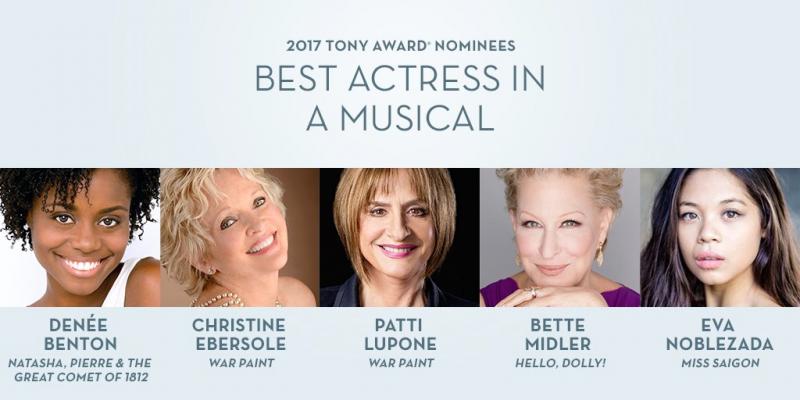 The 2017 season is the first time that co-stars have been nominated together in the Best Actress in a Musical category since Idina Menzel and Kristin Chenoweth for WICKED in 2004. This season, former two-time winners Christine Ebersole and Patti LuPone are nominated together for their work in WAR PAINT.
It also has happened in:
2002: Nancy Opel and Jennifer Laura Thompson for URINETOWN
1992: Faith Prince and Josie de Guzman for GUYS AND DOLLS
1984: Chita Rivera and Liza Minnelli for THE RINK
1982: Jennifer Holliday and Sheryl Lee Ralph for DREAMGIRLS
1977: Dorothy Loudon and Andrea McArdle for ANNIE
1976: Rivera and Gwen Verdon for CHICAGO
1971: Susan Browning and Elaine Stritch for COMPANY
1958: Thelma Ritter and Verdon for NEW GIRL IN TOWN.
While many people assume that having multiple nominees from a show in a category ends up with votes being split, in the nine previous instances that co-stars have both been nominated in this category, six have won (albeit in five years); Menzel, Prince, Rivera, Holliday, Loudon, Ritter, and Verdon (the latter two tied).
---
This year marks the third in a row that co-stars were nominated against each other in the Best Featured Actor in a Musical category, and Brandon Uranowitz has been a part of two of those years.
Uranowitz did it first alongside his AN AMERICAN IN PARIS co-star Max von Essen in 2015, and this year with Andrew Rannells for FALSETTOS. Coincidently, one of the nominations in 2016 was for Jonathan Groff's turn as King George III in HAMILTON, for which Rannells served as his first replacement. Daveed Diggs and Christopher Jackson were also nominated for HAMILTON last year, with Diggs winning.
Other co-star nominations in the category over the past 30 seasons include:
2015: Christian Borle and Brad Oscar for SOMETHING ROTTEN!
2011: Colman Domingo and Forrest McClendon for THE SCOTTSBORO BOYS
2009: Gregory Jbara and David Bologna for BILLY ELLIOT
2005: Michael McGrath and Christopher Sieber for SPAMALOT
2004: Michael Cerveris and Denis O'Hare for ASSASSINS
2003: Dick Latessa and Corey Reynolds for HAIRSPRAY and Michael Cavanaugh and Keith Roberts for MOVIN' OUT
2001: Gary Beach, Roger Bart, and Brad Oscar for THE PRODUCERS
2000: Michael Berresse, Michael Mulheren, and Lee Wilkof for KISS ME KATE
1999: Desmond Richardson and Scott Wise for FOSSE
1997: Chuck Cooper and Sam Harris for THE LIFE
1995: Michael Bell and Joel Blum for SHOW BOAT
1993: Cerveris and Paul Kandel for THE WHO'S TOMMY
1991: Hinton Battle and Willy Falk in MISS SAIGON
1989: Bunny Briggs and Savion Glover for BLACK AND BLUE
1988: Bill McCutcheon and Anthony Heald for ANYTHING GOES
Continuing to dispel the "split vote" myth, nine of the 16 times it has happened in the past three decades, one of the nominated co-stars has won (1988- McCutcheon, 1991- Battle, 1997- Cooper, 2001- Beach, 2002- Latessa, 2004- Cerveris, 2009- Jbara, 2015- Borle, and 2016- Diggs).
---
Despite the fact that two of the plays were written by previous Pulitzer Prize winners, all four Best Play nominees were written by playwrights making their Broadway debuts.
A DOLL'S HOUSE, PART 2 by Lucas Hnath
INDECENT by Paula Vogel
OSLO by J.T. Rogers
SWEAT by Lynn Nottage
In fact, of the 95 Tony nominees, 33 are celebrating their first nominations, and 17 are doing so in their Broadway debuts.
---
HELLO, DOLLY! received 10 Tony nominations this year, just one shy of the 11 that the original production received. Considering that revivals are not eligible for Best Book or Best Score (both of which the original won), and that the 1964 production was nominated for (and won) Best Producer and Best Conductor and Musical Director, categories that no longer exist, this year's haul is an impressive accomplishment.
It is made even more so by the fact that the show was nominated in every single category for which it was eligible.
---
All four cast members of A DOLL'S HOUSE, PART 2 were nominated for their performances this year. Laurie Metcalf (Best Actress), Chris Cooper (Best Actor), and Jayne Houdyshell and Condola Rashad (Best Featured Actress).
---
If Sally Field were to win in the Best Actress in a Play category, it will be only the second Tony for the beloved American classic, THE GLASS MENAGERIE, following 2014's award for Best Lighting Design.
---
Considering the fact that SIX DEGREES OF SEPARATION is nominated for Best Revival of a Play and Tony and Academy Award-winning actor Kevin Spacey will be hosting this year's Tony Awards, why don't we play a game of "Six Degrees of Kevin Spacey" with this year's acting nominees?
Here are the nominees that Kevin Spacey has appeared in a film with:
1988: David Hyde Pierce in ROCKET GIBRALTAR
1992: Kevin Kline in CONSENTING ADULTS
1996: Chris Cooper in A TIME TO KILL
1999: Danny DeVito in THE BIG KAHUNA
2001: Cate Blanchett in THE SHIPPING NEWS
2002: Nathan Lane in AUSTIN POWERS IN GOLDMEMBER
2003: Laura Linney in THE LIFE OF David Gale
2017: Jefferson Mays in REBEL IN THE RYE
Spacey was a replacement in the 1984-1985 Original Broadway production of HURLYBURLY, which Cynthia Nixon co-starred, but we've been unable to determine if their stays in the show overlapped via official sources.
---
The Best Lead Actor in a Musical category pits LEGALLY BLONDE: THE MUSICAL's Emmett against the show's UPS guy, Kyle B. O'Boyle (and let's not forget Grandmaster Chad).
Not only did Christian Borle and Andy Karl star in the fabulously pink show, but, as @Understudies reminded us on Twitter, Karl was Borle's understudy.
In fact @Understudies, has a ton of great Tony nominee trivia, so check out their feed.
---
In a similar vein, the Best Featured Actor in a Musical category features a battle of Elder Prices, as original THE BOOK OF MORMON star, Andrew Rannells, is nominated for his turn in FALSETTOS, and Gavin Creel, who originated the role on tour and in the West End (before taking over on Broadway), is nominated for HELLO, DOLLY!
Coincidently, former Elder Cunningham on the road and on Broadway, Ben Platt, is nominated in the Best Actor in a Musical category, and Denee Benton, nominated for NATASHA, PIERRE & THE GREAT COMET OF 1812, played Nabulungi on tour.
---
While SUNDAY IN THE PARK WITH GEORGE declared itself ineligible for awards consideration, BroadwayWorld Cabaret Editor, Ashley Steves, reminds us of what might have been.
---
Have more Tony fun facts? Let me know on Twitter@BWWMatt. You can listen to me on BroadwayRadio or on BroadwayWorld's pop culture podcast Some Like it Pop.
Nominee graphics credit: @TheTonyAwards
Related Articles