Click Here for More Articles on COME FROM AWAY
COME FROM AWAY Will Play Newfoundland in Concert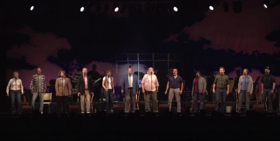 The made-in-Canada phenomenon that is Come From Away is coming to St. John's. The show that has become the toast of Broadway and Toronto, will play eight benefit performances in a concert version at Holy Heart Theatre from January 23 to 27, 2019. Tickets will go on sale Tuesday, October 16, 2018 at 10 AM (NDT) exclusively through Holy Heart Theatre ticket channels.
Net proceeds from this engagement will go to:
- The six towns that hosted the 7,000 stranded travellers who landed at Gander Airport after the September 11, 2001 terrorist attacks in New York. These six communities are Gander, Gambo, Appleton, Lewisporte, Norris Arm and Glenwood.
- Autism Society of Newfoundland and Labrador.
- Community Food Sharing Association.
Explains Toronto producer David Mirvish: "Together with Junkyard Dog Productions, the show's lead producer, we have been looking for an opportunity to bring Come From Away back to the province that inspired it. Long before it played New York or Toronto, the show's original cast played two performances of the show in concert at the arena in Gander. Over 5,000 people from Gander and the surrounding towns packed the arena. It was truly a magical time, made even more special because many of the people depicted in the show were in the audience, as were some of the 'plane people' who had landed at Gander Airport.
"The opportunity to return to Newfoundland finally arrived when we realized that there would be a short gap between the Toronto production's transfer from the Royal Alexandra Theatre to the Elgin Theatre in January 2019. The show closes at the Royal Alex on January 20, 2019. It will take about 10 days for the set and equipment to be transported and loaded into the Elgin, where it will begin performances on February 5, 2019. During the time between the two engagements the cast would be available. So, that was our window.
"We canvassed the cast and band to find out if they would be willing to travel and perform in what otherwise would have been a holiday week for them. Before we could finish our request, all of them were jumping for joy at the opportunity to visit Newfoundland. Having played in Toronto for over eight months to standing-room-only crowds, they all cherished the chance to tell the story on 'native soil'. Of course, they are used to Newfoundlanders visiting them backstage when they come to see the show in Toronto. In fact, there isn't a performance when someone in the audience doesn't bring a Newfoundland flag and waves it during the curtain call. But that's not the same as playing to an entire crowd of Newfoundlanders.
"It's taken a little while to make all the arrangements of this visit. We'd like to thank Cheryl Hickman of Opera on the Avalon for helping us make these concerts possible. As our local co-presenter, her advice and assistance have been very valuable."
Authors and composers Irene Sankoff & David Hein say: "Our friends in Newfoundland are at the heart of Come From Away. From our very first trip to Newfoundland in 2011, when we began researching this story, we knew the province itself was the rock on which the entire play would be founded. We and our show have been welcomed so warmly and generously there, as the passengers were in 2001, that it feels like every trip back is a homecoming. To bring the work back to Newfoundland and to have an all-Canadian cast perform this show there is a dream come true."
Adds producer Sue Frost of Junkyard Dog Productions: "We are really looking forward to this Newfoundland engagement because the original company in 2016 had such an incredible experience performing in Gander. And although this Toronto company won't have the opportunity to perform in Gander itself, they will be able to visit the town for a day immediately following the St. John's engagement. Then they'll have to hop on a plane and get back to Toronto for technical rehearsals ahead of the Elgin Theatre run. It will be a whirlwind visit, but an important one for them and for us."
COME FROM AWAY tells the remarkable true story of 7,000 stranded passengers and the small town in Newfoundland that welcomed them. Cultures clashed and nerves ran high, but uneasiness turned into trust, music soared into the night, and gratitude grew into enduring friendships. On September 11, 2001 the world stopped. On September 12, their stories moved us all.
COME FROM AWAY was originally co-produced in 2015 by La Jolla Playhouse and Seattle Repertory Theatre, and had pre-Broadway runs in 2016 at the Ford's Theatre in Washington, DC, (Sep 2 to Oct 16, 2016) and at the Royal Alexandra Theatre in Toronto (Nov 15, 2016 - Jan 8, 2017). At each venue, the show played to sold-out engagements.
Moving to New York, Come From Away began performances on February 18, 2017 and officially opened to critical acclaim on March 12, 2017 at Broadway's Gerald Schoenfeld Theatre (236 West 45th Street), where it is playing to capacity houses in an open-ended run.
COME FROM AWAY is a "Best Musical" winner all across North America. The new musical has won the Tony Award for "Best Direction of a Musical" (Christopher Ashley), 5 Outer Critics Circle Awards (NYC) including "Outstanding New Broadway Musical," 3 Drama Desk Awards (NYC) including "Outstanding Musical," 4 Helen Hayes Awards (D.C.) including "Outstanding Production of a Musical," 4 Gypsy Rose Lee Awards (Seattle) including "Excellence in Production of a Musical," 6 San Diego Critics Circle Awards including "Outstanding New Musical," 3 Toronto Theatre Critics Awards including "Best New Musical," 3 Dora Awards (Toronto) including "Outstanding New Musical/Opera" and "Outstanding Production," and the 2017 Jon Kaplan Audience Choice Award (Toronto). The Original Broadway Cast Recording of Come From Away was also nominated for a Grammy Award for Best Musical Theater Album.
COME FROM AWAY features a book, music and lyrics by two-time Tony Award nominees and Outer Critics Circle Award and Drama Desk Award winners Irene Sankoff & David Hein, direction by Tony Award winner and Outer Critics Circle Award winner Christopher Ashley (Memphis), musical staging by two-time Tony Award nominee Kelly Devine (Rocky), and music supervision by Ian Eisendrath (A Christmas Story).
COME FROM AWAY features scenic design by Tony Award winner Beowulf Boritt, costume design by Tony Award nominee Toni-Leslie James, lighting design by two-time Tony Award winner Howell Binkley, sound design by Tony Award nominee and Outer Critics Circle Award winner Gareth Owen, orchestrations by two-time Tony Award nominee August Eriksmoen, and music arrangements by Ian Eisendrath.
The Toronto company of Come From Away features Saccha Dennis, Steffi DiDomenicantonio, Barbara Fulton, Lisa Horner, James Kall, George Masswohl, Ali Momen, Jack Noseworthy, Cory O'Brien, Kristen Peace, Eliza-Jane Scott, Kevin Vidal, Susan Dunstan, Kate Etienne, Amir Haidar, Jeff Madden, David Silvestri and Cailin Stadnyk.