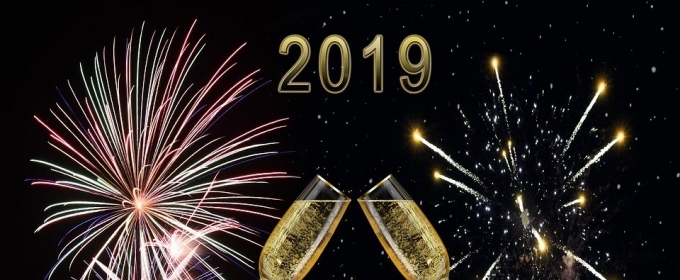 Click Here for More Articles on 9 for 2019
BWW Feature: 9 Shows In Santa Fe/Albuquerque To Look Forward To in 2019
2018 was truly an amazing year for theatre in Santa Fe and Albuquerque. I saw a lot of brilliant work in the short time I was reviewing for BWW last year, and if the proposed seasons for area theatres are any indication, 2019 is going to be a great one, too. From classic plays to super contemporary ones, and of course, a decent amount of musicals, this year has a lot for theatregoers (and actors - many of these shows aren't cast yet!) to look forward to.
Here are some productions I'm particularly excited about in the coming months.
---
1. Fearless Female Voices
Blue Raven Theatre at Warehouse 21
https://www.blueraventheatre.com/
January 27
Director, actress, playwright and all around theatre creator Talia Pura has put together this special new play festival to showcase works by eleven of Santa Fe's female playwrights (Dale Dunn, Rose Provan, Leslie Dillen, Kita Mahaffy, Elizabeth Reed, Alix Hudson, Liz Schweiger, Rosemary Zibart, Talia Pura, Madeleine de Jean and Lisa Foster) in honor of International Female Voices Day.
Why I'm looking forward to it:
For one thing, though the odds are getting better, women are still underrepresented in writing, directing, and other non onstage theatrical positions, so I'm all about this as a platform specifically for female writers. Also, Santa Fe has a lot of talented playwrights (the Santa Fe Playhouse, which also has a great 2019 season lined up, regularly features new works by locals, as well) and the fact that Fearless Female Voices will feature eight of them in one sitting... count me in!
2. We Are Hispanic, American Women...Okay?
Teatro Paraguas
http://www.teatroparaguas.org/
February 8-24
Written by northern New Mexican playwright Patricia Crespin, We Are Hispanic, American Women...Okay? is a hilarious, heartfelt romp about family and sisterhood, cultural identity, generational wisdom, and body politics, explored through the relationships between four generations of Latina women. WAHAWO will be directed by Alix Hudson.
Why I'm looking forward to it:
See above about appreciating the great playwrights we have in northern NM; I've also consistently been a fan of the plays put on at Paraguas (fun fact - I saw a production of Water by the Spoonful there on a whim during a trip to Santa Fe several years ago; it was amazing and part of what inspired my move to New Mexico). I'm always a fan of plays that explore intergenerational female relationships, as well.
3. The Flick
Aux Dog Theatre
https://www.auxdogtheatre.org/
Opening March 15
Aux Dog will present the Southwestern Premiere of Annie Baker's 2014 Pulitzer Prize winning play The Flick. This cleverly written play, which deals with the lives and interactions of employees of a worn down movie theatre, will feature staging that reverses the traditional theatrical polarities: the audience will be seated on the Aux Dog stage and the action will take place in the house of the theatre.
Why I'm looking forward to it:
As anyone who read my review of In The Blood can gather, I think that the folks at Aux Dog do great work. The Flick is also a fascinating play, with very well written, realistic characters (so, so similar to people I actually know); I'm also very excited to see how the staging with the actors in the "house" and the audience on stage works.
4. The Miser
The Oasis Theatre Company
https://www.theoasistheatre.com/
March 21-April 7
The Oasis Theatre Company will produce the world premiere of a new translation of the classic Moliere play The Miser, which is of course about a, well, miserly old curmudgeon whose penny pinching ways terrorize his children and pretty much everyone else around him. This new version was translated by David Carter. OTC has assisted Mr. Carter in workshopping this translation; the production will be directed by Oasis Artistic Director Brenda Lynn Bynum.
Why I'm looking forward to it:
Full disclosure - I love classical theatre of almost any variety, but I've never actually been much of a fan of Moliere (blame it on all of the free translations I've read online that invariably just leave something to be desired)... reading an earlier draft of this translation, though, changed that. David Carter has done fantastic work.
5. The New Mexico Shakespeare Festival
Vortex Theatre
http://vortexabq.org/
June 7-30; July 12-August 18
I'm cheating a little bit, because the New Mexico Shakespeare Festival actually consists of three productions. The 2019 New Mexico Shakespeare Festival - formerly known as Shakespeare on the Plaza - will consist of productions of Romeo and Juliet (directed by Peter Shea Kierst) and Love's Labour's Lost (directed by Shepard Sobel) running from June 7-30 at New Mexico Veterans' Memorial Park. The Complete Works of William Shakespeare (Abridged) will be directed by Ryan Jason Cook and run July 12-August 18 at the Vortex.
Why I'm looking forward to it:
Let me get something incredibly cheesy out of the way: my fiancé and I met while acting in a production of Love's Labour's Lost (cue: "awwwww"), so that's an important one to me on a sentimental level. But also, I'm excited because I've been following The Vortex's progression from Will Power to Shakespeare on the Plaza to now, a full fledged Shakespeare Festival, and I really love that development. Also - the show selection is consistently fabulous.
6. Stop Kiss
New Mexico Actors Lab
https://www.nmactorslab.com/
July 11-28 at Teatro Paraguas
NMAL was founded by a group of actors who were interested in "theater that addressed issues of social justice and celebrated the human spirit"; this "enchantingly sincere" (The New York Times) 1998 play, written by Diana Son, addresses the fallout of a hate crime directed at two LGBTQ+ women through the lens of, maybe somewhat surprisingly, a romance (and vice versa). Stop Kiss will be directed by Barbara Hatch.
Why I'm looking forward to it:
I'm a sucker for plays that provide commentary on social issues. Stop Kiss is brilliantly executed, too, in its nonlinear structure (also one of those things I tend to generally enjoy) and, though this might be surprising for the subject matter - it's sweet, charming, and actually at times humorous.
7. Newsies
Musical Theatre Southwest
https://www.musicaltheatresw.com/
July 12-August 11
Newsies, which should at this point require no introduction - particularly for those of us in Santa Fe - has been a favorite of regional theatres since performance rights became available a couple years ago; as the show in general is a sentimental favorite of mine, I'm very excited about seeing this one. This production will be directed by Robb A. Sisneros, music directed by Jenni Hipólito, and choreographed by Jonathan Ragsdale.
Why I'm looking forward to it:
Newsies is great on a lot of levels. It's a definite crowd pleaser, of course, particularly for those of my generation-ish who grew up watching the Disney movie. It has a wonderful deeper story about the power of coming together to achieve a goal against all odds, the music is catchy as heck, and it's a great showcase for dancers (and as that's the biggest performance skill I personally lack, I have the utmost respect for people who can accomplish the feats that regularly go into productions of Newsies).
8. Measure for Measure/1 Henry IV
International Shakespeare Center
https://www.internationalshakespeare.center/
August 22-September 8 at The Adobe Rose
Cheating again a little bit here, as this is actually about two shows... The ISC, whose 2019 season theme is "Questions of Honor", will present Measure for Measure (directed by Caryl Farkas) and 1 Henry IV (directed by Ariana Karp) in rep. Measure for Measure, which has been called the "play of the year" in light of the #metoo movement ("who will believe thee, Isabel?"), will receive a more experimental, gender flexible casting interpretation; 1 Henry IV will receive a somewhat more traditional interpretation, but with a significant amount of physical storytelling and ensemble work.
Why I'm looking forward to it:
I'm a Shakespeare nerd, for one. Also, I really like the idea of two different directors coming at Shakespeare plays from totally different places with the same company of actors - I think it'll be a really great demonstration of how universally accessible Shakespeare truly is.
9. The Women
The Adobe Theater
https://www.adobetheater.org/
October 11-November 3
Last, but certainly not least, is 1936 comedy of manners The Women at The Adobe Theater in Albuquerque. This modern classic by Clare Booth Luce feature a large cast of women (the script technically calls for 35, though doubling is possible), and no men, portraying up and comers and socialites in Manhattan; The Women is both a scathing commentary on and a moving depiction of femininity and female relationships. The Women will be directed by James Cady.
Why I'm looking forward to it:
Here's something oddly specific: I LOVE plays written between 1935 and 1940. There's just something about the cleverness and sense of humor from that era that really appeals to me. This play is no exception - it also provides some really great roles to showcase the talents of women, which is something else I really appreciate.
Honorable Mention:
The Santa Fe Opera
https://www.santafeopera.org/
Though it may not fit in with the rest of the article it would be remiss not to mention what is arguably Santa Fe's most famous performing arts company. The entire season at the Santa Fe Opera looks absolutely wonderful. I am, in particular, very much looking to La Bohème (I actually bought my tickets as soon as they were available). Other productions in the season include Les pêcheurs de perles, by Georges Bizet, Così fan tutte, by Wolfgang Amadè Mozart, Jenufa, by Leoš Janácek, and The Thirteenth Child, by Poul Ruders (world premiere).
---
This is a fraction of all the plays going up in Santa Fe and Albuquerque during 2019; check out the Albuquerque Theatre Guild at https://www.abqtheatre.com/ and Theatre Santa Fe at http://www.theatresantafe.org/ for more information about on stage happenings in the 505!