Zoe Burke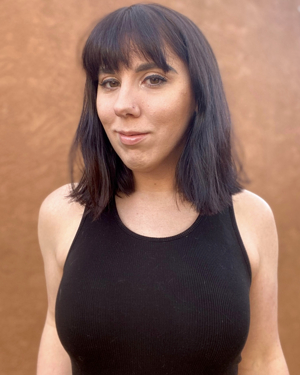 Zoe (she/her) is an actress, director, intimacy choreographer, and theatre educator who lives in Santa Fe, NM with her husband and their three dogs. She is proud to use her writing to raise awareness of the amazing things happening in New Mexico theatre.
MOST POPULAR ARTICLES
LAST 30 DAYS
LAST 365 DAYS
Review: EVERYBODY at the Santa Fe Playhouse

June 26, 2022

What did our critic think of EVERYBODY at Santa Fe Playhouse?
---
BWW Feature: FALSETTOS Opens as Student Senior Project at Santa Fe Youth Collaborative Theatre

June 19, 2022

New Mexico School for the Arts is no ordinary educational institution, and recently graduated senior Theo Kutsko is no ordinary student. Kutsko's ambitious and well executed senior project -- which has one more performance on Sunday, June 19th -- is a production of Falsettos, produced via Santa Fe Youth Collaborative Theatre.
---
BWW Review: THE EFFECT at Santa Fe Playhouse

March 26, 2022

The Effect, written by British playwright Lucy Prebble (American audience members might know her best as a co-producer and writer on HBO's Succession) and playing now at the Santa Fe Playhouse, is a beautifully styled, engaging evening of theatre that asks the audience to grapple with issues of free will, medication, mental health, consent, and what it means to love someone (with or without the assistance of chemical agents).
---
BWW Review: HAMLET at New Mexico Shakespeare Festival

September 16, 2021

[...] this production of Hamlet is sharp -- incredibly so. Remarkably well paced and brilliantly edited, with so much more action, energy, and even humor than I'd known the play could hold, it is immediately accessible and clearly was directed [...] and performed by people who really know what they're doing.
---
BWW Review: THE ROMANS: JULIUS CAESAR and CORIOLANUS at the International Shakespeare Center

August 29, 2021

"[…]that season, billed as 'The Romans' - consisting of timely productions of Julius Caesar and Coriolanus - opened last weekend at the quad at Santa Fe Preparatory School (1101 Camino de Cruz Blanca), proving itself to be well worth the wait."
---
BWW Interview: Mel Sussman, Director of OUR TOWN at Rio Rancho Players Community Theatre

June 5, 2021

At long last, the community of Rio Rancho has its own theatre company, with plans for a production of Thornton Wilder's American classic Our Town this fall. I had a brief chat with Mel Sussman, founder of the Rio Rancho Players Community Theatre, about his experience with the arts, his journey from Philadelphia to Rio Rancho, and why Our Town is such an impactful play in particular at this time in American history.
---
BWW Feature: Theatre Santa Fe to Present Virtual Theatre Walk

March 29, 2021

Theatre Santa Fe's annual Theatre Walk, which brought thespians and hundreds of theatre fans from all walks of life -- and even parts of northern New Mexico -- together, featured performances from dozens of local companies running concurrently over the course of one afternoon.
---
BWW Feature: SHE KILLS MONSTERS: VIRTUAL REALMS with &Sons Theatre and Ad Astra Theatre Company

August 18, 2020

Ad Astra Theatre and &Sons Theatre present She Kills Monsters: Virtual Realms, a thrilling new virtual adaptation of Qui Nguyen's widely popular play.
---
BWW Review: RED BIKE at Teatro Paraguas (Online)

July 18, 2020

Innovative theatre makers across the country have risen to the challenge of creating safe art in the time of COVID - often via Zoom, Twitch, or other conferencing/streaming platforms. Red Bike, directed by Juliet Salazar and presented by Teatro Paraguas, took a different, and decidedly more cinematic route, resulting in an engrossing piece of socially distanced theatre.
---
BWW Feature: Santa Fe High School Head of Theatre Reed Meschefske Gives Digital Senior Sendoff to Class of 2020

May 22, 2020

As with virtually all performing arts programs across the nation, Santa Fe High School's theatre department found its programming interrupted by COVID-19. Prior to spring break, rehearsals had just started for the 2020 senior show, a production of These Shining Lives by Melanie Marnich, featuring a cast of dedicated Santa Fe High School seniors. The production would have closed a season featuring William Shakespeare's Twelfth Night, Tina Howe's Museum, and The 25th Annual Putnam County Spelling Bee.
---
BWW Feature: New Mexico Actors Lab Announces Matching Grant for THE CRADLE WILL ROCK

February 13, 2020

The New Mexico Actors Lab announced today that they have received a matching grant for their August production of The Cradle Will Rock. This grant - provided by four anonymous donors - totals a fund of $12,500 that will match dollar-for-dollar any other donations they receive for The Cradle Will Rock up to the $25,000 budgeted for this show.
---
BWW Review: HUMMINGBIRD at Teatro Paraguas

February 11, 2020

Augusto Boal once said, 'Theatre is a form of knowledge; it should and can also be a means of transforming society. Theatre can help us build our future, rather than just waiting for it.' I cannot help but feel very fortunate that the Santa Fe theatre scene has been full of educational and transformative works in the past year; the latest being Hummingbird at Teatro Paraguas, which opened this last weekend and will run through the 23rd.
---
BWW Interview: Ali Tallman of MACBETH at &Sons Theatre

February 7, 2020

&Sons Theatre is Santa Fe's newest company, led by local actresses Ali Tallman and Mairi Chanel. Read on to hear a little bit about their mission, their thoughts on theatre, and their inaugural production: a reimagined, gender bent Macbeth.
---
Ironweed Productions Launches Its 2020 Season with THE ALIENS by Annie Baker

January 29, 2020

Ironweed Productions celebrates its 15th anniversary and launches its 2020 Season with Pulitzer Prize-winning playwright Annie Baker's comically off-beat and gently moving play, The Aliens, opening March 5th.
---
BWW Feature: Change in Leadership and 2020 Season Announced at New Mexico Actors Lab

November 21, 2019

New Mexico Actors Lab founder Robert Benedetti announced today that co-Artistic Director Nicholas Ballas has been named the group's sole Artistic Director, and that Benedetti will now serve as Managing Director in concert with Mr. Ballas.
---
BWW Interview: Jennifer Graves & Suzanne Cross of THE SEVEN AGES OF (WO)MAN: A BANQUET OF SHAKESPEARE'S WOMEN at Santa Fe Classic Theater
November 15, 2019
---
BWW Review: BLOOD AND WATER at Aux Dog Theatre

September 24, 2019

Blood and Water, the newest production playing at the Aux Dog Theatre (and a world premiere at that) is a strong new piece from Albuquerque based playwright Andy Mayo. Similar to the works of Sam Shepard in construction and tone, the dark comedy examines the relationship between two estranged brothers over one fateful Christmas.
---
BWW Review: FALSE WITNESS: THE TRIAL OF HUMANITY'S CONSCIENCE At ReinART Productions

September 12, 2019

In a hypothetical eternal court, Hitler is tried for his crimes against humanity. His defense? Martin Luther. The prosecutor? Anne Frank. So begins False Witness: The Trial of Humanity's Conscience by Robert Krakow, currently running at The Swan Theatre.
---
BWW Feature: WATER BY THE SPOONFUL at Ironweed Productions

September 9, 2019

Ironweed Productions presents Water by the Spoonful by Quiara Alegría Hudes as part of a collaboration with Teatro Paraguas and the Santa Fe Playhouse to bring her three-play cycle, The Elliot Trilogy, to Santa Fe. Ironweed's production, directed by Valli Marie Rivera, will run October 3rd through October 20th.
---
BWW Feature: The Santa Fe Playhouse Announces New Artistic Director: Vaughn Irving to Pass the Baton to Robyn Rikoon

September 9, 2019

The Santa Fe Playhouse has been a cornerstone of Santa Fe's theater community for almost 100 years. In that time, there have been many Artistic Directors, each charged with moving this venerable 501(c)(3) nonprofit organization forward. The baton of leadership is about to be passed once again.
---