Now Playing Onstage in Little Rock - Week of 11/03/2013
View All Show Listings for Little Rock
Click Here to View BroadwayWorld.com Little Rock Calendar
Jim Holder
in Broadway" border="0" height="100" width="100" align="right">
Jim Holder
The Loony Bin
Comedy Club
11/6-11/9/2013
With an attitude aimed at making people laugh uncontrollably, Jim strikes incredibly close to home with his cynical descriptions of everyday subjects. His comedy is sometimes silly and hard-hitting, often spontaneous and interactive, but always funny. The question Jim receives most often after his show is "When are you coming back?"
Click Here for More Information
Live Nation
presents Brian Regan Live Comedy Tour in Broadway" border="0" height="100" width="100" align="right">
Live Nation PRESENTS BRIAN REGAN LIVE COMEDY TOUR
University of Arkansas - Baum Walker Hall
11/9-11/9/2013
Critics and peers agree: Brian Regan has distinguished himself as one of the premier comedians in the country. The perfect balance of sophisticated writing and physicality, Brian fills theaters nationwide with fervent fans that span generations.
Click Here for More Information
RED
Arkansas Repertory Theatre
10/23-11/10/2013
In partnership with the Arkansas Arts Center's upcoming exhibit "Mark Rothko in the 1940's: The Decisive Decade," The Rep is thrilled to announce the production of the revealing Rothko bio-drama Red. The Rep's first-time partnership with the Arkansas Arts Center provides a depth of artistic exploration never before offered to Little Rock audiences. Rep Producing Artistic Director Robert Hupp will direct Red, which will star Rep favorite Joe Graves (Othello, The Tempest, Of Mice and Men, Moonlight and Magnolias) as the abstract artist Mark Rothko.
Click Here for More Information
BEETHOVEN & BLUE JEANS
Arkansas Symphony Orchestra - Robinson Center Music Hall
11/3-11/10/2013
Click Here for More Information
THE SORCERER'S APPRENTICE
Arkansas Arts Center Children's Theatre
10/25-11/10/2013
The audience will love this fun-filled rendition of a popular story of a thoroughly modern young girl on a magical journey when she meets a mysterious medieval sorcerer's apprentice. The production is written by Alan
Keith Smith
and is based on a poem by Johann Wolfgang von Goethe.
Click Here for More Information
DON'T DRESS FOR DINNER
Rogers Little Theater
11/1-11/10/2013
Bernard is planning a romantic weekend with his chic Parisian mistress in his charming converted French farmhouse, whilst his wife, Jacqueline, is away. He has arranged for a Cordon Bleu cook to prepare gourmet delights, and has invited his best friend, Robert, along to provide the alibi. It's foolproof; what could possibly go wrong? An evening of hilarious confusion ensues as Bernard and Robert improvise at breakneck speed.
Click Here for More Information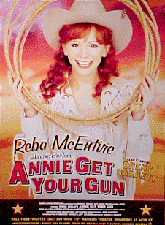 ANNIE GET YOUR GUN (STONE)
Academy of the Arts
11/8-11/10/2013
Annie Get Your Gun (Stone)ANNIE GET YOUR GUN scored a bulls eye when it returned to Broadway in 1999, starring
Bernadette Peters
and sporting a revised libretto by Tony, Oscar and Emmy winner
Peter Stone
. As Newsday reported, Stone's revisions 'are sweetly ingenious, and the show is a dream.' Stone reshaped the 1946 book to create a Wild West show-within-a-show that frames the ageless 'Anything You Can Do I Can Do Better' love story of sharpshooters Annie Oakley and
Frank Butler
. Stone has added a secondary romance between the younger sister of Frank's bothersome assistant Dolly, and a boy who is (to Dolly's horror) part Native American. 'The book has been updated in ways that pass p.c. muster,' reported Time Magazine, 'without losing all the fun.' Joined to the new book, of course, is that amazing
Irving Berlin
score, featuring hit after hit after hit. '
Irving Berlin
's greatest achievement in the theater,' wrote the New York Post, ANNIE GET YOUR GUN 'will always be a musical for the ages, one of the Broadway theater's enduring triumphs.'
Click Here for More Information
THE SORCERER'S APPRENTICE
The Arkansas Arts Center
10/25-11/10/2013
Children's Theatre:Alan
Keith Smith
.
Click Here for More Information
ARTIST OF DISTINCTION: INBAL SEGEV
Arkansas Symphony Orchestra - Clinton Presidential Center
11/12-11/12/2013
Prokofiev - String Quartet No. 1 in B minor, Op. 50 Villa Lobos - Bachianas Brasileiras No. 1 Enescu - Octet in C Major, Op. 7
Click Here for More Information
BY THE BOG OF CATS
Ouachita Baptist University
11/7-11/12/2013
Click Here for More Information
A CLOCKWORK ORANGE
The Weekend Theater
11/1-11/16/2013
Based on his provocative 1962 novella of the same name and the cult film of 1971,
Anthony Burgess
's play with music was first published in 1987. A Clockwork Orange introduces us to Alex and his vicious teenage gang, who revel in horrific violence, mugging and gang rape while enjoying the music of Beethoven. The gang communicates in a language as complicated as their actions. When a drug-fuelled night of fun ends in murder, Alex is finally busted and banged up. He is given a choice to either be brainwashed into good citizenship and set free or face a lifetime inside.
Click Here for More Information
RUN FOR YOUR WIFE
Murry's Dinner Playhouse
11/12-12/31/2013
Cab driver
John Smith
is mugged one day and is taken home by a helpful policeman. Unfortunately, the policeman takes him to the wrong home - it seems
John Smith
has two homes and two wives, and according to his carefully laid out schedule he is supposed to be with wife #2! Confused? It will all come together in this hilarious collection of mistaken identities as
Mr. Smith
tries to juggle two wives, two homes, and two very suspicious police detectives. The perfect holiday treat!
Click Here for More Information
View All Show Listings for Little Rock
Click Here to View BroadwayWorld.com Little Rock Calendar