Now Playing Onstage in Las Vegas - Week of 3/23/2014
View All Show Listings for Las Vegas
Click Here to View BroadwayWorld.com Las Vegas Calendar
FIDDLER ON THE ROOF
LINCOLN COUNTY HIGH SCHOOL
3/19-3/24/2014
In the little village of Anatevka, Tevye, a poor dairyman, tries to instill in his five daughters the traditions of his tight-knit Jewish community in the face of changing social mores and the growing anti-Semitism of Czarist Russia. Rich in historical and ethnic detail, FIDDLER ON THE ROOF has touched audiences around the world with its humor, warmth and honesty. The universal theme of tradition cuts across barriers of race, class, nationality and religion, leaving audiences crying tears of laughter, joy and sadness.The show features a star turn in Tevye, among the most memorable roles in musical theatre. Original director/choreographer
Jerome Robbins
' staging is legendary, and available from MTI in a comprehensive choreographic guide. Its celebrated score by
Jerry Bock
and
Sheldon Harnick
, features songs loved the world over: "Sunrise, Sunset," "If I Were A Rich Man" and "Matchmaker," to name a few. FIDDLER ON THE ROOF is simply Broadway at its very best.
Click Here for More Information
LITTLE SHOP OF HORRORS
BONANZA HIGH SCHOOL
3/26-3/28/2014
A down-and out skid row floral assistant becomes an overnight sensation when he discovers an exotic plant with a mysterious craving for fresh blood. Soon "Audrey II" grows into an ill-tempered, foul-mouthed, R&B-singing carnivore who offers him fame and fortune in exchange for feeding its growing appetite, finally revealing itself to be an alien creature poised for global domination! One of the longest-running Off-Broadway shows of all time, this affectionate spoof of 1950s sci-fi movies has become a household name, thanks to a highly successful film version and a score by the songwriting team of
Howard Ashman
and
Alan Menken
, who redefined the animated musical film with Disney's The Little Mermaid, Beauty and the Beast and Aladdin. Charming, tuneful and hilarious, with tongue firmly planted in cheek, LITTLE SHOP OF HORRORS never fails to entertain. A small cast, band and unit set make the other aspects of production a snap.
Click Here for More Information
A YEAR WITH FROG AND TOAD
GALENA HIGH SCHOOL
3/20-3/28/2014
Arnold Lobel
's well-loved characters hop from the page to the stage in Robert and
Willie Reale
's Tony-nominated musical A YEAR WITH FROG AND TOAD. This whimsical show follows two great friends -- the cheerful, popular Frog and the rather grumpy Toad -- through four, fun-filled seasons.Waking from hibernation in the Spring, Frog and Toad plant gardens, swim, rake leaves, go sledding, and learn life lessons along the way. The two best friends celebrate and rejoice in their differences that make them unique and special. Part vaudeville, part make believe, all charm, A YEAR WITH FROG AND TOAD tells the story of a friendship that endures, weathering all seasons.The jazzy, upbeat score of A YEAR WITH FROG AND TOAD bubbles with melody and wit, making it an inventive, exuberant, and enchanting musical for the whole family. It is a perfect show to be performed by an ensemble group of actors and can be produced with either simple or extravagant staging and sets.
Click Here for More Information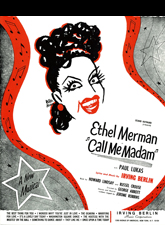 CALL ME MADAM
Carson Valley Community Theatre
3/21-3/30/2014
Once President Harry S. Truman appointed Washington hostess Perle Mesta as Ambassador to Luxembourg, the foundation was laid for a musical comedy that would kid politics-foreign and domestic alike. Ambassador Sally Adams, with slim credentials, is sent off to administer in the tiny duchy of Lichtenburg. It's not long before her down-to-earth, typically undiplomatic manner has surprised and charmed the local gentry, especially the handsome Prime Minister. A second romance is blossoming between her young Ivy League aid and Lichtenburg's enchanting young Princess. The course of love is threatened by the stuffy opposition, who eventually succeed in wrangling Sally's recall, but not before all has resolved happily for both pairs of lovers.Music and Lyrics by
Irving Berlin
; Book by
Howard Lindsay
&
Russel Crouse
Click Here for More Information
GUYS & DOLLS JR
YOUTH THEATRE CARSON CITY
3/28-3/30/2014
Set in
Damon Runyon
's mythical New York City, GUYS AND DOLLS JR. introduces us to colorful characters who have become legends in the musical theatre canon:
Sarah Brown
, the up­right but uptight "mission doll,"; Sky Masterson, the slick, high-rolling gambler who woos her on a bet and ends up falling in love; Adelaide, a nightclub performer whose chronic flu is brought on by the fact she's been engaged to the same man for 14 years; and Nathan Detroit, her devoted fiancé, desperate as always to find a spot for is infamous floating dice game.
Click Here for More Information
LES MISERABLES
SIGNATURE PRODUCTIONS
3/17-4/27/2014
This international smash-hit may be the most popular musical in the world. In 19th century France, Jean Valjean is released from 19 years of unjust imprisonment, but finds nothing in store for him but mistrust and mistreatment. He breaks his parole in hopes of starting a new life, initiating a life-long struggle for redemption as he is relentlessly pursued by police inspector Javert, who refuses to believe Valjean can change his ways. Finally, during the Paris student uprising of 1832, Javert must confront his ideals after Valjean spares his life and saves that of the student revolutionary who has captured the heart of Valjean's adopted daughter. His world-view shattered, Javert commits suicide, and Valjean at last attains the peace he has sought for so long.Epic, grand and uplifting, LES MISÉRABLES packs an emotional wallop that has thrilled audiences all over the world. The sung-through pop opera is ideal for a cast of exceptional singers and overflows with melodies that are already standards. A spectacle on Broadway and in London, LES MISÉRABLES is equally effective with a minimal set; it is its powerful affirmation of the human spirit that has made LES MISÉRABLES a popular masterpiece.
Click Here for More Information
View All Show Listings for Las Vegas
Click Here to View BroadwayWorld.com Las Vegas Calendar