Now Playing Onstage in Hawaii - Week of 3/30/2014
View All Show Listings for Hawaii
Click Here to View BroadwayWorld.com Hawaii Calendar
CATCH ME IF YOU CAN
DIAMOND HEAD THEATRE
3/28-4/1/2014
Click Here for More Information
I PAGLIACCI / CARMINA BURANA
Hawaii Opera Theatre
3/28-4/1/2014
I PAGLIACCI Act I In a village in southern Italy, a crowd welcomes a traveling troupe of players. Canio, their leader, greets the villagers and invites them to a play that evening. The men urge Canio to join them for a drink at a nearby tavern, but they teasingly warn him not to leave his young wife, Nedda, alone with Tonio, who-they say-might make the same kind of romantic advances to her in real life that his character will in the play. Canio answers that while his role as a jealous husband on stage creates comedy, the same situation in real life would end differently. He then departs with the villagers. Thinking she is alone, the young Nedda reflects on the potential danger of her husband's jealousy. But she refuses to be burdened by such fears. The sight of birds flying overhead triggers the memory of a song she once heard in childhood, and she begins to dream of a life more free. Tonio overhears her fanciful outburst and takes the liberty of declaring his love for her. Even though she scorns him and ridicules his deformity, he tries to kiss her. When he persists, she grabs a whip and strikes him. Cringing with pain, Tonio swears that she will pay dearly for her actions. No sooner has Tonio gone off than Silvio appears. He is a young villager with whom Nedda has been having an affair. He wants her to leave her husband and run away with him. Nedda at first refuses, but finally she gives in to Silvio's impassioned pleadings. Tonio, returning from the tavern, catches sight of the lovers and, seeing the opportunity for revenge, runs off to fetch Canio. The enraged husband arrives just in time to hear his wife promise to meet Silvio later that night. At Canio's approach, Silvio escapes unrecognized into the woods. Canio demands that Nedda reveal the identity of her lover. She refuses. Canio, beside himself with rage, is about to kill her when Beppe, another member of the troupe, stops him. He reminds Canio that the villagers are assembling for the performance and tells Nedda to get dressed for the play. Canio reflects ironically that he now must go on stage as Pagliaccio-the Clown-and make people laugh, even though his heart is breaking. Act II The villagers gather excitedly to see the performance. The play presented by Canio and his troupe is a mirror of the previous, real life, events. Tonio plays the part of the stupid servant Taddeo, who declares his love for Columbine (played by Nedda). She scorns him to make way for her real lover, Harlequin (played by Beppe), who arrives for an intimate supper. This cozy scene is interrupted by the unexpected arrival of the husband, Pagliaccio (played by Canio). Harlequin escapes as Columbine promises to meet him later that night, using the same words that Nedda used to Silvio that very afternoon. As Canio proceeds to play his part, the tragic reality of the situation begins to overshadow the make-believe. He insists that Nedda name her lover. She laughs him off and tries to continue the comedy. But Canio, carried away, reproaches her for her ingratitude and her betrayal. Some of the spectators begin to wonder whether the actors are playing parts or are actually in earnest. Nedda reminds Canio that she has never been a coward and persists in her refusal to name her lover. Pushed beyond the breaking point, Canio seizes a knife and stabs Nedda. With her last breath she cries out for Silvio, who has been watching the play. He runs onto the stage and Canio, now aware that Silvio is his wife's lover, stabs him to death. Amid the agitation of the horrified onlookers, Tonio ends the "performance" (and Leoncavallo's opera) by stating simply: "The comedy is finished." CARMINA BURANA Carmina Burana is a scenic oratorio composed to the texts of Goliard poems from the 13th century. The manuscript containing these verses was discovered in 1803 at a Bavarian monastery in Benediktbeuern; the term "Burana" in the title is the Latin adjective identifying this location. The subtitle of the work, "Cantiones profanae cantoribus et choris cantandae comitantibus instrumentis atque imaginibus magicis," means "Secular songs for soloists and chorus, accompanied by instruments and supplemented by scenery." Although there are a number of contexts for human interaction in some of the pieces, there is no plot continuity or overall dramatic action in this series of songs. Composer Carl Orff envisioned Carmina Burana with optional action and dance, although he did not provide written instructions as to how it should be staged. Thus, it has been presented in a wide variety of ways. Although most frequently seen in concert form, the work is extremely theatrical and adapts well for the stage. Portland Opera's production has been conceived by Christopher Mattaliano as a fully staged production featuring the dynamic Portland modern dance company BodyVox, with choreography by Artistic Directors Jamey Hampton and Ashley Roland. The medieval Goliards (the term is a nickname meaning "big mouths") were scholars, monks and priests who had abandoned conformity to the Catholic church. Individualists in a time when such behavior was considered heresy, they lived vagrant lives, begging, thieving, and singing. They wrote their verses mostly in Latin, although portions of their texts are in the vernacular languages of the areas in which they lived. Their best poetry is a frank avowal of their pleasures, their simple zest in living, and the joys of an earthy existence. The manuscript discovered in the Benediktbeuern monastery contained the most extensive collection of Goliard poetry ever found. Its authors were various and anonymous. It is surprising that a monastery's library contained a volume of such scurrilous material. The justification for this is that the volume had originally belonged to a secular court and had been assigned to the monastery for archival purposes. In Carmina Burana, Orff chose to set only a portion of the manuscript to music. The melodic language he employed mixes folksong elements from his native Bavaria with a parody of Gregorian plainchant, matching the ridicule of religious forms found in the texts. The musical fabric is bold and colorful. Its strong rhythmic emphasis demands an enlarged percussion section. Although these effects are striking, they are not complicated. The melodic material is tonal and straightforward, unadorned by counterpoint or formal variation. The harmonic effects are reduced to bare essentials. All of these choices magnificently enhance the poetry's attention to what is simple, sensuous, vigorous, and direct. Orff chose to organize the texts of Carmina Burana into three contrasting sections: exploring themes of renewal and sexual awakening in Early Spring; alienation, debauchery, and corruption in In The Tavern; and both unrequited and requited love in The Court of Love. These three groups of poems are flanked by identical musical settings of the same poem "O Fortuna" (Oh Fortune), bemoaning man's fate as a mere pawn of destiny's mighty and often cruel hand. Carmina Burana has won a firm place in the musical repertoire of Western culture. It has enjoyed enormous popularity and has often been adapted effectively for theatrical purposes for both stage and film.
Click Here for More Information
C!RCA
Kahilu Theatre
4/5-4/6/2014
Brisbane Company CIRCA is one of Australia's greatest contemporary circus exports. The cast combines dance with physical theater to produce a combination of acrobatic and tumbling sequences which make up a show that's extraordinarily energetic, powerful and sexy. CIRCA has been re-inventing circus as an art form for almost five years, and has performed in more than 18 countries, leaving audiences exhilarated at just what the human form can do. A trapeze and acro-balancing master class will be offered before each show.
Click Here for More Information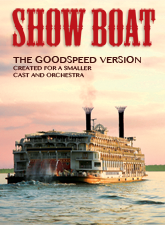 SHOW BOAT (GOODSPEED VERSION)
Diamond Head Theatre
3/28-4/13/2014
Created for a Reduced Cast and Orchestra. Spanning the years from 1880 to 1927, this lyrical masterpiece concerns the lives, loves and heartbreaks of three generations of show folk on the Mississippi, in Chicago and on Broadway (and their life-long friends). The primary plot follows Magnolia, the naive daughter of the show boat captain, as she marries a gambler and moves with him to Chicago. His gambling continues as his debts compound, and soon he deserts her and their young daughter. A subplot concerns the potential arrest of Magnolia's selfless best friend on charges of miscegenation when it's discovered that she is mulatto, and her subsequent downward spiral into despair. The passing of time reunites Magnolia and her now-grown daughter with her family on the show boat as well as with her husband, who eventually returns offering a hopeful second chance at familial fulfillment. This Production Originally produced by
Goodspeed Musicals
,
Michael P. Price
, Executive Director, Directed by
Rob Ruggiero
. Music by
Jerome Kern
; Book and Lyrics by
Oscar Hammerstein
II; Based on the novel `Show Boat` by
Edna Ferber
Click Here for More Information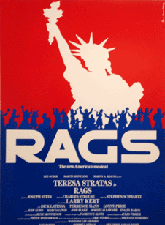 RAGS
Chaminade University of Honolulu
4/4-4/13/2014
With great passion and humor, the story is told of Rebecca, a naive Russian immigrant arriving at Ellis Island with her young son, and their struggle to make a life for themselves in the New World. She goes to work in a sweatshop while searching for her husband who has preceded them to America. When they are finally reunited she discovers that his assimilation is not entirely for the best. His desire to change their name and strip away their ethnic culture so as to fit in with his cronies distresses Rebecca, whose gradual enlightenment leads her into union activities against the very men her husband so hopes to impress. Subplots concern an elderly immigrant, his daughter, and their respective romances, one of which ends tragically. This sweeping saga of awakenings and disappointments, of greed and power, of strength and love is as deeply moving and inspirational a musical as you could hope to present.Book by
Joseph Stein
; Music by
Charles Strouse
; Lyrics by
Stephen Schwartz
Click Here for More Information
COCKADOODLEDOO
Kumu Kahua Theatre
3/27-4/27/2014
In a small rural town where "nothing interesting happens," a chunk of meteor lands in farmer Templeton's chicken coop and changes everything - including the chickens. His friend Ziggy, to whom he sells a souvenir chunk, undergoes a bizarre transformation and is quarantined by the Feds. But this is only part of Yokomori's surrealistic tale, which echoes Beckett's Waiting for Godot and Ionesco's Rhinoceros, and introduces a host of odd characters including an evil ventriloquist, a masochistic postman, a mercenary wannabe and then some.
Click Here for More Information
GRINDS
Honolulu Theatre for Youth
4/4-5/10/2014
Why do we eat what we eat? Where do we grow what we eat? Why does that even matter? This musical romp through Hawaii's favorite subject mixes humor, history and science to explore our community's relationship with food. Built through extensive conversations with local farmers, chefs and grandmothers, this is essential viewing for anyone who eats.
Click Here for More Information
GRINDS: THE STORY OF FOOD IN HAWAII
Honolulu Theatre For Youth
4/4-5/10/2014
dir:
Eric Johns
on.World Premiere
Click Here for More Information
View All Show Listings for Hawaii
Click Here to View BroadwayWorld.com Hawaii Calendar