Now Playing Onstage in Albuquerque - Week of 12/08/2013
View All Show Listings for Albuquerque
Click Here to View BroadwayWorld.com Albuquerque Calendar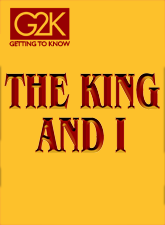 THE KING AND I
The American School of Kinshasa
12/12-12/14/2013
G2K THE KING AND IThe 'G2K' Getting To Know Series: Uniquely adapted musicals specifically for youth performers. East versus West makes for a dramatic, richly textured and ultimately uplifting tale of enormous fascination. It is 1862 in Siam when an English widow,
Anna Leon
owens, and her young son arrive at the Royal Palace in Bangkok, having been summoned by the King to serve as tutor to his many children and wives. The King is largely considered to be a barbarian by those in the West and he seeks Anna's assistance in changing his image, if not his ways. With both keeping a firm grip on their respective traditions and values, Anna and the King grow to understand and, eventually, respect one another, in a truly unique love story. In this adaptation for pre-high school students, the content has been edited to better suit younger attention spans, but all the magic and beauty of the original are still in place. You and your students will be enchanted by the timeless story and the dazzling score, while at the same time learning about theater and its production. PLEASE NOTE: All schools wishing to peruse or perform a G2K musical should apply through the
Click Here for More Information
MRS. BOB CRATCHIT'S WILD CHRISTMAS BINGE
Vista Grande Community Center
12/6-12/15/2013
Dickens meets Durang in this warped and wily send-up of the yuletide classic, A Christmas Carol.
Click Here for More Information
LOVE WITH A TWIST
SouthWest Rural Theatre Project
11/29-12/22/2013
Short stories by
O. Henry
have never been so charmingly and hilariously staged. The Gift of the Magi, The Last Leaf, The Love Philtre of Ikey Schoenstein, and The Marry Month of May are interlinked into a series of overlapping tales. Each is introduced with a mini overture of seasonal music. The finale, with all characters filling you in on what happened to them after their tales ended, is worth the price of admission. The characters are unforgettable, the dialogue is sparkling with wit, and the songs are sensational.
Click Here for More Information
HOLIDAY FESTIVAL
The Vortex Theatre
12/6-12/22/2013
A variety of 8-10 minute plays, monologues, poetry, musical pieces, and dance, presenting holiday reflections, themes, points-of-view, and stories from different cultures, religions, races, and genders.
Click Here for More Information
THE BEST CHRISTMAS PAGEANT EVER
The Adobe Theater
12/6-12/23/2013
Something for the whole family this Christmas! In this hilarious tale, a couple struggling to put on a church Christmas pageant is faced with casting the Herdman kids - possibly the most inventively awful kids in history. You won't believe the mayhem - and the fun - when the Herdmans collide with the Christmas story head-on!
Click Here for More Information
MIRACLE ON 34TH STREET
Albuquerque Little Theatre
11/29-12/24/2013
Kris Kringle, an old man in a retirement home, gets a job working as Santa for Macy's. Kris unleashes waves of good will with Macy's customers and the commercial world of New York City by referring parents to other stores to find exactly the toy their child has asked for. Seen as deluded and dangerous by Macy's vocational counselor, Kris ends up in a court competency hearing. Especially at stake is one little girl's belief in Santa. In a dramatic decision, the court confirms Kris as the true Santa, allowing Susan and countless other children to experience the joy of childhood fantasy.
Click Here for More Information
BARNUM
The African American Performing Arts Center
12/12-12/29/2013
Barnum is based on the life of showman P. T. Barnum, covering the period from 1835 through 1880 in America and major cities of the world where P. T. Barnum took his performing companies. The production combines elements of traditional musical theater with the spectacle of the circus. The characters include jugglers, trapeze artists, sideshow wonders and clowns, as well as such real-life personalities as
Jenny Lind
and Tom Thumb. The show earned 10 Tony Award nominations in 1980.
Click Here for More Information
DISNEY'S ALADDIN JR
LOS ALAMOS PUBLIC SCHOOLS
11/22-2/22/2014
Welcome to Agrabah, City of Enchantment, where every beggar has a story and every camel has a tail! All of your favorite characters are here in Disney's ALADDIN JR., a stage adaptation of the Disney hit film. Filled with magic, mayhem, and flying carpet rides, audiences' spirits will soar with excitement. Most of all, the tuneful, Academy award-winning score with songs including "A Whole New World" and "Friend Like Me" will certainly make this musical a favorite for many years to come!
Click Here for More Information
View All Show Listings for Albuquerque
Click Here to View BroadwayWorld.com Albuquerque Calendar