William Inge Theater Festival Welcomes New Play Lab Writers From 14 States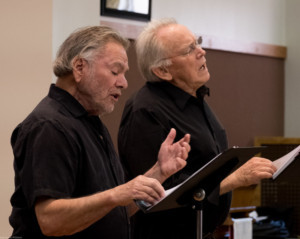 Twenty-four outstanding playwrights, representing 14 states, will converge in the small town of Independence, Kansas for a public staged reading of their new scripts during the New Play Lab at the 38th Annual William Inge Theater Festival, May 22-25, at Independence Community College, Independence, Kansas.
Now in its fourth year, the Inge Festival New Play Lab connects playwrights with the national and regional theater communities. The playwrights receive a public reading of their plays, feedback from professional theater artists, attend playwriting masterclasses with the Inge Festival playwright Honorees and Dramatists Guild Fund Traveling Master Playwright, attend theater workshops, panels, and events, all while enjoying the small-town hospitality of William Inge's hometown of Independence, Kansas.
The Kansas Creative Arts Industries Commission (KCAIC) partners with the Inge Festival in presenting the New Play Lab. The KCAIC is dedicated to measuring, promoting, supporting, and expanding the creative industries to grow the state's economy and generate creative industry-related jobs.
Twenty of the New Play Lab writers were selected through a blind reading process by a panel of nationwide theater practitioners. An additional four writers were selected in a competitive process through the Inge Center's partnership with the Kennedy Center American College Theater Festival, Region 5. The KCACTF is comprised of more than 600 colleges and universities and advocates for improving the quality of college-level theater nationwide.
All plays are 10 to 30-minutes long and the readings are open to the public. Tickets for the New Play Lab and all Inge Festival events are available at www.ingecenter.org, or at (620) 332-5648.
The 2019 New Play Lab playwrights are: Bendan Beseth, Fayetteville, AR; Asher Bowles, Minneapolis, MN; Nelson Diaz-Marcano, New York, NY; David Dudley, St. Johnsbury, VT; James English, Providence, RI; Ron Fassler, New York, NY; Jordan Henry, Chattanooga, TN; Kevin King, Kansas City, MO; Kenneth P. Langer, Maynard, MA; Bill Lynch, New York, NY; Tony Manzo, New York, NY; Alan Olejinczak, San Francisco, CA; Reuel Olin, San Diego, CA; Dave Osmundsen, Pompton Plains, NJ; Michael Pisaturo, Brighton, MA; John Remington, Adams, OR; Nedra Roberts, Brookhaven, GA; Nan Satter, New Paltz, NY; and Mary Teitelbaum, New York, NY.
The four KCACTF New Play Lab writers are: Andréa Mayrose, South Dakota State University; Paige Quinlivan, University of Minnesota-Morris; Terry Sklenar, University of Missouri-Columbia; and Megan Weidner, University of South Dakota.
The William Inge Theater Festival is the Official Theater Festival of the State of Kansas, as designated by the state legislature. It is part of the proud tradition of Independence Community College, in Independence, Kansas.
In addition to the college, major supporters include the Kansas Creative Arts Industries Commission; the National Endowment for the Arts; Independence Chamber of Commerce; and the William Inge Festival Foundation.