SHOW
DATES
THEATRE

Bonnie & Clyde


Manhattan Arts Center
8/5 - 8/14/2022

Manhattan Arts Center
Manhattan

Cry-baby


Garden City Recreation Commiss
8/12 - 8/14/2022

Garden City Recreation Commiss
Garden City

Disney's Beauty And The Beast Jr


The Brainy and Beautiful Belle yearns to escape her provincial life...and her brute of a suitor, Gaston. However, Belle gets more adventurous than she wanted
7/29 - 8/14/2022

Topeka Civic Theatre
Topeka

Big River


Big River August 4 - 20, 2022Based on the classic 1884 novel, Adventures of Huckleberry Finn, its music is the bluegrass and country style. The
8/4 - 8/20/2022

Roxy's Downtown
412 E. Douglas
Wichita

The Drowsy Chaperone


Century Ii Concert Hall
8/17 - 8/21/2022

Music Theatre Wichita
Wichita

This is Our Youth


Visual content only
8/11 - 8/21/2022

Leo Larson
Wichita

Wonderland High


With a wink and a nod to Lewis Carroll, the new kid in town discovers that Wonderland High is not your typical high school in
8/18 - 8/21/2022

Great Plains Theatre - Amateur
Abilene

Annie Jr


It's upbeat plot and flamboyant characters have made Annie one of the most beloved musicals in history--what girl hasn't dreamed of performing the title role
9/9 - 9/11/2022

Leavenworth Parks & Recreation Department
Leavenworth

Freaky Friday One Act Edition


A brand-new One Act Edition based on the Disney Channel original movie.
7/7 - 9/11/2022

New Theatre Company
Overland Park

Guys & Dolls


Hailed as the perfect musical comedy, this award-winning classic gambles with luck and love under the bright lights of Broadway.
9/2 - 9/11/2022

C.l. Hoover Opera House
Junction City

Let Me Down Easy


Kansas State University
9/22 - 9/25/2022

Kansas State University
Manhattan

Steel Magnolias


Depot Theatre Company
9/9 - 9/25/2022

Depot Theatre Company
Dodge City

The Addams Family: A New Musical


The Addams FamilyA New Musical ComedyBook by Marshall Brickman and Rick EliceMusic and Lyrics by Andrew LippaTHE ADDAMS FAMILY, a comical feast that embraces the
9/9 - 9/25/2022

Theatre Salina
303 E Iron Ave
Salina

Into The Woods


Tabor College
9/29 - 10/1/2022

Tabor College
Hillsboro

'Art'


This intelligent and witty Tony Award-winning play by Yasmina Reza asks the question, "What does our taste in art say about who we are as
9/29 - 10/2/2022

Independence Community College
Independence

The Golden Girls


The Golden Girls September 9 - October 8, 2022The final episodes starring those zany actors, Tom Frye, Scott Noah, Kyle Vespestad and Monte Wheeler with
9/9 - 10/8/2022

Roxy's Downtown
412 E. Douglas
Wichita

Little Shop Of Horrors


A down-and out skid row floral assistant becomes an overnight sensation when he discovers an exotic plant with a mysterious craving for fresh blood. Soon
9/23 - 10/9/2022

Manhattan Arts Center
Manhattan

The Addams Family


Visual content only
10/14 - 10/16/2022

Cowley County Community College
Arkansas City

Dear Edwina Jr


At last a musical that features a cast of nearly all girl performers! Follow the adventures of advice- giver extraordinaire, Edwina Spoonapple as she directs
10/17 - 10/18/2022

Wichita Center For Performing Arts
Wichita

Peter Pan


Memorial Hall
10/21 - 10/23/2022

Neewollah Inc.
Independence

Theory Of Relativity


The Theory of Relativity is a joyous and moving look at our surprisingly interconnected lives. Through a seemingly unrelated collection of songs, scenes and monologues,
10/21 - 10/23/2022

Pittsburg Community Theatre
Pittsburg

Elf-the Musical


Based on the beloved holiday film, this hilarious fish-out-of-water comedy follows Buddy the Elf in his quest to find his true identity.
10/27 - 10/29/2022

Christian Performance Theatre, Inc
Bel Aire

Next To Normal


Johnson County Arts & Heritage Cntr
10/21 - 10/30/2022

Barn Players
Overland Park

Into The Woods Jr


The Brothers Grimm "go Broadway" as Sondheim and Lapine offer up a cockeyed fairy tale where all of your favorite characters-Cinderella, Little Red Riding Hood,
11/3 - 11/5/2022

Trinity Academy
Wichita

Lionel Barts Oliver! Jr


Palace Youth Theatre
11/4 - 11/6/2022

Columbian Theatre-museum And
Wamego




Back to the Main Page | Browse Local Theatres
---
Latest Wichita Reviews
Review: HEATHERS: THE MUSICAL at Roxy's Downtown
by Paula Makar - July 22, 2022
WhHeathers: The Musical is the comically dark story of Veronica Sawyer, a brainy teenage misfit who offers her forgery skills to the Heathers, the most powerful and ruthless clique at Westerberg High, in exchange for the good life. Before she can get comfortable atop the high school food chain, Vero...
Review: 42ND STREET at Music Theatre Wichita, Century II Concert Hall
by Paula Makar - July 04, 2022
After a two year hiatus, Music Theatre Wichita is FINALLY back in the Century II Concert Hall and Wichita Theatregoers couldn't be happier! There was no better way to celebrate the return than an incredible performance of 42nd Street! I'm sad the show didn't run another week, and sadder still if you...
Review: THE ADDAMS FAMILY at Crown Uptown
by Paula Makar - June 19, 2022
Snap! Snap! This production of The Addams Family at the Crown Uptown is A MUST SEE! This show runs until June 26, so call for tickets now! The show is well written and tight, with some really gorgeous music and equally gorgeous voices! The script is HILARIOUS, with some fantastic plot complications....
BWW Review: PRISCILLA, QUEEN OF THE DESERT at Roxy's Downtown
by Paula Makar - May 18, 2022
With a book by Stephan Elliott and Allan Scott, and a slew of 70s dance floor anthems including It's Raining Men, I Will Survive, Hot Stuff, Boogie Wonderland, Girls Just Wanna Have Fun, and I Love The Nightlife, it's hard not to sit still in your seat. You'll want to sing and dance along!...
BWW Review: THE COLOR PURPLE at Roxy's Downtown
by Paula Makar - February 20, 2022
If God ever listened to a poor black woman, the world would be a different place. –Celie The Color Purple is currently playing at Roxy's Downtown. Their production is impressive, powerful, well-cast, and extremely well-wrought, from performances to design elements and direction. Do yourself a favor...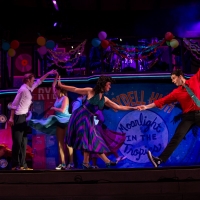 BWW Review: GREASE at Music Theatre Wichita At The Capitol Federal Amphitheater In Andover, KS
by Paula Makar - September 22, 2021
Oh, those summer nights! What a treat to sit under the stars on a cool evening and watch Grease! I felt like I was at a drive-in. The folks behind me were singing along to every song, and I was tempted to as well! It was such a feel-good production....
BWW Review: NEXT TO NORMAL at The Crown Uptown Theatre
by Paula Makar - September 19, 2021
I love it when I go to the theatre and there's a Vaccine Raffle! That's right, if you show your vaccine card you can be entered to win a prize! I feel like I'm back in a place where people care about the health of their community and do things like this to promote it. Crown Arts Collaborative is a 5...
BWW Review: DISASTER! at Roxy's Downtown
by Paula Makar - September 17, 2021
RUN RIGHT DOWN TO SEE THIS SHOW RIGHT NOW! To quote my students, "This show is ridiculous, and we laughed so hard." Like a farce on speed, DISASTER! is like riding a freight train over rough terrain, hanging on for dear life until the engineer finally puts on the brakes. This show is so nutritionall...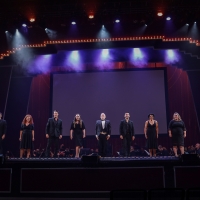 BWW Review: GOLDEN: MTWICHITA AT 50 at Music Theatre Wichita, Century II PAC, Convention Hall
by Paula Makar - August 29, 2021
How lucky are we in Wichita to have such a wonderful theatre community?! Better still, how lucky are we to have such a gem like Music Theatre Wichita? Producing Director Wayne Bryan and his cohort of Wichita Favorites paid homage to the city that has supported MTW for the past 50 years by showering ...
BWW Review: COMEDY OF ERRORS at Blind Cupid Shakespeare Company
by Alison Bridget Chambers - August 20, 2021
Blind Cupid Shakespeare Company brings Shakespeare to International Audiences...