Shakespeare's Globe Announces Winter Season For 2018/19 In The Sam Wanamaker Playhouse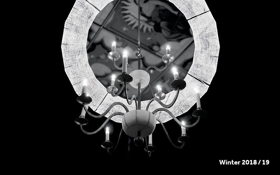 Shakespeare's Globe has announced its Winter Season for 2018/19 in the Sam Wanamaker Playhouse. Featuring two pairings of plays by William Shakespeare and his celebrated counterpart, Christopher Marlowe, this call and response season opens on 7 November 2018. Throughout the season we are also inviting today's artists to examine, rework and elaborate on these 400-year-old provocations with new work written in response to Shakespeare and Marlowe.
William Shakespeare's Macbeth will be directed by Robert Hastie, opening the season as a timely reminder of the destruction that can result from the quest for power, and an examination of the evil forces that can take root in the imagination of a tyrant. Robert is the Artistic Director of Sheffield Theatres, where he has directed their critically acclaimed productions Julius Caesar, Of Kith and Kin and The Wizard of Oz. Robert directed Michelle Terry in the titular role of Henry V at Regent's Park Open Air Theatre (2016). He also directed Breaking the Code at Manchester's Royal Exchange in the play's first major revival for 30 years.
Opening on 1 December, Christopher Marlowe's Doctor Faustus will be directed by Paulette Randall, and plays alongside Macbeth. The cautionary tale examines the very nature of human curiosity and our unparalleled thirst for knowledge. Paulette's theatre credits include Fences starring Lenny Henry (Theatre Royal Bath, West End), Gem of the Ocean, Blues for Mr Charlie (Tricycle) and Frankie and Johnny in the Clair de Lune (Chichester Festival Theatre). Her screen credits include Casualty, The Crouches and Holby City (BBC One). Paulette was associate director of the 2012 Olympics Opening Ceremony and was awarded an MBE for services to drama in 2015.
Dark Night of the Soul: a feminine response to the Faustian bargain opens on 29 December. The Faustian myth continues to fascinate and intrigue, but has been appropriated by the man, the male, the masculine, with little exploration or discovery of what it means for the woman, the female, the feminine, to stop at a crossroads and 'sell her soul'. Jude Christian will direct an ensemble of female writers including Lily Bevan, Athena Stevens, Katie Hims, Amanda Wilkin, Lisa Hammond and Rachael Spence. They will respond to the provocation, with the ultimate aim of creating a chorus of female voices asking: What would you sell your soul for? Jude Christian will be performing Nanjing, a piece about identity, dispossession, and the consequences of war, in the Playhouse this week as part of Refugee Week 2018.
Ralegh: The Treason Trial, edited and dramatised by Oliver Chris, will premiere in Winchester Great Hall, the location of the original trial 415 years ago, before playing in the Sam Wanamaker Playhouse. The production is a verbatim account of what played out on that extraordinary November morning, compiled and edited from sources present at the trial itself. Oliver is an actor, writer and director best-known in the theatre for his roles in One Man, Two Guvnors (National Theatre, West End, Broadway), King Charles III (Almeida, West End, Broadway), and Twelfth Night (National Theatre).
The season continues with Marlowe's Edward II and Shakespeare's Richard II, examining ancestral relationships and notions of identity, sexuality, desire and power. Edward II plays from 7 February 2019. King Edward recalls his lover from banishment and sets in motion a chain of events that culminate in some of the most shocking scenes in early modern theatre. Marlowe's portrayal of Edward and Gaveston is a rare depiction of a gay relationship on the early Modern Stage, and a frank exploration of the tension between private pleasures and public duty.
Richard II was hugely controversial when it was first written and performed, and it strikes us today with remarkable immediacy as Shakespeare asks us to consider the destiny that we might be shaping for our 'scepter'd isle'. The production will open on 22 February and play during a period in which we will play our own part in defining history and becoming the shoulders on which future generations will stand, as the UK's scheduled departure from the EU is due to take place on 29 March 2019.
The Read Not Dead series continues to shed new light on Shakespeare's contemporaries, and this year includes Edward I (first printed 1593) by George Peele. The series will also bring to life The Little French Lawyer (first performed 1619 - 1623, first published 1647) by John Fletcher and Philip Massinger, and The Tragedy of Sir John van Olden Barnavelt (first performed 1619, first published 1883) by John Fletcher and Philip Massinger. Events will be taking place over the half term period, including storytelling and workshops of Macbeth and Henry V for families.
Opening 21 March, After Edward is written by Tom Stuart. Edward II wanders on to the empty stage, bloodied and confused. He has no idea where he is, or how he got here, but he does have an ominous feeling that something is wrong. A daring new play written specifically for the Sam Wanamaker Playhouse in response to Christopher Marlowe's Edward II, After Edward welcomes us into a chaotic world of pride and shame. Tom has appeared as an actor at Shakespeare's Globe in many productions including The Broken Heart, The Changeling (2015), Romeo & Juliet (2009) and Much Ado About Nothing (2007). He performed in the Battersea Arts Centre's production of Edward II in 2008. His screen credits include Tinker Tailor Soldier Spy, Psychobitches (Sky Arts), and A Good Year. Tom has been working in film, television and theatre as an actor for 14 years. His first play I Am Not Myself These Days, an adaptation of Josh Kilmer-Purcell's New York Times bestselling autobiography, was performed by Tom at the Edinburgh Fringe Festival (2015) and toured the UK in 2016.
Playing Shakespeare with Deutsche Bank celebrates its 14th year at The Globe Theatre. Throughout March 2019, Romeo & Juliet will be opening the doors to the next generation of audiences.
More Hot Stories For You