Shakespeare Theatre Company Announces 2019-2020 Season - PETER PAN, MUCH ADO, and More!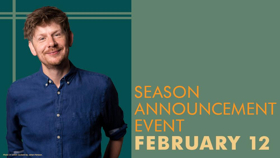 Incoming Artistic Director Simon Godwin today announces Shakespeare Theatre Company's 2019-2020 Season. Godwin's debut season highlights his artistic aspirations for the company to create high quality, exciting, inclusive theatre. Godwin states, This is not my season, but ours, everybody's season.
In approaching the programming Godwin has re-examined the definition of classic. We think 'classic' means 'old,' but it can also mean 'of the first rank,' Godwin explained in a recent interview with The Washington Post. Any play, from any age, can be defined as a classic so long as it aspires toward greatness.
Shakespeare remains at the center of STC's mission, with two works in the season, both of which will be directed by Godwin: A reimagining of his acclaimed production of Timon of Athens starring Kathryn Hunter, and a new production of Much Ado About Nothing. Godwin chose Much Ado in part as an acknowledgment of the leadership of current Artistic Director Michael Kahn who will be retiring at the end of the 2018-19 season: Michael inaugurated the Lansburgh Theatre with a production of Much Ado and I think it's fitting, for my first season to begin here too with this celebration of love and hope and humor.
Significantly, the remaining four shows in the season are by playwrights that will be produced for the first time on STC's stages. STC's canon will grow to include the work of writer and activist James Baldwin, a 15th century medieval morality play reimagined by Branden Jacobs-Jenkins, and a North American premiere of Emma Rice's newest musical.
NEW FAMILY-FRIENDLY INITIATIVE
As a father, Godwin shares, I would love to make theatre that we can all bring our extended family to; big, exciting shows that everyone can enjoy. With this in mind Godwin announces that STC will begin a three-year initiative to produce family-friendly theatre during the holidays, beginning this year with a world-premiere adaptation of J.M. Barrie's Peter Pan, written by Lauren Gunderson, American Theatre's Most-Produced Playwright of 2017. From her home in California, Lauren Gunderson said: It's going to be inclusive. It's going to put girls at the center of the story, as well as boys. It's going to be something for all kinds of audiences, something that can bring families together. Associate Artistic Director Alan Paul, who will direct the show adds: The myth of Peter Pan is rich and deep, and I am looking forward to creating a production that explores the paradox of growing up. I am thrilled to have Lauren Gunderson adapt this classic work."
Godwin first announced the season to an invited group of subscribers, staff, actors and longtime supporters of the company at an event at Sidney Harman Hall last night where he added: What excites me the most is seeing an old story told anew, not just 'history' but also 'today' and how they talk to each other. I think this is the perfect season to explore just that.
Performance dates for the season will be released in the coming weeks.
---
EVERYBODY
Director TBA
One of this country's most original and illuminating writers (The New York Times) shines his light on the 15th century play Everyman with startling results. 'Everybody' a role assigned each night from a small cast of actors by lottery live on stage is a happy person, a free person, a person who believes nothing but the best lies ahead. Then Death comes calling and Everybody must go on the journey of a lifetime. Obie Award-winner and MacArthur Genius Grant recipient Branden Jacobs-Jenkins (An Octoroon) has created an irreverent, rollicking ride that asks deep questions of all who see it. Remixing the archetypal medieval morality play into an explosive experiment of wit and emotion, Everybody fills the heart in a new and unexpected way (The New Yorker).
---
PETER PAN
By J.M. Barrie
A World Premiere Adaptation by Lauren Gunderson
Directed by Alan Paul
J.M. Barrie's classic Peter Pan is reimagined for a new generation of theatregoers by American Theatre's Most-Produced Playwright of 2017 Lauren Gunderson (Miss Bennet: Christmas at Pemberley, I and You). In this first of a three year commitment to more family programming, Gunderson places Wendy center stage, a budding scientist breaking free from the constraints of Edwardian traditions. Whisked away by Peter Pan to Neverland, they confront menacing pirates, a formidable crocodile and the dastardly Captain Hook. With his signature brilliant theatrical flair (American Theatre), STC Associate Artistic Director Alan Paul (Camelot) directs this classic tale of adventure and wonder sure to delight adults and children alike.
---
TIMON OF ATHENS
Directed by Simon Godwin
Co-Production with Theatre for a New Audience
Artistic Director Simon Godwin makes his directorial debut at Shakespeare Theatre Company with a restaging of his recent acclaimed production of Timon of Athens, featuring Olivier Award-winner Kathryn Hunter in an astonishing performance (The Guardian). Timon lives in a golden world of opulence and generosity throwing wild parties attended by politicians, artists and the celebrities of Athens. When she loses her wealth and her friends abandon her, Timon takes to the forest, exchanging her luxurious gowns for sackcloth and plotting revenge against the city she loves. Godwin's daring take on this rarely-produced play yields a parable for our times and perhaps a nifty touchstone for spiritual renewal. (Daily Telegraph)
---
THE AMEN CORNER
Directed by Whitney White
In a 1950's storefront church in Harlem, Pastor Margaret Alexander rails at her congregation and her teenaged son for their vices. With a gospel choir singing of redemption in one room and her son bonding with his ailing father over their love of jazz in the next, Margaret must face the music herself when a figure from her own troubled past returns. James Baldwin's The Amen Corner tackles the role of the church in the African American community in this landmark work, written immediately after his breakthrough novel Go Tell It on the Mountain. Whitney White, winner of the Susan Stroman Director Award, makes her Washington, D.C. directorial debut in this powerful production rich with music, humanity and Baldwin's lyrical prose.
Plush Theatricals in association with Wise Children
---
ROMANTICS ANONYMOUS
Book by Emma Rice
Lyrics by Christopher Dimond
Music by Michael Kooman
Based on the film Les Emotifs Anonymes
written by Jean-Pierre Am ris and Philippe Blasband
Directed by Emma Rice
A recipe for sweet romance: Whisk together two painfully timid chocolatiers with a dollop of social anxiety and a dash of whimsy in a Parisian setting. The result is a musical comedy that is utterly delectable. Conceived by the brilliant mind of theatrical provocateur Emma Rice (Brief Encounter) and sprinkled with the passionate songs of Kooman and Dimond, this gorgeous musical hailed as a multifaceted gem, chock-full of love, generosity and joy (The Guardian) is an effortless confection that will melt your heart.
---
MUCH ADO ABOUT NOTHING
Directed by Simon Godwin
The course of true love never did run smooth. Shakespeare's quintessential romantic comedy finds soldiers returning home and trading their military uniforms for wedding bands, their pistols for love letters. With the kingdom at peace there's now time for the merry war between Beatrice and Benedick to rage once more. But to bring the witty ex-lovers together will require outrageous rumors, a disrupted wedding, a faked death, the supreme incompetence of the local law enforcement and the outright double-dealing of their dearest friends. Helmed by Simon Godwin, who combines a contemporary eye with a fastidious ear for Shakespeare's language (The Guardian), Much Ado is a sparkling screwball comedy and a deep affirmation of love.
---
2019 FREE FOR ALL
HAMLET
Directed by Craig Baldwin
Original direction by Michael Kahn
Michael Kahn's take on Hamlet, Shakespeare's classic revenge tragedy, is kinetic, shocking and a play for now (TheaterMania). Set in a modern surveillance state Denmark, the characters spy and report on one another, even in their most intimate and vulnerable moments of grief, agony and despair. After his father's abrupt death, Hamlet returns home from university to find his mother remarried, his uncle on the throne and a world seemingly gone insane. When his father's ghost appears demanding vengeance, the increasingly desperate Danish prince must decide: Submit or Resist. Accept or Avenge. Live or Die.
All shows, dates, and artists are subject to change.
To find out about special offers and group bookings or to become a season subscriber please call the box office on 202.547.1122 or visit www.shakespearetheatre.org
Recipient of the 2012 Regional Theatre Tony Award , the Shakespeare Theatre Company (STC) is the nation's leading premier classical theatre company. Today, STC is synonymous with artistic excellence and making classical theatre more accessible to audiences in and around the nation's capital.
Under the leadership of Artistic Director Michael Kahn and Executive Director Chris Jennings, STC's innovative productions inspire dialogue that connects classic works to the modern human experience. The Company focuses on works with profound themes, complex characters and poetic language written by Shakespeare, his contemporaries and the playwrights he influenced in order to preserve and promote classic theatre ambitious, enduring plays with universal themes for all audiences.
A leader in arts education, STC has a stable of initiatives that teach and excite learners of all ages, from school programs and adult acting classes to accessible community programming like play-relevant discussion series and the Free for All. For the past 27 years the Free For All program has offered an annual remount of a popular production completely free of charge to all audience members.
Located in downtown Washington, D.C., STC performs in two theatres, the 451-seat Lansburgh Theatre and the 774-seat Sidney Harman Hall. In addition to STC productions appearing year-round, these spaces also accommodate presentations from outstanding local performing arts groups and nationally renowned organizations. The Company has been a fixture in the vibrant Penn Quarter neighborhood since 1992.
Simon Godwin - Incoming Artistic Director/Director - officially joins Shakespeare Theatre Company as Artistic Director in September, 2019.
Simon began directing at Cambridge University, where he received a degree in English. After graduating he founded Stray Dogs Theatre Company and began producing classical work including All's Well That Ends Well, Anouilh's Eurydice and the 18th-century opera Inkle and Yarico at the London Fringe.
In 2001 Simon became Associate Director at the Royal and Derngate Theatres in Northampton, where he worked as the deputy to the Artistic Director, Rupert Goold. His productions there included Everyman, Habeas Corpus and Relatively Speaking.
In 2005 Simon began a two year post graduate program at the London International School of Performing Arts (LISPA), where he studied physical theatre and devising. In 2008 he joined Tom Morris, as the Associate Director of The Bristol Old Vic, where he directed The Little Mermaid, Krapp's Last Tape/A Kind Of Alaska, Faith Healer and Far Away.
In 2009 Simon became Associate Director of the Royal Court. While there Simon directed seven world premieres, including Routes, If You Don't Let Us Dream, We Won't Let You Sleep, NSFW, The Witness, Goodbye to All That, The Acid Test and Wanderlust.
Simon made his debut at the Royal National Theatre with Strange Interlude followed by Man and Superman. When Rufus Norris became the new Artistic Director of the NT in 2015, he invited Simon to become part of his team of permanent Associates. Since then Simon has directed The Beaux' Stratagem, Twelfth Night and, recently an acclaimed production of Antony & Cleopatra with Ralph Fiennes and Sophie Okonedo. Simon has also enjoyed working with the Royal Shakespeare Company. In 2014 he directed The Two Gentlemen of Verona followed in 2016 by an acclaimed Hamlet, which toured to the Kennedy Center, Washington D.C. in 2018. Simon returned to the RSC this fall to direct Kathryn Hunter in the titular role in Timon of Athens. In 2019, Simon Will make his Tokyo debut, directing a Japanese cast in Hamlet for Theatre Cocoon. In 2012 Simon was awarded the inaugural Evening Standard/Burberry Award for an Emerging Director.
Lauren M. Gunderson is the most produced playwright in America of 2017, the winner of the Lanford Wilson Award, the Steinberg/ATCA New Play Award and the Otis Guernsey New Voices Award, she is also a finalist for the Susan Smith Blackburn Prize and John Gassner Award for Playwriting, and a recipient of the Mellon Foundation's 3-Year Residency with Marin Theatre Company. She studied Southern Literature and Drama at Emory University, and Dramatic Writing at NYU's Tisch School where she was a Reynolds Fellow in Social Entrepreneurship. Her work has been commissioned, produced and developed at companies across the US including South Cost Rep (Emilie, Silent Sky), The Kennedy Center (The Amazing Adventures of Dr. Wonderful And Her Dog!), Oregon Shakespeare Festival, The O'Neill, The Denver Center, San Francisco Playhouse, Marin Theatre, Synchronicity, Berkeley Rep, Shotgun Players, TheatreWorks, Crowded Fire and more. She co-authored Miss Bennet: Christmas at Pemberley with Margot Melcon, which was one of the most produced plays in America in 2017. Her work is published at Playscripts (I and You, Exit Pursued By A Bear, The Taming, and Toil And Trouble), Dramatists (The Revolutionists, The Book of Will, Silent Sky, Bauer, Miss Bennet) and Samuel French (Emilie). Her picture book Dr Wonderful: Blast Off to the Moon was be released from Two Lions / Amazon in May 2017. LaurenGunderson.com and @LalaTellsAStory
Branden Jacobs-Jenkins is a NYC-based playwright. His was the recipient of the 2016 MacArthur genius Grant, the Windham Campbell Prize, the inaugural Tennessee Williams Award and the 2017 London Evening Standard Award winner for Most Promising Playwright. His plays include Appropriate (Obie Award), An Octoroon (Obie Award), Neighbors, War and Gloria (Pulitzer Prize Finalist). He is currently under commission with The Bridge Theatre Company in London, Manhattan Theatre Club and Steppenwolf Theatre Company to name a few. Branden received his BA from Princeton University and an MA from New York University. He is also a graduate of the Lila Acheson Wallace American Playwrights Program at Juilliard.
Alan Paul is the recipient of the 2014 Helen Hayes Award for Best Director of a Musical for his production of A Funny Thing Happened On The Way To The Forum. Alan recently directed The Comedy of Errors at STC, and the production was nominated for five Helen Hayes Awards, including Best Director. Other recent credits include The Pajama Game at Arena Stage, Kiss Me, Kate at Seattle's 5th Avenue Theatre, and Camelot which became the highest grossing show in The Shakespeare Theatre Company's history in 2018. Camelot received six Helen Hayes nominations. Other STC credits include Romeo and Juliet, Kiss Me Kate, Man of La Mancha with Anthony Warlow (Helen Hayes Nomination, Best Director), A Funny Thing Forum, The Boys From Syracuse, The Winter's Tale, and Twelfth Night. In 2013, Alan was the only American finalist for the European Opera Directing Prize in Vienna, Austria.
>From 2007-2010, Alan served as Resident Assistant Director at The Shakespeare Theatre, and assisted directors Michael Kahn, Mary Zimmerman, Rebecca Taichman, Jonathan Munby, Gale Edwards Michael Attenborough, and David Muse on fourteen productions. Alan also has extensive credits as music director and accompanist. Alan graduated from Northwestern University in 2006.
Emma Rice is a playwright, director and founder of Wise Children company at Old Vic Theatre, London, as well as the joint Artistic Director of Kneehigh and former Artistic Director of Artistic Director of Shakespeare's Globe in London. She has directed Kneehigh's productions of The Bacchae (2005 Theatrical Management Association Theatre Award for Best Touring Production), Cymbeline (in association with the Royal Shakespeare Company for the Complete Works Festival), Don John (in association with the Royal Shakespeare Company and Bristol Old Vic), A Matter of Life and Death (in association with the Royal National Theatre), Midnight's Pumpkin, Rapunzel (in association with Battersea Arts Centre), The Red Shoes (2002 TMA Theatre Award for Best Director), Tristan & Yseult (2006 TMA Theatre Award nomination for Best Touring Production) and The Wooden Frock (2004 TMA Theatre Award nomination for Best Touring Production). Rice was nominated for the 2009 Olivier Award for Best Director for Brief Encounter, and Brief Encounter won the 2015 Helen Hayes Award for Best Visiting Production at Shakespeare Theatre Company. Emma's other works include Oedipussy for Spymonkey; Steptoe & Son, the West End production of Umbrellas of Cherbourg; and Wah! Wah! Girls for World Stages (in association with Sadler's Wells and Theatre Royal Stratford East). In 2013, Emma directed The Empress at the RSC. At Shakespeare's Globe, she directed innovative works such as Imogen, a feminist reimagining of Cymbeline, and A Midsummer Night's Dream with burlesque star Meow Meow. Most recently, her adaptation of Margaret Atwood's Wise Children won acclaim at Old Vic Theatre, a production which she wrote, directed, and eventually joined the cast.
Whitney White is a director, actor, and musician based in Brooklyn, New York. She is the current recipient of the Susan Stroman Directing award and is an Artistic Associate at the Roundabout. Her original concert-play Lover I'll Bring You Back to Life was part of Ars Nova's 2016 ANT Fest, and her musical adaption of Macbeth: Macbeth in Stride has been work-shopped at Chautauqua (2016), Trinity Rep (2017), Judson Memorial (2017) and was a part of The Public's 2019 Under the Radar Festival. She has developed work with: Ars Nova, The Drama League, Roundabout, New York Theatre Workshop, 59E59, The Lark, The Tank, The Movement, Jack, Bard College, NYU Tisch, Juilliard, Princeton, SUNY Purchase, South Oxford, Luna Stage and more. Whitney was recently a 2050 Fellow at NYTW and a resident of Ars Nova's 2018 Makers Lab. MFA Acting: Brown University/Trinity Rep, BA Political Science and Certificate in Musical Theatre from Northwestern University.
PLUSH THEATRICALS is a New York-based theatrical production company founded by Tony award-winning producer Jason E. Grossman. PLUSH develops and co-produces both musicals and plays for the commercial stage. Grossman is also the co-owner of Radio Mouse Entertainment, which is currently represented on Broadway and Toronto with the musical Come from Away.
Founded in 1979 by Jeffrey Horowitz, Theatre for a New Audience (TFANA) is a modern classic theatre. It produces Shakespeare alongside other authors such as Harley Granville Barker, Samuel Beckett, Edward Bond, Branden Jacobs-Jenkins, Adrienne Kennedy, Richard Maxwell, Richard Nelson, and Wallace Shawn. TFANA has played Off- and on Broadway and toured nationally and internationally.
In 2001, Theatre for a New Audience became the first American theatre invited to bring a production of Shakespeare to the Royal Shakespeare Company (RSC), Stratford-upon-Avon. Cymbeline, directed by Bartlett Sher, premiered at the RSC; in 2007, TFANA was invited to return to the RSC with The Merchant of Venice, directed by Darko Tresnjak and featuring F. Murray Abraham. In 2011, Mr. Abraham reprised his role as Shylock for a national tour.
After 34 years of being itinerant and playing mostly in Manhattan, Theatre for a New Audience moved to Brooklyn and opened its first permanent home, Polonsky Shakespeare Center, in October 2013. Built by The City of New York in partnership with Theatre for a New Audience, and located in the Brooklyn Cultural District, Polonsky Shakespeare Center was designed by Hugh Hardy and H3 Hardy Collaboration Architecture with theatre consultants Akustiks, Milton Glaser, Jean-Guy Lecat, and Theatre Projects. Housed inside the building are the Samuel H. Scripps Mainstage (299 seats) the first stage built for Shakespeare and classical drama in New York City since Lincoln Center's 1965 Vivian Beaumont and the Theodore C. Rogers Studio (50 seats).
TFANA's productions have been honored with Tony, Obie, Drama Desk, Drama League, Callaway, Lortel and Audelco awards and nominations, and reach an audience diverse in age, economics and cultural background.
Theatre for a New Audience created and runs the largest in-depth program in the New York City Public Schools to introduce students to Shakespeare and has served over 130,000 students since the program began in 1984. TFANA's New Deal ticket program is one of the lowest reserved ticket prices for youth in the city: $20 for any show, any time for those 30 years old and under or for full-time students of any age.
Wise Children is a new theatre company conceived, created and led by multi award-winning director Emma Rice. Wise Children will create landmark work with exceptional artists, challenge outmoded theatre touring models, train the next generation of creative practitioners, and discover the creative spaces of the future. wisechildren.co.uk