SHOW
DATES
THEATRE
HOT PICK


More Than 90 Miles From Home


90 miles separate the Cuban coast from Key West.Ninety miles of darkness, hope, waiting, and light.In here, those ninety miles could be ninety thousand.Distancia infinita.Cuban-American
5/26 - 5/28/2022



CAST

Flying V
8641 Colesville Road, Silver Spring, MD 20910
Silver Spring
HOT PICK


Memoirs of a Forgotten Man


A 2018 hit at the Contemporary American Theatre Festival, Gregorys play portrays the determination of a totalitarian regime to erase history, and the tragic effect
5/5 - 5/29/2022



PHOTOS

CAST

Washington Stage Guild
Undercroft Theatre, 900 Massachusetts Avenue, N.W.
Washington
HOT PICK


ON YOUR FEET! La historia de Emilio y Gloria Estefan ¡EN ESPAÑOL!


Book by Alexander Dinelaris Featuring music produced and recorded by Emilio & Gloria Estefan & Miami Sound Machine Directed & choreographed by Luis Salgado Musical
5/5 - 6/5/2022



CAST

GALA Hispanic Theatre
3333 14th Street NW
Washington
HOT PICK


To Fall In Love


Over two decades ago the psychologist Arthur Aron watched as two strangers, sitting directly across from each other, fell in love in his laboratory as
5/6 - 6/18/2022

Nu Sass Productions
4023 5th St NW
Washington
HOT PICK


Twigs & Bone


Moira had never intended to return to her childhood home, preferring instead to send nurses and maids to care for her aging parents. However, when
4/1 - 6/25/2022

Nu Sass Productions
4023 5th St NW
Washington
HOT PICK


Shear Madness


Figure out whodunit at this wildly popular record-breaking comedy. Audiences all over the world have spotted the clues and questioned the suspects amid much hilarity.
4/4 - 6/30/2025

Kennedy Center
2700 F St. NW Washington, DC 20566
Washington

THE AMAZING ADVENTURES OF DR WONDERFUL (AND HER DOG!)


Dr. Wonderful and her dog, Newton, want to know why the moon changes shape in the sky every night. But how can they study the
7/5 - 5/24/2022

The Keegan Theatre
1742 Church Street, NW
Washington

Madagascar Jr


Take a journey out of the zoo and onto the stage with your favorite crack-a-lackin' friends from the blockbuster DreamWorks film.
5/25 - 5/26/2022

Thearc Theater
Washington

Annie Kids


Leapin' Lizards!  The popular comic strip heroine takes center stage in one of the world's best-loved musicals.  With equal measures of pluck and positivity, little
5/27

The Campagna Center
Alexandria

Bring It On


BRING IT ON: THE MUSICAL explodes on stage as one of the most remarkable scores in years unites breathtaking dance and the thrilling, cutthroat world
5/24 - 5/27/2022

Theatrechs
Charlottesville

Roald Dahl's Willy Wonka Kids


Roald Dahl's timeless story of the world famous candy man and his quest to find an heir comes to life in this stage adaptation of
5/27

Studio Bleu Vocal And Theater Arts
Ashburn

Once On This Island Jr


This highly original and theatrical st1:place w:st="on"Caribbean/st1:place adaptation of the popular fairy tale "The Little Mermaid" garnered eight Tony nominations for its Broadway run, including
5/28

Kipp Dc: Aim Academy
Washington

Pippin


Virginia Rep Center
5/28

Cadence Theatre Company
Richmond

Tick Tick Boom!


A musical look at the courage it takes to follow your dreams, strongTICK, TICK... BOOM!/strong is a href="http://mtishows.com/biography.asp?writerid=3622"Jonathan Larson/a's autobiographical tale of a young composer
5/27 - 5/28/2022

Studio Bleu Vocal And Theater Arts
Ashburn

Children Of Eden


First English Lutheran Church
5/28 - 5/29/2022

First English Lutheran Church
Baltimore

Disney's Descendants


Available Spring 2020
5/27 - 5/29/2022

Free Range Humans
Frederick

Disney's Moana Jr.


Available January 2020
5/27 - 5/29/2022

Imagine Create Explore Collaborative Arts
Round Hill

Freckleface Strawberry The Musical


Virginia Rep Children's Theatre-tya
4/29 - 5/29/2022

Virginia Rep Children's Theatre (tya)
Richmond

Marys Seacole


A dazzling hall of mirrors (New York Times) told with a furiously singular vision by Pulitzer Prize winner Jackie Sibblies Drury, this play, based in
5/4 - 5/29/2022

Mosaic Theater Company of DC
1333 H Street NE
Washington

Memoirs of a Forgotten Man by D.W. Gregory


A 2018 hit at the Contemporary American Theatre Festival, Gregorys play portrays the determination of a totalitarian regime to erase history, and the tragic effect
5/5 - 5/29/2022

Washington Stage Guild
900 Massachusetts Ave., NW
Washington

Roald Dahl's Matilda The Musical


A joyous girl power romp! This is the story of an extraordinary girl who, armed with a vivid imagination and a sharp mind, dares to
5/28 - 5/29/2022

Center For The Arts Dba Artfactory
Manassas

Something Rotten!


The Cultural Center At The Opera Ho
5/13 - 5/29/2022

Scottfield Theatre Company
Havre De Grace

Tarzan


Tarzan swings its way onto the Arizona Broadway Theatre stage with technical and lighting wizardry galore! With music and lyrics by Grammy Award-winning composer Phil
5/28 - 5/29/2022

Center For The Arts Dba Artfactory
Manassas

Into The Woods


Artspace Falls Church
5/5 - 5/30/2022

Creative Cauldron
Falls Church

Mamma Mia!


MAMMA MIA! is the ultimate feel–good show that has audiences coming back again and again to relive the thrill. Now it's your turn to have
5/29 - 5/30/2022

Congregation Har Shalom
Potomac

Bad Auditions by Bad Actors by Ian McWethy


Visual content only
6/1

Visual and Performing Arts Academy
Virginia Beach

Hairspray


This fun-loving new musical delights audiences by sweeping them away to 1960's Baltimore, where the 50's are out-- and change is in the air. Lovable
10/1 - 6/1/2022

Networks Presentations Llc
Columbia

Disney's Moana Jr.


Available January 2020
6/1 - 6/2/2022

Elden Street Players D.b.a. Nextstop Theatre Co.
Herndon

Disney's Moana Jr.


Available January 2020
6/3

Charm City Players
Sparks

9 To 5, The Musical


9 TO 5: THE MUSICAL is a hilarious story of friendship and revenge in the Rolodex era. 9 TO 5: THE MUSICAL tells the story
5/6 - 6/4/2022

Barter Theatre
Abingdon

Disney's High School Musical Jr.


Learning Stage: book: David Simpatico; lyrics: Greg Cham, Ray Cham, Andy Dodd, Matthew Gerrard, Faye Greenberg, Jamie Houston, David N. Lawrence, Bryan Louiselle, Robbie Nevil,
6/3 - 6/4/2022

Samara Studio Theater
Washington



Back to the Main Page | Browse Local Theatres
---
Latest Washington, DC Reviews
BWW Review: LUCKY STIFF at NextStop Theatre Company
by David Friscic - May 23, 2022
A corpse, dogs, a heart-shaped box, and diamonds are just a few of the plot ingredients in the merry mix of mayhem and misadventure in the zany musical Lucky Stiff now being presented at the NextStop Theatre Company.  An audaciously frenetic and chaotic sense of impending disaster fills the air as a...
BWW Review: OUR TOWN at Shakespeare Theatre Company
by Pamela Roberts - May 22, 2022
The Shakespeare Theatre Company's Our Town is a triumphant production of vitality, and consequence. Thornton Wilder's classic—a work that captures the universal experience of being alive—takes on new resonance and depth in the capable hands of an extraordinary ensemble. This play is immediate—one ...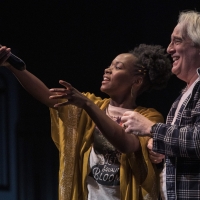 BWW Review: Olney Theatre's THE JOY THAT CARRIES YOU a Touching Journey Towards Renewal
by Andrew White - May 21, 2022
'The Joy that Carries You' is a touching and touchingly thoughtful journey, one which many might recognize in their own. But Secka and Stoller also make this a celebration of the relationships which until (only) very recently were taboo. Thank goodness we're no longer at the stage where seeing two w...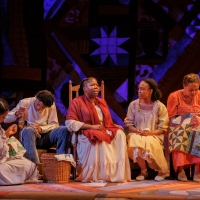 BWW Review: SHOW WAY THE MUSICAL at The Kennedy Center
by Tavish Young - May 16, 2022
Show Way is a short musical adapted from the children's book of the same name by Jacqueline Woodson. It follows the family of Soonie, a Black woman in America, and the matriarchs that led her family from the time her ancestors were enslaved....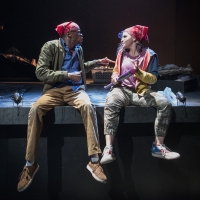 BWW Review: THERE'S ALWAYS THE HUDSON Premieres to Standing Ovation at Woolly Mammoth Theatre Company
by Morgan Musselman - May 16, 2022
The premiere of THERE'S ALWAYS THE HUDSON, on stage now at Woolly Mammoth Theatre Company, has been a long time coming. Don't miss this hilarious and heart-wrenching story of trauma, revenge, and friendship....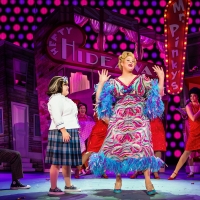 BWW Review: HAIRSPRAY at National Theatre
by Elliot Lanes - May 14, 2022
Hang on to your big hair and take a trip back to the 1960's with the current US touring company of the Tony Award winning musical Hairspray playing through this Sunday at the National Theatre....
BWW Review: FREESTYLE LOVE SUPREME at The Kennedy Center
by Tavish Young - May 12, 2022
Freestyle Love Supreme is a unique show that consists of about an hour and a half of improvised hip-hop beats and rapping, with a healthy dose of comedy and banter....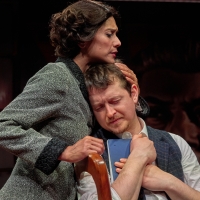 BWW Review: Washington Stage Guild's MEMOIRS OF A FORGOTTEN MAN a Timely Reflection on the Past
by Andrew White - May 10, 2022
The Washington Stage Guild has finally had the opportunity to stage D. W. Gregory's searing study of innocence, hardened cynicism and totalitarian self-delusion, 'Memoirs of a Forgotten Man.' In spite of the long hiatus from its premiere four years ago (pre-COVID), the play continues to challenge us...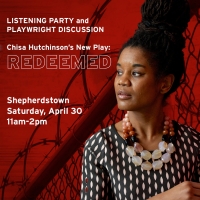 BWW Review: Contemporary American Theatre Festival's Listening Party for REDEEMED Yet Another Afternoon of Gripping Drama
by Andrew White - May 10, 2022
Recently, CATF supporters gathered to hear one of playwright Chisa Hutchinson's latest pieces, a radio drama that was co-produced with the Vermont's Dorset Theatre Festival. Over a fine, inventively crafted lunch at one of Shepherdstown's newest restaurants, Alma Bea (near the railroad tracks, just ...
BWW Review: INTO THE WOODS at Creative Cauldron
by Hannah Wing - May 09, 2022
Creative Cauldron's production of Sondheim's Into the Woods, directed by Matt Conner with music direction by Elisa Rosman, concocts a magical musical within the constraints of a small theatre space. ...