Winners Announced In National One-Act Playwriting Competition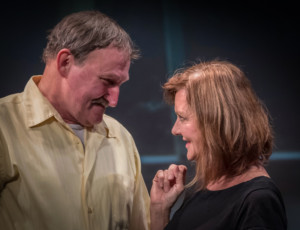 Theatre Odyssey is pleased to announce the winner and runner up of its inaugural One-Act Play Festival open to U.S. playwrights. "Tagged" by Tampa-based playwright Jim Moss took the top prize - named "Best Play" and awarded $1,000, while "Motherless Child" by Louisiana-based playwright Peggy Aultman was named "Runner-Up" and received $500. The two winners were chosen from four finalists that were granted full productions at Glenridge Performing Arts Center November 1-4, 2018. The finalists were reduced from 12 semi-finalists presented as readings to the public. Over 100 plays from over eighty playwrights in twenty-six states were submitted to the playwriting competition.
The winning one-act "Tagged" takes place in the near future with a frightening look at technology as a teenage girl agrees to be tagged with an artificially intelligent ankle cuff. "Motherless Child" is about a 40-something couple who are unable to conceive a child. The wife finds creative fulfillment in a university art class when she finds a jar containing a full-term female fetus in a nearby science lab.
"This was an incredibly exciting process for us," said Theatre Odyssey President Leona Collesano. "We cast our net beyond the local scene and forged relationships with playwrights from across the United States. We were pleased to meet all of our finalist playwrights in person - visiting Sarasota for the full productions from as far as Louisiana, Texas, and California."
Founded in 2006, Theatre Odyssey has produced an annual Ten-Minute Play Festival for the past thirteen years, and seven years ago launched a Student Ten-Minute Playwriting Festival. With over 160 plays successfully produced, bringing light to local professional, amateur, and student playwrights, Theatre Odyssey saw an opportunity to grow its program and promote playwrights and new works on a national scale.
The call for entries for Theatre Odyssey's first annual One-Act Play Festival was launched May 1st and was limited to the first 100 plays submitted. After the competition was shared largely through social media, the call was met by July 14, over two weeks prior to the anticipated deadline.
Anonymous readers read and scored the plays. The readers were given scripts which did not contain the name of the playwright, nor were they made aware of who the other readers were. The twelve semi-finalists were then presented as readings to the public with three adjudicators who scored and determined the top four plays for the finalist production. The three distinguished judges for the finalist production included Dewey Davis-Thompson, Playwright and Regional Representative of Dramatists Guild of America; Peter Amster, Director and Choreographer at Asolo Rep; and Judith Tilton, Director of Cultural Affairs for Manatee County. The winning plays were directed by Carole Kleinberg and Ren Pearson.
More information about Theatre Odyssey's One-Act Play Festival is available at www.theatreodyssey.org. More information about the semi-finalist playwrights, including bios and videos can be found on the Theatre Odyssey Blog.
The 2018-2019 Season Presenter for Theatre Odyssey is CAN Community Health-Sarasota. Executive Producer for the One-Act Play Festival is the Bradenton Area Convention and Visitors Bureau.
Theatre Odyssey's first Ten-Minute Play Festival in 2006 was a single night, sold-out event. It cemented an idea that developed from conversations among local actors and writers that new, original work could be performed in different venues and everyone part of any production would receive some monetary compensation for their time and talent. In 2013, the company created a Student Ten-Minute Playwriting Festival to encourage emerging playwrights from local middle and high schools. That initial festival was in January of that year and became Theatre Odyssey's second annual event. The 2019 Ten-Minute Play Festival will welcome plays from all of Florida. The Student Ten-Minute Playwriting Festival will welcome submissions from a multi-county area including Manatee and Sarasota. This fall, Theatre Odyssey will produce its first One-Act Play Festival and will invite writers from throughout the United States to submit their work for production locally. Over 150 original new plays have been produced over the years. Many playwrights whose work was first presented by Theatre Odyssey have been published elsewhere, and their work has been produced nationally and internationally. Theatre Odyssey has published three anthologies. Volume I is the work produced in the years 2006 through 2009 and Volume II, 2010 through 2013, and Volume III, the plays produced from 2014 through 2017. All three volumes are available from national booksellers. Theatre Odyssey is a 501(c)(3) nonprofit company.
Related Articles View More Tampa/St. Petersburg

Stories

Shows
More Hot Stories For You