Click Here for More Articles on ANDREW LLOYD WEBBER
Llega el disco UNMASKED: THE PLATINUM COLLECTION, recopilatorio de Andrew Lloyd Webber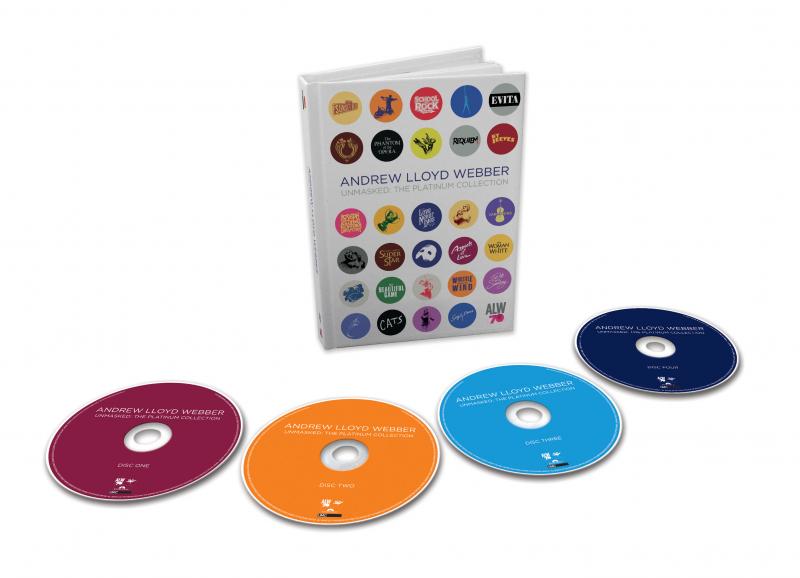 El próximo 16 de marzo saldrá a la venta en todo el mundo el disco UNMASKED, una recopilación de canciones de Andrew Lloyd Webber en celebración de su 70 aniversario.
Curada y revisada por el propio Webber, la colección incluirá canciones de todas sus épocas artísticas, desde sus primeros trabajos como JOSEPH AND THE AMAZING TECHNICOLOR DREAMCOAT hasta su musical más reciente, SCHOOL OF ROCK, en cuatro discos en los que participan artistas como Barbra Streisand, Beyoncé, Donny Osmond, Gregory Porter, Lana Del Rey, Madonna, Michael Ball, Michael Crawford, Nicole Scherzinger o Sarah Brightman entre muchos otros. Se presentarán dos versiones, una básica que contendrá dos discos y una especial que incluirá cuatro.
"Le debo un enorme gracias a todo el mundo involucrado en hacer este recopilatorio. Gran parte del trabajo ha consistido evidentemente en hacer la selección de los temas que han compuesto mi carrera de casi 50 años. Este recopilatorio me trae un montón de recuerdos - ha hecho a este viejo compositor muy feliz. Me encantan en especial los nuevos temas y por supuesto adoro las partes orquestales. No hay nada que le guste más a un compositor que escuchar sus melodías siendo tocadas por una fantástica orquesta". Ha dicho el compositor sobre este recopilatorio.
Además, uniéndose a las celebraciones por su 70 cumpleaños, el 6 de marzo se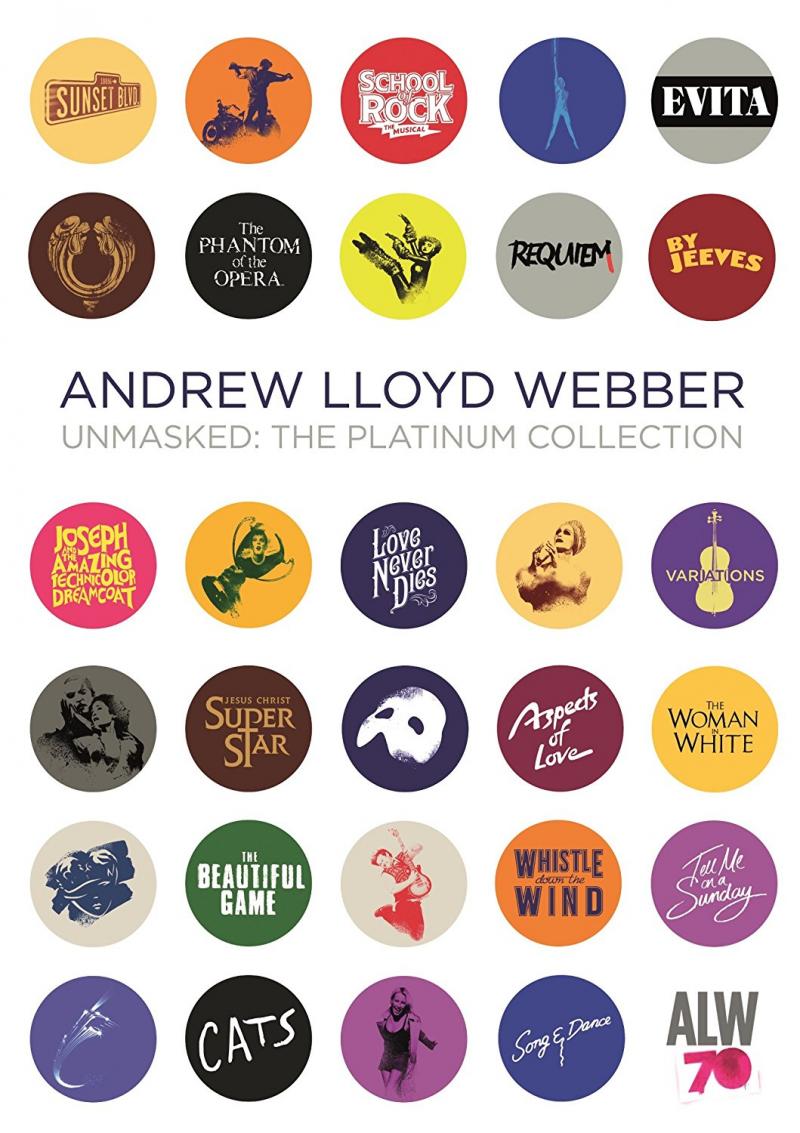 publicará la nueva autobiografía UNMASKED en la editorial Harper Collins, donde Andrew Lloyd Webber cuenta con sus propias palabras su fascinante vida y carrera.
Andrew Lloyd Webber es uno de los autores de musicales más prolíficos y reconocidos de la historia, contando entre su obra con clásicos como CATS, EVITA, SCHOOL OF ROCK o EL FANTASMA DE LA ÓPERA, siendo este último el musical más longevo de la historia de Broadway y el segundo más longevo del West End, con más de 30 años en cartel tanto en Nueva York como en Londres. Además, el pasado año se convirtió en la única persona en igualar el récord de 1953 de Rodgers y Hammerstein de tener cuatro obras en activo en Broadway al mismo tiempo.
La lista de canciones y artistas del cuádruple disco es la siguiente:
CD UNO
01 SUPERSTAR • Murray Head & THE TRINIDAD SINGERS
02 THE PHANTOM OF THE OPERA • Sarah Brightman & Michael Crawford
03 OH WHAT A CIRCUS • Antonio Banderas & MADONNA
04 LOVE CHANGES EVERYTHING • Michael Ball
05 STICK IT TO THE MAN • Alex Brightman & THE BROADWAY CAST OF SCHOOL OF ROCK
06 MEMORY* • Nicole Scherzinger
07 NO MATTER WHAT • BOYZONE
08 WITH ONE LOOK • Barbra Streisand
09 BUENOS AIRES • GLEE Cast
10 DON'T CRY FOR ME ARGENTINA • Julie Covington
11 TAKE THAT LOOK OFF YOUR FACE • Marti Webb
12 I'M HOPELESS WHEN IT COMES TO YOU • Joanna Riding
13 LIGHT AT THE END OF THE TUNNEL* • Gregory Porter
14 THE MUSIC OF THE NIGHT • Michael Crawford
15 GETHSEMANE ( I ONLY WANT TO SAY) • Ian Gillan
16 ANY DREAM WILL DO • Donny Osmond
17 AMIGOS PARA SIEMPRE • Sarah Brightman & JOSÉ CARRERAS
18 I DON'T KNOW HOW TO LOVE HIM • Yvonne Elliman
CD DOS
01 AS IF WE NEVER SAID GOODBYE • Glenn Close
02 THEME AND VARIATIONS 1-4 • Andrew Lloyd Webber
03 UNEXPECTED SONG • Sarah Brightman
04 YOU MUST LOVE ME* • Lana Del Rey
05 EVERYTHING'S ALRIGHT • Yvonne Elliman, Ian Gillan & Murray Head
06 THE VAULTS OF HEAVEN • Tom Jones & THE SOUNDS OF BLACKNESS
07 ANOTHER SUITCASE IN ANOTHER HALL • MADONNA
08 YOU'RE IN THE BAND • BROADWAY CAST OF SCHOOL OF ROCK
09 IT'S EASY FOR YOU • Elvis Presley
10 COLD • THE EVERLY BROTHERS
11 COME BACK WITH THE SAME LOOK • Denise Van Outen
12 I AM THE STARLIGHT* • Mica Paris & George Ure
13 MR. MISTOFFELEES • Paul Nicholas
14 TELL ME ON A SUNDAY • Michael Crawford
15 THINK OF ME • Emmy Rossum & Patrick Wilson
16 RAINBOW HIGH • Elaine Paige
17 ALL I ASK OF YOU • Cliff Richard & Sarah Brightman
18 WISHING YOU WERE SOMEHOW HERE AGAIN (LIVE AT THE Royal Albert Hall) • Sierra Boggess
BONUS TRACK LEARN TO BE LONELY* (LIVE AT THE OSCARS) • BEYONCÉ & Andrew Lloyd Webber
CD TRES
01 JACOB & SONS/COAT OF MANY COLOURS • Janet Metz, Donny Osmond, Michael Fletcher & THE CANADIAN CAST
02 CLOSE EVERY DOOR • Donny Osmond
03 HEAVEN ON THEIR MINDS* (LIVE - ARENA TOUR) • Tim Minchin
04 KING HEROD'S SONG • Alice Cooper
05 SKIMBLESHANKS • KEN WELLS & THE ORIGINAL LONDON CAST OF CATS
06 MACAVITY: THE MYSTERY CAT • Wendy Edmead & Donna King
07 YOU'VE NEVER HAD IT SO GOOD • STEPHEN WARD ORIGINAL LONDON CAST
08 I'D BE SURPRISINGLY GOOD FOR YOU • Elena Roger & Philip Quast
09 EVERMORE WITHOUT YOU • Martin Crewes
10 I BELIEVE MY HEART • Duncan James & KEEDIE
11 IF ONLY YOU WOULD LISTEN • THE BROADWAY CAST OF SCHOOL OF ROCK
12 SING • MILITARY WIVES
13 HOSANNA • JESUS CHRIST SUPERSTAR LONDON CAST
14 HOSANNA • PLÁCIDO DOMINGO, Sarah Brightman & THE CHOIR OF WINCHESTER CATHEDRAL
15 PIE JESU • Sarah Brightman & PAUL MILES-KINGSTON
16 BY JEEVES • Steven Pacey, Simon Day & Nicholas Haverson
17 WHERE DID THE ROCK GO?* • Florence Andrews
CD CUATRO
01 PHANTOM PHANTASY† • ORIGINAL LONDON ORCHESTRA
02 MASQUERADE • ORIGINAL MOTION PICTURE CAST
03 'TIL I HEAR YOU SING • Ramin Karimloo
04 LOVE NEVER DIES ORCHESTRAL SUITE† • ORIGINAL LONDON ORCHESTRA
05LOVE NEVER DIES•Sierra Boggess
06THE BEAUTY UNDERNEATH*•Ben Lewis & Casey Lyons
07 VARIATIONS ON VARIATIONS† • Andrew Lloyd Webber
08 JESUS CHRIST SUPERSTAR OVERTURE • ORIGINAL JESUS CHRIST SUPERSTAR ORCHESTRA
09 OVERTURE AND THE BEAUTIFUL GAME† • ORIGINAL CAST AND ORCHESTRA FROM THE BEAUTIFUL GAME
10 IF THIS IS WHAT WE'RE FIGHTING FOR • Josie Walker
11 CATS OVERTURE • THE ORIGINAL LONDON ORCHESTRA
12 THE JELLICLE BALL • CATS MOTION PICTURE ORCHESTRA
13 SUNSET SUITE† • ORIGINAL BROADWAY ORCHESTRA
14 SUNSET BOULEVARD • Kevin Anderson
15 ASPECTS OF ASPECTS • ORCHESTER DER VEREINIGTEN BUEHNEN WIEN
16 SEEING IS BELIEVING • Michael Ball & Sarah Brightman
17 ANYTHING BUT LONELY • Sarah Brightman
Puedes reservar el álbum en Amazon en este enlace.