The Band's Visit - 2017 - Broadway
2018 TONY AWARD WINNER FOR BEST MUSICAL!
THE BAND'S VISIT is the winner of 10 Tony Awards, making it one of the most Tony-winning musicals in history. It is also a 2019 Grammy Awards winner for Best Musical Theater Album. In this delightfully offbeat story, set in a town that's way off the beaten path, a band of musicians arrive lost, out of the blue. Under the spell of the desert sky, and with beautiful music perfuming the air, the band brings the town to life in unexpected and tantalizing ways. Even the briefest visit can stay with you forever.
With a score that seduces your soul and sweeps you off your feet, and featuring Tony-winning performances and thrillingly talented onstage musicians, THE BAND'S VISIT rejoices in the way music makes us laugh, makes us cry, and ultimately, brings us together.
"The music transports you to a place both exotic and touchingly familiar." - The New York Times
David Cromer directs, with music & lyrics by David Yazbek and book by Itamar Moses.
FINAL BROADWAY PERFORMANCE APRIL 7.
Video preview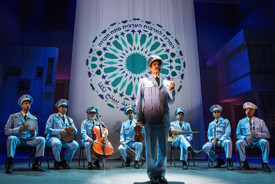 Photo preview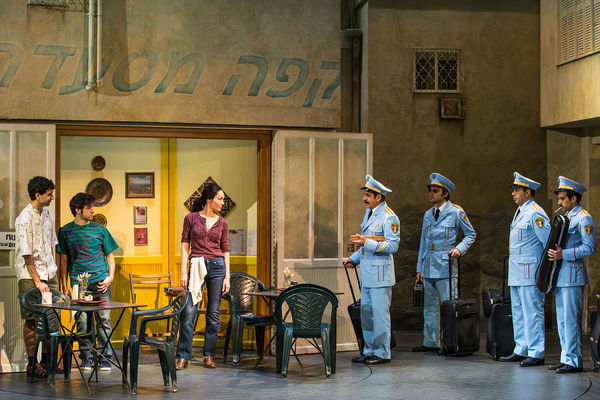 Schedule
Running Time: One hour and 30 minutes, with no intermission
Featured Reviews For The Band's Visit
The Band's Visit is a sweet, haunting stopover in the desert: EW stage review - Entertainment Weekly
The Band's Visit is understated, probably better described as charming than life-altering, but its scale reinforces the moral themes of the musical itself. Nothing very important happens, no. A boy learns how to talk to girls, a woman recognizes the ways in which she's become stuck, a couple breaks apart and comes together again. Some of these humans who have lost things and who are lost themselves happen to be Arab, and some happen to be Israeli. It's a quiet, beautiful thing The Band's Visit does, and while I wished there had been more something - more emotional payoff, or catharsis - I also recognize that that's sort of the point. A-
'The Band's Visit' review: Poignant, beautifully told musical - Newsday
Performances and staging are finely crafted throughout, but the brilliance of this piece is truly in the music and lyrics of David Yazbek. In a departure from his work on shows such as "The Full Monty" and "Dirty Rotten Scoundrels," he perfectly brings all these stories to life with rich ballads, smooth jazz, a touching lullaby, even some klezmer.
The Band's Visit Broadway Cast