Click Here for More Articles on THE BAND'S VISIT
BWW Exclusive: Ari'el Stachel- Searching for an Identity, An Apostrophe and a Tony
In his third-floor dressing room at the Barrymore Theater, Ari'el Stachel harbors a priceless little trinket: his brand-new Tony Award for Featured Actor in a Musical.
Collectors of rarities and oddities would doubtlessly find it even more priceless than the Tonys won by his co-stars, Tony Shalhoub and Katrina Lenk, and the seven other individuals who were honored for his show. The reason: the award engraver slipped up and spelled out, on shiny silver, that the prize was for The Band's Visist.
"They're redoing it," Stachel says. In the interim, he happily claims it, flaw and all.
Dominating this dressing room is a massive photograph of the young Chet Baker, fit for worshipping before hitting the stage. Of course, the actor swears he doesn't do it.
It seems that this late trumpeter is key to Stachel's wry, dry comic portrayal of a relentless Egyptian skirt-chaser, unfazed by the alien Israeli turf on which he finds himself. If a possible conquest crosses his path, he goes on amorous automatic-pilot and asks, "You know Shet Baker?" When that draws a blank, his eyelids lower to a seductive half-mask, and he fills in the blank with a sultry "My Funny Valentine."
In the annals of Great Pick-Up Lines, this can't rate high-even when it's "Chet," not "Shet," and followed by that old standby, "Your eyes-they're beautiful eyes"-but it is all his lothario has, so he recycles it a lot on this bleak, arid, unloving terrain, and-- through default, luck and the law of averages-it nets him the night's prize catch.
"What I loved about Haled is that he's just kind of a guy, and, at sorta face value, you could play him on a surface level--but what I found, as I developed the character, is I could release the full range of my existence inside of me. He really challenged me to showcase all the sides of myself--the side that's empathetic, the side that's loving, the side that's scared, the side that wants a nurturing father-figure, the side that wants to meet a girl and have a great night, the side that's confident at a disco. Doing this, I think, doesn't pinhole him to a type. Haled is just a guy who has a range of things that he feels and does, and this really has nothing to do with the fact that he's a Middle Easterner. I think often roles, specifically for Middle Eastern actors, are limited, so the fact that there's a three-dimensionality to this one is awesome."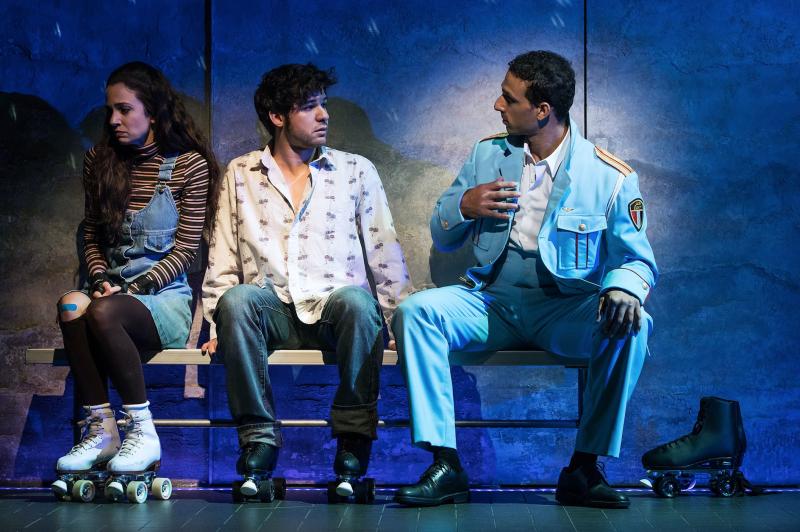 It turns out Stachel had much to unload on this character. "It was life-changing," he contends. "For many, many years, I was ashamed of my Middle Eastern background. I would always pretend to be other identities--so, to have been recognized in a role that celebrates this particular identity, was a seismic shift for me personally."
A Berkeley-born Yemenite, Ariel Yeshayahu was all of 10 at the time of 9/11, and it changed how the world looked at him. Playground peers taunted him as "Terrorist!" Hans Christian Andersen and William Shakespeare added to this derisive repertoire (The Little Mermaid and the flighty sprite in The Tempest were both named Ariel).
"My name is actually Hebrew for Lion of God, but, by the sixth grade, I was so traumatized by it that I would run to the teachers before they called roll and say, 'Please, please, please don't say Ariel. Please call me Ari.' That's how I was known."
His name got further refinement once he landed The Band's Visit Off-Broadway and opted to do an atmosphere-soak in Israel before rehearsals began. He found his true billing the way Jon Robin Baitz found his title for Other Desert Cites: on a road sign.
"As I drove across the Negev Desert from Tel Aviv to Jerusalem, I passed through a little town called Ariel. In Israel, the street signs are in Hebrew, Arabic and English, and the English spelling had the apostrophe. I said, 'That's my name! That feels more authentic to the way I understand my name.' So, when I submitted my name to start The Band's Visit, I asked them to please use the apostrophe. I wanted to embrace it."
Reaching this career level didn't surprise his folks, who saw there was an actor in him trying to get out in the impersonations he'd do left and right around the house.
Taking their cue, they enrolled him in an arts school so he could study acting. At 16, he started auditioning in earnest for regional theaters-under his mother's name rather than his father's "because it was more neutral and could pass for other races.
"Suddenly I was getting call backs for all the leads, going up against guys in their late 20's, early 30's. I was just this kid in the Bay Area making it into the final rounds-for things like Evita, Grease, West Side Story. I never got the roles. I got affirmation."
In 2009 he got a Fulbright scholarship to NYU where he trained in singing, a bit of dancing and a variety of acting techniques from Chekhov to Shakespeare to Richard Greenberg, all the while "never seeing people on stage who looked like me, feeling that I had no pathway to any kind of acting career. Even in college, I was told to learn monologs for African-Americans and Latinos because there would be no space for me to portray my own race. I used to fantasize about being in Rent and In the Heights and Hamilton when I'd see them on the Tonys because they catered to actors who are African-American and Latino-but still I felt, as a Middle Eastern kid, there might not be place for me on Broadway. I never had a sense that it would happen."
Indeed, it almost didn't happen. Seven auditions over more than nine months were required before Stachel won the role, and even then it was with an asterisk: Like Peggy Sawyer from 42nd Street and Allentown, PA, "The part didn't go to me initially. I was actually the replacement for an actor who got another job and left the show.
"I really had trouble connecting to the core of this Middle Eastern character. I was just so terrified of what it would mean for me to admit publically I was a Middle Easterner. I had really concealed my identity for so long. It was something I wanted to hide for many years. Generally, when I played a character with an accent, it would be very surface-level for me. I never figured out how to play a character and sort of deepen him and make him feel living and breathing and three-dimensional. For me, this process was uncovering and falling in love with the character I was playing."
It was a couple of recent Tony-winning Davids-director Cromer and songwriter Yazbek--who coached him over the top. "In my early auditions, I think I was not understanding the full arc of the character. What Cromer helped me do was make Haled a little moodier and pricklier at the beginning so, when he sings his big song, there would be this big reveal: 'Oh, this guy has a whole other dimension to him.'
"Yazbek-before my final audition-said, 'Before you sing, I want you to know I think of this character as the spiritual anchor of our show. Do with that what you will. Haled is someone who may or may not understand this, but he understands love and connection the way no one else in the show does. That's your role.' When he said that, it imbued my song with a greater degree of depth and substance."
Stachel's name came up last year for a number of New Faces-type awards, but no cigar. The moment his Tony nomination was announced, he was busy on live TV performing a number from the musical on The Today Show. "We all had to swear to leave our phones in The Green Room, so I was nauseous. We couldn't find out the information because we had to perform and they didn't want it to distract from the performance. Afterwards, our lead producer, Orin Wolf, came up, gave me a hug and said, 'Congratulations!' I didn't realize what he meant. Then, after a few seconds or so, he said, 'You also got a personal nomination,' and I started to weep. I just cried."
His Tony win was even sweeter, primarily because his parents were present and he directed his acceptance speech to them. "I always felt, at least for myself as a kid, the gap between myself and success at that level--I never felt I personally was good enough-so getting that kind of accolade, being on that kind of stage, felt so wide.
"You have to stand there and talk in front of 6,500 live--plus all the millions of people tuning in. That's terrifying! Fortunately, I could see my parents so I just talked to them. All of a sudden, I felt the space shrink, and it became just a moment between me and them. It was an opportunity to honor them. I literally didn't go to my high school graduation because I didn't want to be seen as a Middle Eastern kid, and I knew, if my dad came with me, that would be exactly how I'd be perceived."
He concluded with an emotional crescendo-a worldwide calling-out: "I want any kid that's watching to know that your biggest obstacle may turn into your purpose."
Those words hit their mark, and hordes of kids have messaged their appreciation. "My generation measures love by Instagram likes. The nomination got me my first post of more than a thousand likes. Overnight, after the Tony, I gained three or four thousand more followers. That's fairly indicative I got supportive people out there."
The toughest part of Stachel's Tony-winning performance is persuading audiences he can actually play some kind of musical instrument. With all the Chet Baker c'mons and his sensual trumpet solo of "My Funny Valentine," he appears to be the entire horn section of the tiny Alexandria Ceremonial Police Orchestra that has been plopped down in the wrong country to do a good-will concert. But for band group scenes, the trumpeter turns into the tambourine man. "Now that we're done with all the award stuff," he says, "I must tell you my sad little secret: I'm miming most of the music. Honestly, I think I've gotten to a point where I could have done it, but Yazbek wanted it to be at a professional level for two years, and I just couldn't rise to that."
In the show's closing moments, Stachel and the other actor embedded in this mini-band (Sasson Gabal, who is replacing Shalhoub for a year and who actually played the part of the conductor first in the award-winning 2007 Israeli film) step back and relinquish the stage to the group's authentic musicians. "I love that the curtain call is so non-traditional. The last people to bow are the four who have no words to say."
A certain surrealism is still swirling around Stachel. "The fact I'm sitting here in a Broadway dressing room is not something I ever imagined would happen. As late as two years ago, I would have thought that would be too much of a stretch, but recent events have given me confidence, and, as I'm breaking through these barriers, I'm now realizing maybe there is a pathway to a creative life I never thought possible."
And, for the record-having put in six months of intense listening and research-he claims his favorite Chet Baker number is Frank Sinatra's Oscar-nominated Anchors Aweigh oldie, "I Fall in Love Too Easily." That, too, would've worked well for Haled.