Miss Saigon - 2017 - Broadway
Direct from its smash London run, Cameron Mackintosh's stunning new production of Boublil and Schonberg's legendary musical Miss Saigon lands on Broadway in March, 2017, featuring its acclaimed stars Eva Noblezada and Jon Jon Briones.
Set in 1975 during the final days of the American occupation of Saigon, Miss Saigon is an epic love story about the relationship between an American GI and a young Vietnamese woman. Orphaned by war, 17-year-old Kim is forced to work as a bar girl in a sleazy Saigon nightclub, owned by a notorious wheeler-dealer known as "The Engineer." John, an American GI, buys his friend Chris the services of Kim for the night- a night that will change their lives forever.
Don't miss this "thrilling, soaring and spectacular" (The Times of London) musical when it returns to Broadway this spring for a limited engagement.
Video preview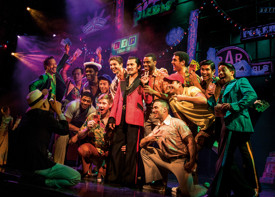 Photo preview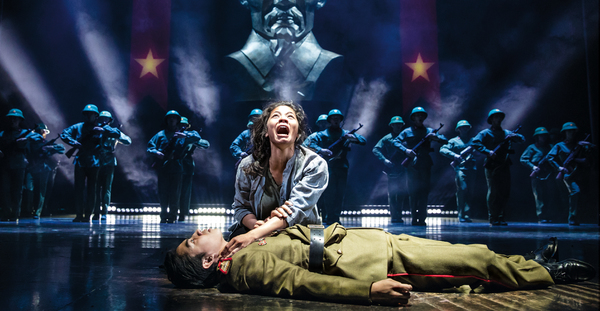 Schedule
Running Time: Two hours and 40 minutes, with one intermission
Featured Reviews For Miss Saigon
Miss Saigon - TimeOut NY
To be fair, the American figures are just as laughable and flat as their Vietnamese counterparts (let's not forget that Frenchmen wrote this and the British produced it). Les Misérables is also broad and melodramatic, but a better source and greater historical distance mitigates its sanctimonious patches. However, like Les Miz, Miss Saigon is ultimately stranded between extremes of cynicism and idealism: the Engineer's cartoonish hunger for American-style excess versus Kim's bland, maternal purity. What's lost in between is humanity or ambiguity, songs to tell us more about the characters' past, their quirks or inner nuances. Instead, stereotyped villains and victims shout-sing at each others' faces or collapse and bellow, "Nooooo!" (twice). Diversity on Broadway should be celebrated, but give actors of color characters we all can care about.
Miss Saigon: EW stage review - Entertainment Weekly
Eva Noblezada, this production's Kim, makes her Broadway debut and is probably the show's biggest wow (sorry, helicopter). Her voice doesn't falter as she rips through power ballad after power ballad. Her Chris, Alistair Brammer, is solid if a bit out-performed by his costars. In general, this new iteration, under the direction of Laurence Connor (School of Rock), has a more appropriately gritty feel than the show had in the '90s, from the physical set to the portrayal of Americans and the consequences of war. Still, it's a pretty darn schmaltzy show to begin with.
Miss Saigon Broadway Cast