Lakewood Playhouse Presents ANGELS IN AMERICA - Parts I & II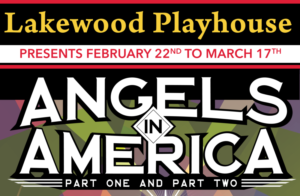 The Lakewood Playhouse is proud to present Two Productions in Repertory as part of our Landmark 80th ANNIVERSARY SEASON: "ANGELS IN AMERICA - Parts I & II" We are honored to Present the PIERCE COUNTY PREMIER of the Epic Two-Part Theatrical Event that includes shows which have received two Pulitzer Prizes for Drama and three Tony Awards for Best Play & Revival to their 25 Year History!
Both Parts will be performed, in Repertory, February 22nd through March 17th and at the SPECIAL TIME of 7:00pm on Weeknights and at 2:00pm & 7:00pm on Sundays. The following is a detailed listing of Dates & Times for both shows:
ANGELS IN AMERICA: Part One (Millennium Approaches)
Fridays, Saturdays at 7:00pm and Sundays at 2:00pm.
Special "Pay What You Can" Showings Wednesday, February 27th at 7:00pm and 7:00pm on Wednesday, March 6th at 7:00pm.
ANGELS IN AMERICA: Part Two (Perestroika)
Sundays at 7:00pm.
Special "Pay What You Can" Showings on Thursday, February 28th at 7:00pm and Thursday, March 7th at 7:00pm.
Join Our Actors on Sundays as they take on both shows: Part One at 2:00pm and Part Two at 7:00pm!
Ticket Prices, for each show, are: $26.00 (General Admission), $23.00 (Military & Seniors) and $20.00 (Students/Educators).
Presented in the Lakewood Playhouse's thrust configuration with seating facing the stage as well on both of its sides. This production of "ANGELS IN AMERICA - Parts I & II" will place you inside this monumental story that explores the impact of the dawning of the AIDS crises in the mid-1980s by weaving the story of three couples into the tapestry of the era.
Managing Artistic Director, John Munn, and Production Manager & Stage Manager, MELISSA AVRIL HARRIS, have been deep in rehearsals, with their amazing Cast & Crew, since June of 2018 and are thrilled to bring this once in a lifetime presentation to the Lakewood Playhouse.
The Production Features a Phenomenal Roster of Actors, both new and returning, to our stage - Including: Kenyon Meleney (Prior Walter), Jason Quisenberry (Louis Ironson), Shannon Burch (Harper Pitt), Joe Regelbrugge (Joe Pitt), Jennifer Niehaus-Rivers (Hannah Pitt), Scott Pinkston (Roy M. Cohn), , Tony Williams (Belize), Rachel Wilkie (The Angel) and Erik Hill (Henry).
"The Two-Part Pulitzer And Tony Award Winning Epic Presented in Repertory"
PART ONE - MILLENIUM APPROACHES - Celebrated its 25th Anniversary in 2018
In the first part of Tony Kushner's epic, set in 1980's New York City, a gay man is abandoned by his lover when he contracts the AIDS virus, and a closeted Mormon lawyer's marriage to his pill-popping wife stalls. Other characters include the infamous McCarthy-ite lawyer Roy Cohn, Ethel Rosenberg, a former drag queen who works as a nurse, and... yes...an angel.
PART TWO - PERESTROIKA - Celebrates its 25th Anniversary In 2019
In the second part of Tony Kushner's epic, the plague of AIDS worsens, relationships fall apart as new, and unexpected friendships, take form.
Both Are Lakewood Playhouse Premiers
A Note To Our Lakewood Playhouse Patrons Regarding ANGELS IN AMERICA Parts One & Two
ANGELS IN AMERICA is an intimate portrait of the tumultuous AIDS epidemic that ravaged the United States in the nineteen eighties. The story is as real as the crisis itself portraying adult themes and intimate human relationships, which include same-sex couples, who were impacted by this disease. This show is meant for mature audiences as it contains the use of profanity, sexual themes and conversations involving sex, religion, politics, gender and race. This show also includes the use of vibrant theatrical lighting, sound, and technical effects.